Princess Connect! Re:Dive Season 2 – 02
プリンセスコネクト!Re:Dive S2 episode 02
SPOILER Summary/Synopsis:
Pecorine and Kokkoro do laundry while Yuuki makes a delivery from their recent quest. Karyl goes to the palace to report on the event at the end of the first season. She realizes her queen knows what Karyl did, but her queen forgives Karyl. Meanwhile, Pecorine and Kokkoro head into town to visit the clothier whom Yuuki had a delivery for. After visiting some of the townspeople, Pecorine thanks Kokkoro for not revealing her secret just yet.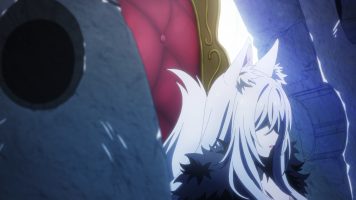 They arrive at Carmina Guild store, where Tsugumi has Yuuki as a living mannequin, making a dress. Chika and Nozimi, also of this idol guild, introduce themselves. Later, Karyl reports to the store to find her guildmates all trying on idol dresses. Karyl gets roped in as well. Carmina is about to have concert, which is what all the prep is for.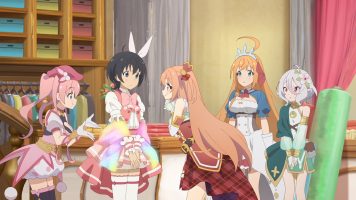 That night, Karyl meets with Christine from Nightmare. They have orders from the Queen regarding the Shadows. The next day, Karyl spends time alone. That night, she encounters Tsumugi, practicing hard for the concert. The following day, Christine and Karyl observe the concert from a distance. Shadows emerge due to the music, so the pair fight them off.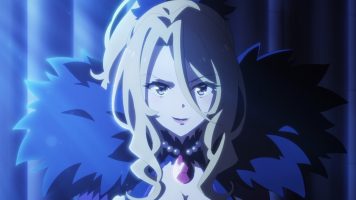 That night, the exhausted Karyl cannot make it home. Her guildmates come looking for her, so she goes to meet them. At the guild house, Kokkoro is up late, looking through their photos. She's joined by Pecorine and Karyl. Yuuki finds them later, all asleep at the table.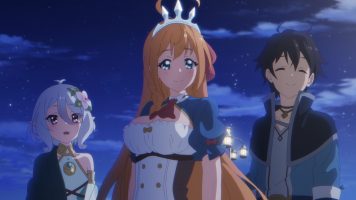 Thoughts/Review:
Princess Connect! Re:Dive Season 2 – 02 saw us back into some plot, but as before, the writers don't do a great job with things.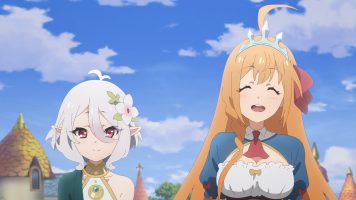 A New Guild
Because this series is based off of the mobile game, Princess Connect! Re:Dive Season 2 – 02 had to introduce us to another new guild. Naturally, the Carmina Guild is an idol guild, so have them sing songs that can then be sold. Otherwise, having them here didn't serve much of a purpose. I figured they might get caught up in the fight, since they mentioned that whenever they do a concert, monsters come for them to fight. Monsters came, but no fight.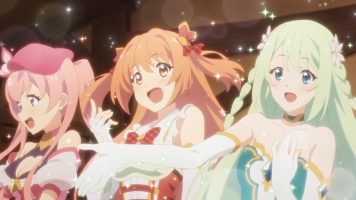 The writers attempted to have Tsumugi apparently give something for Karyl to think about. But it felt forced and meaningless.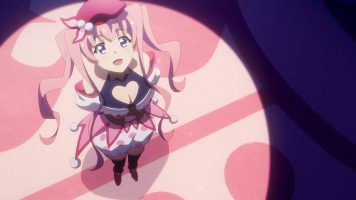 The Plot Returns
To be honest, Princess Connect! Re:Dive Season 2 – 02 should have served as the first episode of the series. Seriously, Karyl gives her report to the usurper in this episode. As such, that meant she made her cat queen wait however many weeks while they ran around in the first episode of this new season. Not only that, but she had no feelings of anxiety or depression. It is just normal Karyl.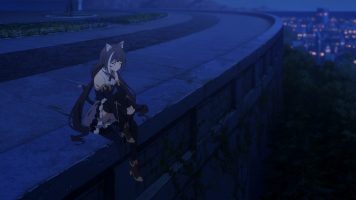 Then out of the blue, she's all worried and depressed again in her role as double agent. And not only that, the usurper queen knows Karyl acted against her, yet forgives her. But the narrative flow sucks. As such, I really can't get into what's going on there.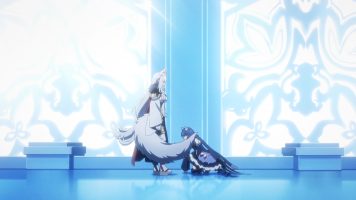 And that includes Christine showing up in this episode. Other than her being assigned to the palace guard (Nightmare), her purpose here was just to do some mostly offscreen fighting of Shadows alongside Karyl, all while Carmina sing. Ugh.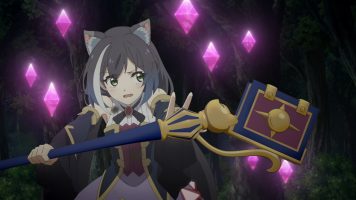 The only meaningful plot stuff was Kokkoro and Pecorine discussing the events at the end of the previous season. Pecorine hasn't talked about it to Yuuki or Karyl and doesn't want to.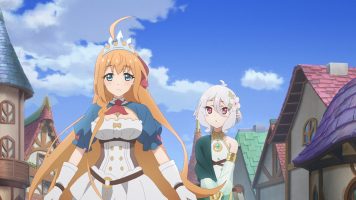 Final Thoughts and Conclusion
In the end, Princess Connect! Re:Dive Season 2 – 02 continues to disappoint by meandering all over. It didn't handle the comedy or plot aspects well due to poor writing. And that's a shame 'cause I want to like the series.