Tonikaku Cawaii Chapter 168
Tonikaku Kawaii Fly Me to the Moon 168
トニカクカワイイ 168
Spoiler Summary/Synopsis:
Nagi announces to Hayate that they are starting Hayate the Combat Butler 2. She also notes that KUMETA Kouji-sensei is starting a new manga called Shibuya Near Family. Further, Kumeta-sensei stated at the begining of Tonikaku Kawaii that Hata-sensei wanted a sequel Hayate the Combat Butler 2 series. So to show appreciation to Kumeta-sensei, whom Hata-sensei used to work for, Nagi wants to make Kumeta-sensei's words come true.
Nagi cannot come up with a story, so she decides to have a TV show. She recounts Kumeta-sensei's previous works. Also, she cites how Hata-sensei working for Kumeta-sensei was where Hata-sensei got into cross dressing Hayate's character. Further, Hata-sensei decides to shift from gag manga to a romantic comedy based on Kumeta-sensei's shift. And if Shibuya Near Family gets canceled, they could do a Sayonara Zetsubou-sensei 2.
Meanwhile, Tsukasa reads Shibuya Near Family and Nasa says they should support it.
Thoughts/Review:
Since Kumeta-sensei did a chapter for Tonikaku Kawaii in volume 1, Hata-sensei is returning the favor in Tonikaku Cawaii Chapter 168.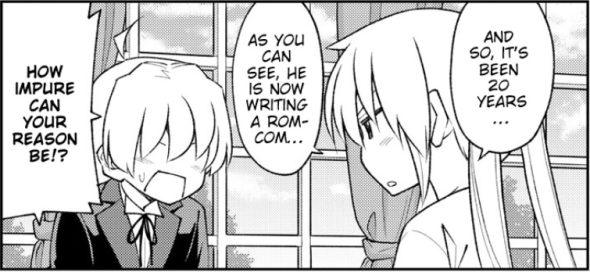 Hayate the Combat Butler 2
It is nice seeing Hayate, Nagi, and Maria back from Hayate the Combat Butler in Tonikaku Cawaii Chapter 168. Their part in the manga is akin to certain chapters in Hayate the Combat Butler, where the characters break the forth wall.
It was also fun how Hata-sensei used Tsukasa to represent himself within the chapter. And it was fun to see how Hata-sensei decided to abandon the gag manga format for the romantic comedy format. Hata-sensei is good with gag manga, but his attachment to it hurt the Hayate the Combat Butler series.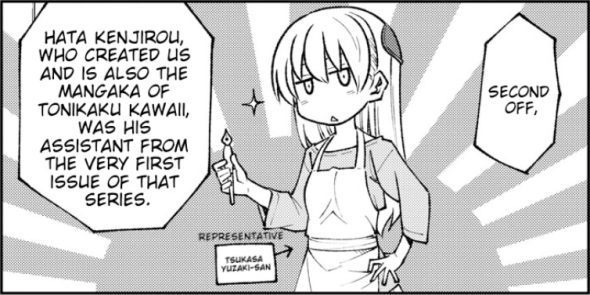 Viz Sucks
Not that folks who read my blog don't already know this, but Viz sucks. As Tonikaku Cawaii Chapter 168 stated, Hayate the Combat Butler ended in 2017. It will take Viz forever to get to the end. And not only that, the adaptation is trash, thanks to the adapters who think they are too hip to be square. Considering the rubbish Viz just did with one of their manga titles (they are skipping an apparent "problematic" chapter 74 of Ayakashi Triangle), they are really one a roll of late.
Final Thoughts and Conclusion
In the end, Tonikaku Cawaii Chapter 168 was merely a nod to Kumeta-sensei. But it was good to see the Hayate characters again.