ユーキューホルダー! 魔法先生 ネギま!2 Manga Review
UQ Holder! Mahou Sensei Negima 2
UQ Holder!: Magister Negi Magi! 2 Chapter 191
UQ Holder Chapter 191
SPOILER Summary/Synopsis: 
Negi and Touta prepare to battle Nagi and Eva (Yukihime) with a final strategy talk. The UQ Holder members find themselves thrown to the Senkyoukan. They are followed by Al, Jack, Setsuna, and Konoka. Kuroumaru thinks over the plan to deal with Negi's old group.
Meanwhile, Negi battles his father Nagi while chatting with him. Touta battles Yukihime and thinks back to his life with her. Yukihime, as Ialda, and Touta talk. Touta tries to reach out to Yukihime and gets smashed as a result. However, this allows Karin to attack from above. At the same time, it allows Negi to tag his father with the Ala Alba pin.
Touta is joined by UQ Holder as well as Jack, Al, Setsuna, Konoka, Asuna, Chachamaru, Chisame, Yue, Nodoka, Zazie, Mana, Homura, Koyomi, and Shiori. Negi's formerly trapped companions were freed, thanks to Negi having come up with a way to counter Ialda's influence while he was part of her. The Eva part of Ialda is impressed. However, Ialda's minions arrive to battle.
The fight begins, but eventually, Charon (?) explodes. Now there are 12 billion fragments of Ialda.
Thoughts/Review:
Because of the mad rush to end things, UQ Holder Chapter 191 has minimal impact on me beyond seeing old faces.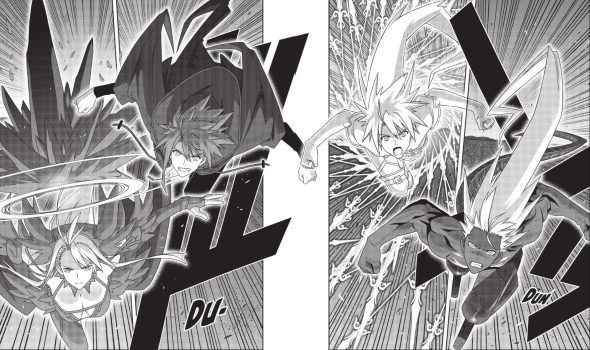 The Plan
Okay, so the plan Negi came up with originated while he was part of Ialda. I find Ialda's control over the folks she's "consumed" to be weird, or rather plot convenient. While retaining their identity, folks under Ialda's control just do what she wants. However, when the plot needs it, they can chat a bit, even pause in their ways.
Certainly that was the case in UQ Holder Chapter 191. Negi, while absorbed by Ialda and under her control, was able to come up with a plan to free his companions. I guess hope springs eternal or something. Ialda absorbs folks and can recreate them at will. But not always, apparently. I think had Ialda been better explored, I wouldn't have so much of an issue here. Plus, everything about the plan is done in the opposite way of "show don't tell".
Finally, Negi's plan depended on luck. We don't know when Negi came up with the plan, but let's assume it was after Asuna came back for the first time. Everything depends on Touta making the correct choices. I don't remember Touta getting briefed on any plan from Negi, therefore Touta's choices had to luck into being the ones that would help Negi's plan. I don't like writing were things happen 'cause "plot".
Show Don't Tell
Earlier, I mentioned how Akamatsu-sensei is violating the "show don't tell" principle of story telling. I realize that a lot of this is due to the need to just wrap things up in a short time. So something that might ordinarily take many weekly chapters get compressed to 40 pages.
As such, UQ Holder Chapter 191 doesn't show up much. Realistically, we would have seen how UQ Holder overcame Jack, Al, Setsuna, and Konoka. But more to that, there's the whole deal with Honoka and Isana. Setsuna and Konoka are apparently their grandparents (and since they are obvious clones, I guess 2nd generation clones). But we've never had an acknowledgement of anything here.
Another thing we aren't shown is how Yue, Nodoka, Chisame, Homura, Koyomi, and Shiori were manifested in order to be saved. It is just that Akamatsu-sensei wanted them there, so they are there. "Don't ask questions!" 😑  But I do ask questions. And frankly, I wish we could have seen how the Mage of the Beginning defeated them all when they were part of Negi's crew. (Asuna we know about.)
Also, why only Homura, Koyomi, and Shiori? What about Shirabe and Tamaki? All five were part of Fate's crew. And I think the two of them were part of Negi's battle against Ialda however many years before.
Chachamaru, Zazie, and Mana
While I think it is appropriate to see Zazie, Mana, and Chachamaru in UQ Holder Chapter 191, I'm not a fan of them just showing up 'cause "reasons". There is an implication that somehow, Ialda absorbed them as well. If so, when?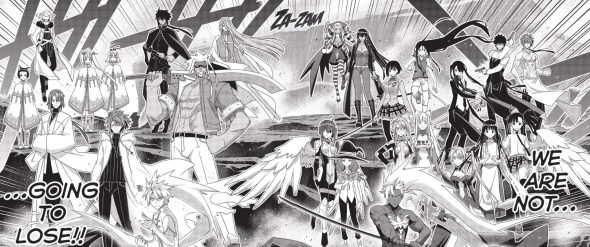 When we last saw Zazie, Mana, and Chachamaru, it was ages ago. Then Akamatsu-sensei kinda put them on the shelf, even though they could have been interesting allies for UQ Holder. In fact, they were set up as allies, but because UQ Holder has wandered to and fro as a series, they got lost in the shuffle.
To me, it makes no sense that Ialda was able to absorb them. In fact, I feel all three characters should have been with UQ Holder when they were going to initially assault Ialda to save Negi. Had that happened, then I might have been OK with how the girls returned in this chapter. As it is, this is Akamatsu-sensei going, "Oh yeah, those there. Well, here they are. Now STOP asking questions and vote for me in the upcoming election!"
Final Thoughts and Conclusion
I'm taking a break from work to write this, so let me wrap up things here by adding some final thoughts.
Where is Zect in this mess? He supposedly defeated Ialda, so why wasn't he around? I mean Nagi was brought back, so why not Zect? Unless Zect was never there and was actually always working with MotB.
And in that vein, what happened to the others whom Ialda has possessed over the eons?
And I predict that there will be no Chao.
In the end, UQ Holder Chapter 191 goes at warp speed to end the series with the next chapter. Unfortunately, this leaves for an unsatisfying journey and a lot of things are told to us instead of showing us. But I did like the return of old Negima! faces and Touta's thoughts to the beginning of UQ Holder. And I liked Karin getting a moment when she attacked Yukihime. But I do NOT want him ending up with Eva/Yukihime.