Lupin the Third Part 6 – 18
Lupin III Part 6 18
ルパン三世 PART6
SPOILER Summary/Synopsis:
Lupin, disguised as the kindly old man, pays a visit to the florist Mattea at the shop. While there, he notices a newspaper picture of a woman named Hazel, who's a member of her country's congress. Back at the hideout, he discovers the same newspaper and takes off for the country, Cotornica. Lupin and Jigen go with him. In country, he begins tailing Hazel, disguised as a younger man in glasses.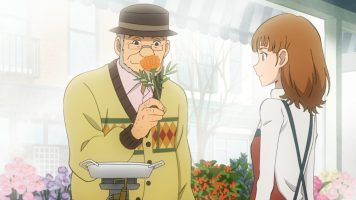 Lupin runs into Mattea, who's vacationing there. He reveals himself to her and they have lunch. Later, Hazel goes to her apartment and finds Lupin waiting. He explains that he's after information regarding her tutor, Tomoe. She talks about her time with Tomoe when someone tosses a weighted USB drive through a window, hitting Lupin. He rushes out on the balcony and gets his photo snapped by paparazzi. The flash drive contains a deep fake video, showing Hazel at a private execution.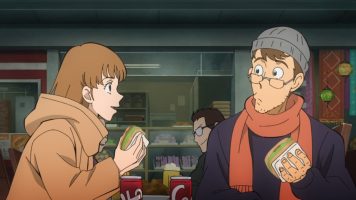 The next day, the disguised Lupin has a meal with the unimpressed Mattea, after his photo is in the news. Meanwhile, Zenigata, Yato, and Ari pay Hazel a visit with her party folks. They take a statement from her about Lupin being in her apartment. Elsewhere, the disguises Lupin sees the paparazzi car from the previous night and tails it with Mattea on a skateboard. They lose the car, but have dinner at a nice restaurant. Yato and Ari join them.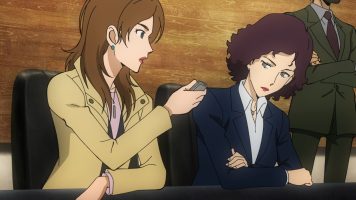 That night, Lupin tracks down Hazel's party operative, who'd set everything up to get her out of the way. After dealing with that, Hazel gives him more info on Tomoe, including the fact Tomoe had a child. The next day, Lupin leaves country. That night, Zenigata follows a hunch and pays Hazel a visit. He finds her shot. Immediately, he's arrested by heavily armed police.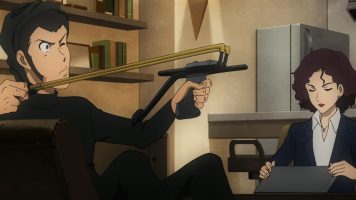 Thoughts/Review:
At least with Lupin the Third Part 6 – 18, we get back to the plot, such as it is. But there was one surprising twist at the end.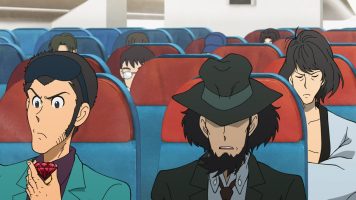 Tracking Tomoe
I have no clue why the newspaper article about Hazel caught Lupin's eye. However, Lupin the Third Part 6 – 18 made some pretty convenient things happen to get the story going. First was the  newspaper, apparently in a New York paper, having some profile piece on some congressional representative from some "fictional" country. (Fictional in real life, real in the story.) Second was the profile piece talking about Hazel's missing tutor. And somehow, Lupin knew this was about Tomoe. Whatever.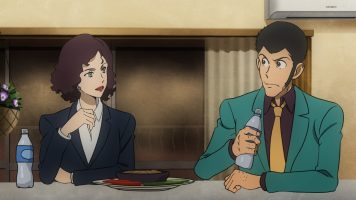 Through Hazel, Lupin learns that Tomoe was a teacher to Hazel, like Tomoe was to him. The only real piece of new information was that Tomoe apparently had a kid. And the writers want us to believe this could be Lupin. Frankly, I doubt the writers have the cojones to go that far.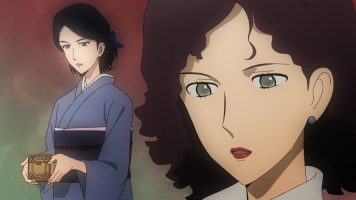 Convenient Love Interest
Another thing Lupin the Third Part 6 – 18 seemed keen on establishing is some kind of romantic interest between Lupin and Mattea. As such, they have her conveniently vacationing in the same foreign country Lupin is in. He conveniently, loudly blurts out her name when he sees her, forcing him to reveal himself. They have lunch together, some beverage together, then an expensive dinner together. And not only that, Lupin gave her the princess carry treatment on the skateboard.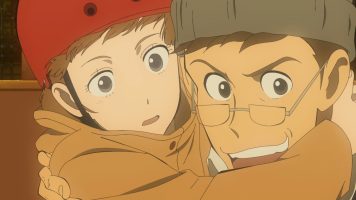 So yeah, the writers seem very intent on making Mattea fall for Lupin. And Lupin, being the caring sort, enjoys spending time with her, though not for romantic reasons. Heck, he's not even giving off the "I want to boink you" vibes. But I figure before this part of the series is over, she'll be taken captive and Lupin will be forces to risk his life for her.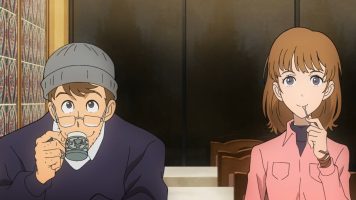 Final Thoughts and Conclusion
I need to get to bed, so let me wrap up my review of Lupin the Third Part 6 – 18 with some final thoughts.
No Fujiko this episode. But she'd get in the way of the writers attempting to have Lupin in a new romance.
Jigen and Goemon only have cameos. Even though they went on the trip, we didn't see them in the foreign country.
I was a bit surprised that Zenigata was arrested at the end of the episode. Considering he's a well known ICPO officer, the only way they can keep him is to frame him with doctored evidence.
Speaking of doctored evidence, deep fake came up as a topic. That could be an interesting line to follow.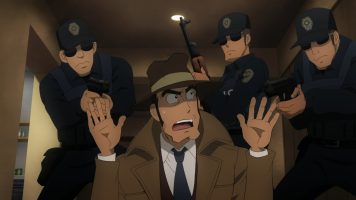 In the end, Lupin the Third Part 6 – 18 was fine, but nothing special. Still, I am curious to see how things play out.