ユーキューホルダー! 魔法先生 ネギま!2 Manga Review
UQ Holder! Mahou Sensei Negima 2
UQ Holder!: Magister Negi Magi! 2 Chapter 192
UQ Holder Chapter 192
SPOILER Summary/Synopsis: 
Touta defeats Yukihime-Ialda. Before the Mage of the Beginning can consume him, Touta summons CHAO Lingshen, who freezes time. Touta, Kuroumaru, Negi, and Asuna defeat the frozen Ialda, shattering her into 12-billion bits. Yukihime starts to dissolve, but says farewell to her surviving classmates and UQ Holder.
Twelve thousand years in the future, Eva emerges from a flower on the insanely giant World Tree. The city is in ruins and like a jungle. Eva changes into Yukihime form and wanders a while. Touta finds her, accompanied by Karin and Kuroumaru. They brief Yukihime on the situation with humanity traveling to the stars. Thus Earth is mostly inhabited by youkai and mazoku. The group arrive at the Senkyoukan, which is now a massive city with Touta in charge.
Inside the old inn, Yukihime is reunited with UQ Holder, sans Gengorou, who returned to his Earth. Yukihime is briefed on what happened with Negi and surviving classmates. Then she's informed about Shinobu, Mizore, and Kirie. Later, Touta and Eva have a moment on a dock, including snogging. And they keep talking about things.
Thoughts/Review:
Well, with UQ Holder Chapter 192, it is all over but the crying. And by crying, I mean "crying over what might have been." But I'll save that part for a future post.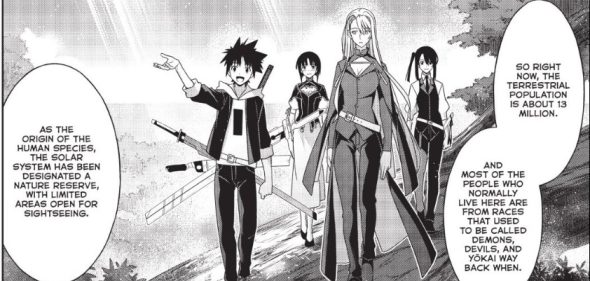 Acknowledging Folks
In my previous chapter review, I stated, "And I predict that there will be no Chao." And I was wrong, as UQ Holder Chapter 192 showed. I know blog readers like Aki called this. (For those of you who also called it, forgive my not having the time to look you up.) So hat's off to those of you who called her return, even for a deus ex machina cameo.
I'll be honest, I didn't think Akamatsu-sensei would have her show up. With all his focus on running for political office, just so he can fight "piracy" with more draconian laws (which companies like Toei and ShoPro are using to shut down review YouTube channels), I figured he'd forgotten about her. After all, she hasn't been around EVER in UQ Holder.
Indeed, I have no bloody clue how she showed up now. But, Akamatsu-sensei used her as a deus ex machina thing. And then she was gone 'cause "reasons". Well, I guess she does technically show up so Asuna can decide not to return to the past and start her new harem life with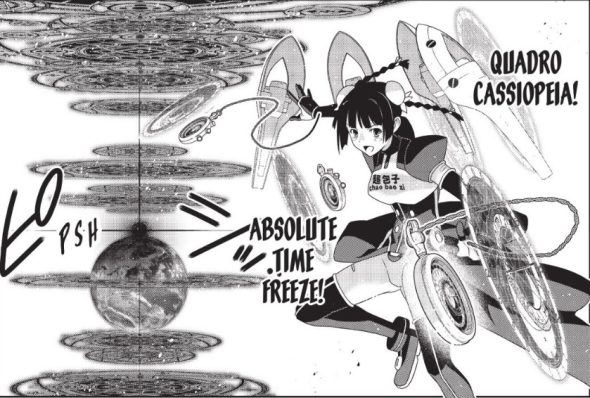 New Future
I had a hard time wrapping my head around the new future and Asuna as depicted in UQ Holder Chapter 192. So I guess when they, with Asuna, kill Ialda, it was about 2135. So there's the Asuna that was in the Mage of the Beginning. But then there was the sealed Asuna? So Sealed Asuna didn't go back in time and identified the Eva with Chao as Shiori. And then Sealed Asuna and Absorbed Asuna merged. My head just burst.
But then the REAL mind frell happened. In this new future, Negi apparently marries all of the girls who were with him inside Ialda. But it seems like he couldn't be fruitful and multiply, so all of the kids seem like clones. And Chachamaru is left in the cold. The further implication is that Asuna is now Negi's head wife. Chisame was off to the side.
I'm lost as to how Touta met Shinobu again. Wasn't she dead already? And I'm pretty sure that chapters ago, Touta mentioned that when he said goodbye to Shinobu and Mizore, it was the last time he saw them. Well, I guess that was true for Mizore, who died at 34.
And while Karin and Kuroumaru stayed with Touta, Kirie got old and died, but was regularly visited by Touta. And Touta runs UQ Holder. Yadda, yadda,  yadda.
Harem Addition?
It had already been established that Touta consummated his relationships with Kirie, Karin, and Kuroumaru. However, in UQ Holder Chapter 192, things get a bit murky, which irked me. I'm going to ignore the "IN YOUR FACE" moment from Akamatsu-sensei with the color-page start of the chapter, showing Eva and Touta snogging on the dock. Instead, I'm going to start with Karin.
As the UQ Holder series progressed, there was a character arc where Karin started having feelings for Touta. Over time, these grew until as I previously stated, they consummated their relationship. Not only that, Karin agreed to be one of three girls in Touta's harem. Frankly, I had no problem with this on a story level, but that's just me.
Unfortunately, twelve thousand years as co-wife of Touta with Kuroumaru has caused Karin to revert back to how she was early in UQ Holder? I call utter BS! It made no sense for Karin to act as she did. Yes, she could be happy that Yukihime/Eva returned. And I would have been fine with her making suggestions about being added to Touta's harem. But instead, she's acting like she's never been in love with, or mated with Touta.
Then there's Eva. I NEVER wanted to see Eva x Touta, mainly 'cause she'd been mother to him. I didn't mind this timeline having Touta meet Eva when she was young. But even here, she fell in love with Nagi, then Negi. So when she saw hundreds of years later, she thought, "I'll adopt him so I can boink him later"? 😑
Final Thoughts and Conclusion
Work has me insanely busy, but I want to get my review of UQ Holder Chapter 192 out. I'll do a series review later. But here are some final thoughts.
So what happened with Nagi and Ala Rubra?
I was right about Arika not being mentioned. She was a retcon to get Sensei out of a jam after he changed directions in Negima! But since she can't logically fit into the series, ignore her and the problem goes away.
What happened with Mana and Zazie? They had a "blink and you'll miss them" cameo previously.
I do like that Senkyoukan has evolved into a large city.
It is also interesting that Earth is now mostly inhabited by youkai and mazoku.
Why did Touta have so many swords for?
The rest, I'll save for a series review. I kinda want to reread the whole thing from scratch, so it may take time.
In the end, UQ Holder Chapter 192 does end the series, but does so in a less than satisfying way. Maybe if there had been 100 chapters, and proper closure given to all involved, it would have been better. But as it stands, the Negima! final chapter may have been better, even if we didn't see Ialda's end.