Princess Connect! Re:Dive Season 2 – 06
プリンセスコネクト!Re:Dive S2 episode 06
SPOILER Summary/Synopsis:
Kokkoro, Yuuki, and Karyl eat in the restaurant Pecorine works in. They discuss taking a quest to deal with a mysterious dark knight that has been rampaging in Landosol. Elsewhere, Monika and the members of Weiß Flügel (Weissflügel) Landsol Branch repair the damage they accidentally caused to a bridge going out of the city. Meanwhile, Yuuki encounters a club owner who's worried about a missing dancer. The owner and assistant fear Twilight Caravan might be involved.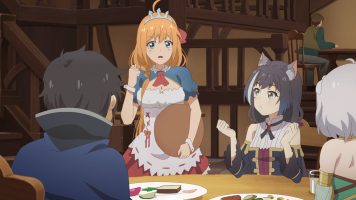 Elsewhere, Yuuki finds the dancer, Kuuka, who's part of Weissflügel. She has a massive stash of porn, so Yuuki ends up burning it to get her to go back to work. That night, Yuuki is on patrol with Kokkoro when they encounter the night, who looks like Jun from Nightmare, the palace guard. A young swordwoman with shielded eyes, drives off the knight. Kokkoro discovers slime has leaked from the knight.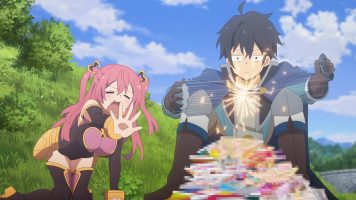 The next day, Gourmet Guild are out when Kokkoro notices Mitsuki and Nanaka from Twilight Caravan, communing with an energy butterfly in an ally. Elsewhere in town, Nightmare members Matsuri and Tomo suspect the rampaging knight might be their captain, Jun. Christina (Nightmare) joins them and shares her thoughts on why this isn't their captain.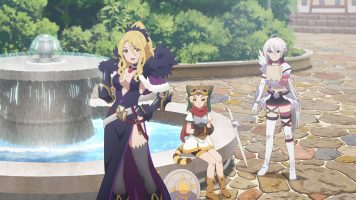 Meanwhile, Monika discovers the slime and attempts to find more to make a big score. She and her guild find a giant slime, that "consumes" them. Back in town, Kokkoro finds the real Jun and heals her. Nearby, the rampaging knight attacks, so Jun and Gourmet Guild help Nightmare, sans Christina. The giant slime, with Weissflügel, attacks, but is eventually defeated. Jun gets her armor back and Weissflügel are saved.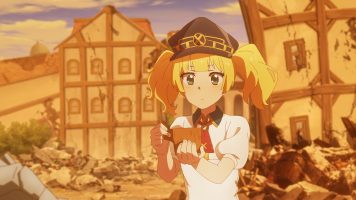 Thoughts/Review:
As is standard for this franchise, Princess Connect! Re:Dive Season 2 – 06 abandons plot for a side story regarding a new guild and an old one. BUT, there were some plot tidbits, I think.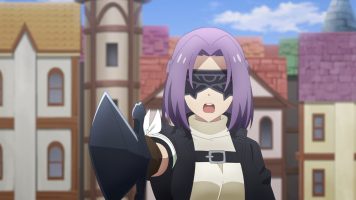 Weissflügel
The new guild introduced in Princess Connect! Re:Dive Season 2 – 06  is Weissflügel (Weiß Flügel being the proper spelling, I think). Them being infiltrators to Landosol would be VERY interesting to me IF there wasn't this whole, "You're trapped in a VR game world" thing overhead. I ranted about that last week, so I'll say no more there.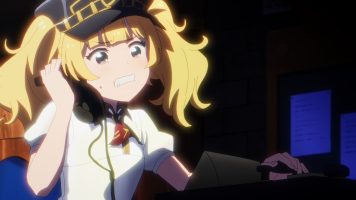 As a guild, they appeared to be there mostly for comedy. Monika is the serious one. Kuuka is the pervert. Ninon apparently likes fireworks and explosives, but is part bimbo. And Yuki is self-obsessed. Ninon and Yuki didn't get much time though, so sadly, it is difficult to say much about them. But I did feel sorry for Monika and wondered how she got saddled with such poor companions.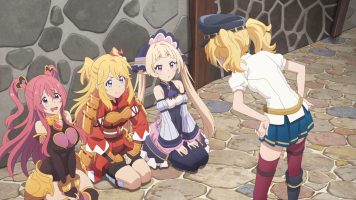 That aside, is the country Monika comes from worried about changes to Landosol? Maybe The Queen is looking to war on others.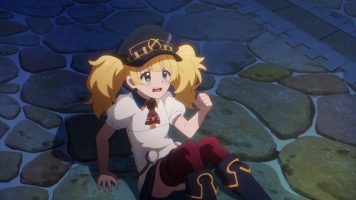 Nightmare Returns
I was glad to see the full Nightmare crew return in Princess Connect! Re:Dive Season 2 – 06. Now that I'm playing the game, I've learned that Jun is voiced by KAWASUMI Ayako. She's also the seiyuu behind the OG Saber from Fate/stay night. As such, I immediately can't help but like her Jun character. (And I have Jun and Christina in my game lineup.)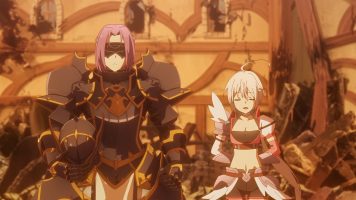 That aside, I like how Christina is in the episode. When Tomo and Matsuri have doubts, Christina is the one who rationally lays out a case for why Jun isn't the rampaging knight. Christina's motivations have seemed suspect at times. However, considering she's there in Yuuki's vision of them battling The Queen, I'm guessing Christina is okay.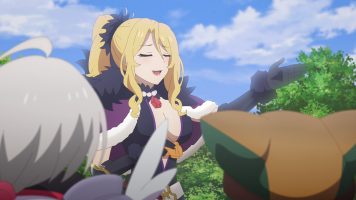 Then later, it was cool seeing Jun, sans her armor. Not sure why she keeps her eyes covered though. I wouldn't mind seeing more of Jun and Nightmare working with Gourmet Guild on things.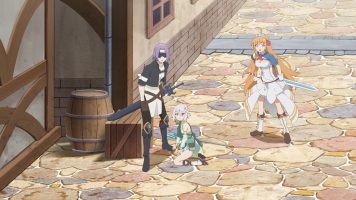 Final Thoughts and Conclusion
Let me wrap up my review of Princess Connect! Re:Dive Season 2 – 06 with some final thoughts.
I liked seeing some of the members of Twilight Caravan show up. The first time was for comedic purposes, via Yuuki's panicked flashback. However, I think the second appearance was tied to plot. Kokkoro saw Nanaka and Mitsuki talking to an energy butterfly. I suspect Metamorregnant is reaching out to them to get herself freed.
Was the giant slime part of The Queen's evil doings, like the Shadows?
As side stories go, this episode wasn't bad. I do wish that things were a bit more tied to the plot. But, Pecorine apparently hasn't spoken about what happened to her. (Stupid.) Karyl is not conflicted…at least not until the plot returns. It is that lack of consistency that I have a problem with.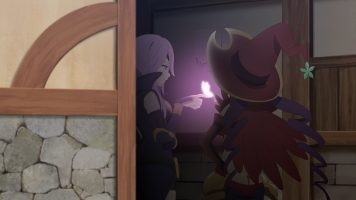 In the end, Princess Connect! Re:Dive Season 2 – 06  was a pretty good episode for being a side story. But there did appear to be some connections to plot, which is good if true.