Princess Connect! Re:Dive Season 2 – 07
プリンセスコネクト!Re:Dive S2 episode 07
SPOILER Summary/Synopsis:
After a morning working farm fields, Gourmet Guild are returning to Cockatrice's Nest restaurant. Ayane and Kurumi from Sarendia burst out of the woods, chased by bees. They explain that since Saren-mama had helped them in the orphanage, they wanted honey for her. Gourmet Guild escort the girls to the restaurant in Landosol. They encounter the battered Chika from Carmina, who cannot remember her name, but is deathly afraid.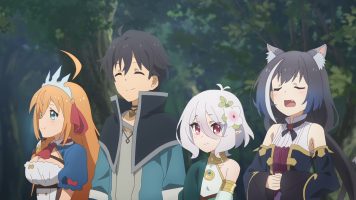 Kokkoro and Karyl tend to Chika while Ayane and Kurumi eat, along with Ayane's ventriloquist teddy bear on a stick, Puukichi. Nozomi enters the restaurant, looking for her guildmate, Chika. Meanwhile, the shy Kurumi goes nuts and aggressively attacks a man for not leaving his wife for her. Chika wakes up and starts acting like a cat, though she saves Ayane from getting hit with a bottle.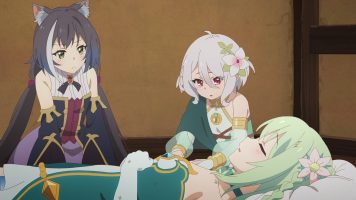 Apparently, Puuchiki has possessed Chika and gives her back control. Chika explains that her memory loss and Kurumi's actions are caused by a spirit named Foggy. Chika had sought it out in an attempt to try to help Yuuki regain his memories. An angry Saren shows up, assuming her girls are being assaulted. Kokkoro explains things to Saren.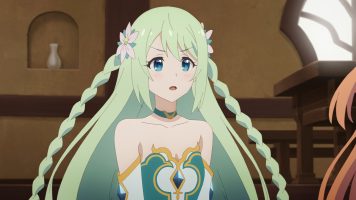 Pecorine and Karyl head to the spring where Foggy was originally sealed. They bond more as friends along the way. Back in Landosol, things are a bit nutty in the restaurant. Karyl arrives with the seal, forcing Foggy out of Puuchiki. Pecorine attacks, but causes it to split into four. Yuuki has a vision of his old guild. Chika and Nozomi defeat Foggy and reseal it.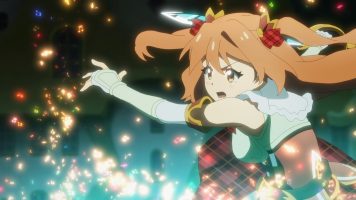 Thoughts/Review:
The writers brought back a lot of characters in Princess Connect! Re:Dive Season 2 – 07, and introduced two new ones besides.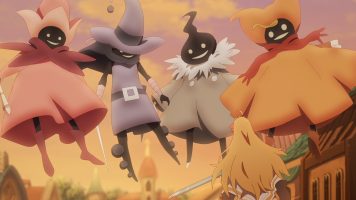 Mostly Disappointing Side Story
During the opening scene, Chika losing her memories while fleeing in terror from the woods made me think that maybe we'd get another plot-related episode. Instead, Princess Connect! Re:Dive Season 2 – 07 is just another vehicle to bring in lots of characters from previous stories while introducing a couple of new ones (or three).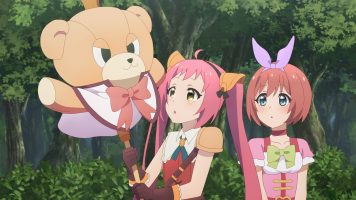 Of course, I already mentioned Chika from Carmina. And she was joined by Nozomi later in the story. Saren from Sarendia returns for an extended cameo. And the two new characters introduced in the episode were from Sarendia — Ayane (with Puuchiki) and Kurumi. And then thanks to Yuuki's vision, the girls from Twinkle Wish show up. I'll talk more about that in a bit.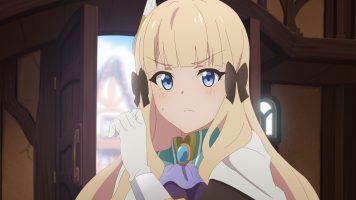 Besides Twinkle Wish, the only other item of note in the episode was Karyl and Pecorine bonding more as friends and guildmates. I'm guessing the writers will pay this off later when Karyl again has to decide between her friends and her queen.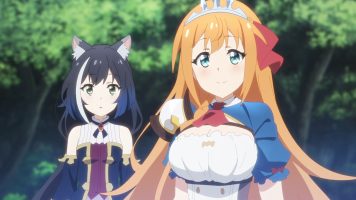 Yuuki's Old Guild
Yuuki has more visions in Princess Connect! Re:Dive Season 2 – 07. However, instead of being of the real world, they are of his former guild, Twinkle Wish. They've been teased all along from time to time. The difference here is that after an initial, typical tease, we were treated to a lengthy memory vision.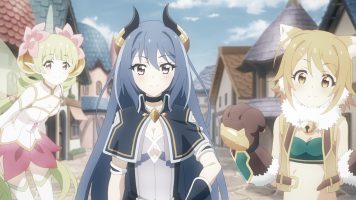 What's weird is that Yuuki has two sets of flashbacks. The first is to a life he had in this apparent VR world before Ameth sent him back for Kokkoro to take care of. The second is flashes of the real world. And Ameth, whomever she is, apparently is preventing Yuuki from remembering some things 'cause "reasons".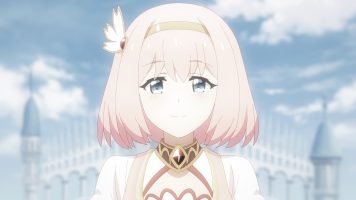 That aside, I guess Yuuki's former guild were going to go up the tower. I don't remember what the anime has shown to date. However, I know the mobile game's story had Yuuki's old guild facing The Queen somewhere. So maybe that's what happened in the anime story too. (The anime's story is similar to the mobile game's story, but not the same story.) Maybe Yuuki gets his current guild to go up the tower since it is in Landosol.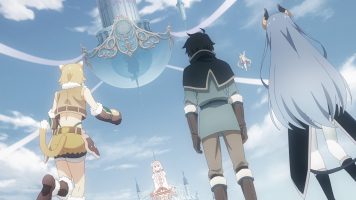 I keep hoping the writers will allow Yuuki to become less childlike and more like an adult. If it were me, a long memory flash like this would have Yuuki mentally mature a bit more. As it is, they have him rely solely on instinct.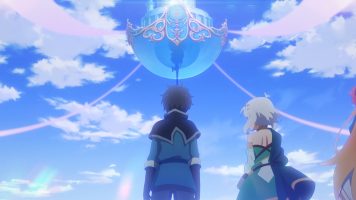 Final Thoughts and Conclusion
In the end, Princess Connect! Re:Dive Season 2 – 07 was not a bad episode. I was just disappointed the side story told here was mostly unrelated to the main plot. But we did get another Yuuki flashback. So we'll see where this goes.