Tonikaku Cawaii Chapter 176
Tonikaku Kawaii Fly Me to the Moon 176
トニカクカワイイ 176
Spoiler Summary/Synopsis:
Kaguya determines that they will have to pass through the waterfall to get to the read Kyoumaru Mansion. Hotaru and Hakase express concerns about doing this, including bugs and water. Kaguya is not amused by their grumbling. She strips down and puts her clothing in a waterproof bag. Kaguya tells them that she can't back off this mystery.
As such, Kaguya enters the waterfall. She sees a tunnel beyond. Hotaru and Hakase follow her in. Kaguya expresses surprise that they came. However, she is happy when they tell her they couldn't let their friend go on her own.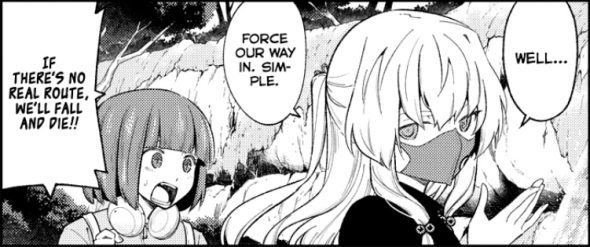 Thoughts/Review:
Since Tonikaku Cawaii Chapter 176 is a short chapter, there's not a lot to say. Basically, the chapter was mainly a way for Hata-sensei to make a tiny advancement of Kaguya's party. At the same time, it allowed Hata-sensei to make Kaguya nude. Then he got to make Hotaru and Hakase in their underwear. (I did notice that they didn't have their clothing with them, even in a bag.)
As to Kaguya, the fact that the real Kyoumaru Mansion has been well hidden is a challenge to her. There's no sign she knows that Tsukasa is the reason behind hiding the residence. She's going to push her way through and that's that. As such, it makes me wonder if Kaguya's attitude will annoy Tsukasa. But we'll see.
Final Thoughts and Conclusion
In the end, Tonikaku Cawaii Chapter 176 covering only eight pages doesn't leave a lot to chat about. Clearly, Hata-sensei was taking it easy with this chapter and buying indulgence with some shounen fanservice. Onto the next chapter.