Spy×Family 04
SPOILER Summary/Synopsis
The Forgers head to Eden College for the family interviews. Both Yor and Twilight sense they are being observed. Twilight realizes the teachers at the school are already grading them. Housemaster Henderson observes the Forgers and sees they have elegance, unlike most of the other applicants. He is most impressed when they pay their respects to the founder of the school.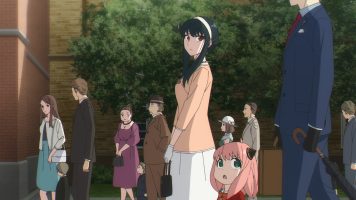 The Forgers pass and are sent to Hall 1. They see a fat kid stuck in a drainage ditch. Twilight helps him, dirtying his suit. This makes the Henderson initially fail the Forgers for having dirty clothing. However, when Twilight produces a new suit, having anticipated something like this happening, the shocked Henderson takes this as a challenge.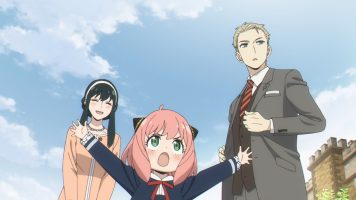 A bunch of livestock escape, causing panic. Henderson is worried that prestigious clients will be harmed. On the ground, Yor disables the lead cow, ending the stampede. Anya comforts the cow. Henderson is so impressed, he races down to personally thank the Forgers. He gives them time to tidy themselves, as Yor's dress is torn. However, she too has another dress, causing Henderson to realize the Forgers are on another level.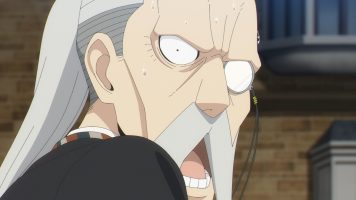 The interview portion goes well until the bitter instructor named Murdoch Swan challenges Anya on whom she likes more — her former mom or her current mom. Anya is reduced to tears. Yor and Twilight are angered by this. Twilight breaks the coffee table with his fists, then announces that he will not allow Anya to attend a school with uncouth instructors.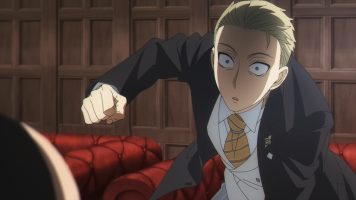 They leave and return home, worried about what may happen, but hoping for the best. Meanwhile, Henderson punches Murdoch for his disgraceful behavior.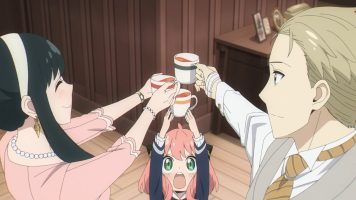 Thoughts/Review
Man, Spy×Family 04 was so enjoyable, I've just decided that I have to own the source manga, even though the smegheads at Viz are publishing it.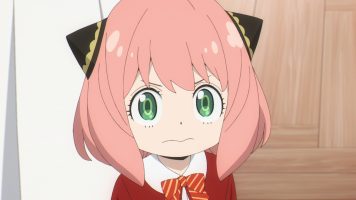 Hilarious High Jinks
There are some lovely moments of humor in Spy×Family 04. Naturally, some of this comes from Anya's facial reactions to situations. Some of this comes from Anya's thoughts, such as noting the bald head of the statue of the school's founder. Yor losing herself for a moment and using her nonlethal assassin skills to stop the lead, stampeding cow made me laugh out loud. Of course, these are the standard humor elements in the series.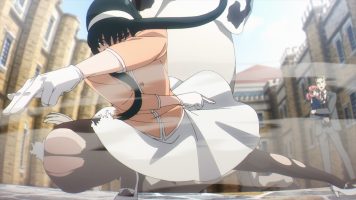 That said, the biggest humor came from Henderson (whom I initially thought was the headmaster based on how he acted) and his reactions to the Forgers going so far above and beyond what any normal family might do. Everything is ridiculously over the top, starting with Henderson's reactions. But then Twilight having spare suits that he instantly changes to (as well as one new dress for Yor) just adds to the bonkers humor. I gotta say, I loved it!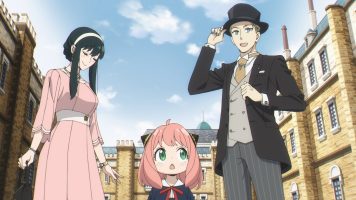 Poignant Seriousness
It is amazing how this series pulls a gambit of emotions from the viewer. Spy×Family 04 continues this. For a start, I can't help but feel choked up over Anya when she's asked about her real mother. She's a lab experiment, desperate to be part of a family. As such, she doesn't know her real mother, and that is sad.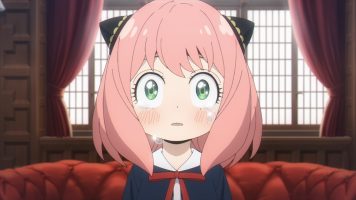 What really works on the serious side of the story is how Anya has wormed her way into the hearts of Yor and Twilight, much as she has for the viewers like me. As such, when Murdoch's inappropriate line of questioning reduced Anya to tears, I liked seeing how both Yor and Twilight were enraged. In that moment, Anya became their real daughter.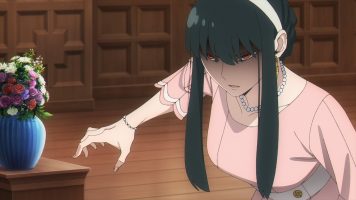 Furthering the point, it was pretty amazing to see Twilight actually walk out of the interview along with Anya and Yor. Twilight's mission is to get close to a mark who's young kid attends Eden College. As a result, Twilight has now endangered his mission. He placed Anya first, as a true father would. It was such a very poignant moment for me.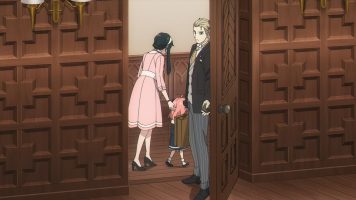 I really look forward to seeing how this fake family continues to grow and become more of a real family.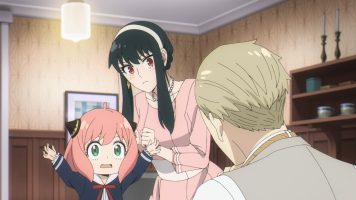 Final Thoughts and Conclusion
In the end, Spy×Family 04 was both very funny, over the top, sad, poignant, and serious, all in one. Through four episodes, this series has so impressed me, I immediately went out and bought all of the manga, even though Viz is publishing it. That's saying a lot.