SPY×FAMILY Volume 01 Manga Review
スパイファミリー
–> Buy SPY×FAMILY Volume 01 from Amazon.com!
I only became aware of the Spy×Family franchise when the anime prepared to drop. After four, amazing anime episodes, I had to buy the manga, even though the hideous Viz publishes it. Since the first volume covers the first four episodes, I decided to give it a whirl.
* * * S P O I L E R S ! * * *
The Story, in Brief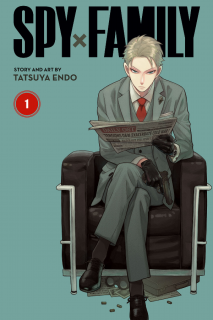 A spy named Twilight needs a child to get close to a mark as part of his new mission. He uses a skeevy orphanage to adopt a young girl named Anya. Unbeknownst to Twilight, Anya is a lab-created telepath. She is desperate to be accepted and scans Twilight's mind to try to fit in. She also thinks it is cool that he is a spy. To that end, she attempts to generate some excitement by sending a message from their apartment. This gets her kidnapped, where Twilight has to rescue her.
Anya gets into the school that Twilight needs her to infiltrate. However, he discovers he needs a wife for the interview portion. At a local tailor's shop, Anya is fitted for new clothes. An assassin named Yor enters, needing to have her sole, nice dress repaired after a mission. Twilight is impressed with how she snuck up on him. After a discussion, aided by Anya, Twilight agrees to be her pretend boyfriend for a party. She agrees to be his wife for the interview.
Twilight is late to the party, due to a side mission. But he makes a positive impression. However, Twilight and Yor are beset upon by folks displeased with Twilight. As a result of this adventure, Yor proposes marriage to Twilight as it gives her greater cover. Twilight accepts as it helps his mission. Yor moves in and the new "Forger" family have a culture outing.
On the day of the interview, the Forgers massively impress one of the House Masters with their elegant ways. During the interview, one of the instructors reduces Anya to tears. Yor and Twilight become enraged. Twilight has them leave, putting his mission at serious risk. However, he decides whatever will be will be.
The Anime is Spot On
The first thing I noticed about SPY×FAMILY Volume 01 is that the anime adaptation seems to be pretty faithful. This first volume contains five chapters. Chapters one through three match anime episodes one through three. The anime has a bit of positive padding at times, such as Anya giving Yor a tour of their house.
Chapters four and five go into episode 5 of the anime. But that's because these two chapters are shorter than the first three. Still, even though this is supposed to be a review of the manga, I just wanted note how great the anime adaptation has been to date.
Nevertheless, because the anime was so faithful to the source manga, I couldn't help but hear the music from the anime as I read. I also couldn't help but hear the seiyuu's voices as I read the text. So in a way, as I lay in bed reading this, it was almost as if I were watching the anime, only not in color. I loved that.
So Why Buy the Manga?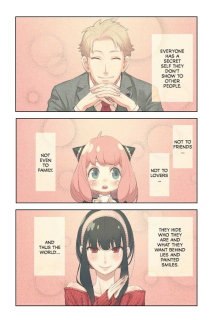 In my own gushing over SPY×FAMILY Volume 01, the thought occurred to me. "Why should someone buy this manga, especially if they can just watch the anime?" Well, why did I buy the manga, especially since it is being published by Viz? After all, Viz's adaptation of Hayate the Combat Butler degraded into rubbish, to say nothing of how slow they are to release it. And the same folks who ruined that manga also trashed the adaptation for Fly Me to the Moon (Tonikaku Kawaii).
Well for a start, I did want to support Endo-sensei (should be "Endou-sensei" but…). However, I could have just purchased the tankoubon released from Japan, as I do for Hata-sensei's butchered works. That aside, I did want an English version of the manga that I could read before bed, or in a waiting room somewhere. I already knew Viz wouldn't keep Japanese honorifics for a European-like, 1960s setting, so why not get it?
Also, I'm fairly certain the anime adaptation will not cover all of the ongoing, published manga material for SPY×FAMILY. Therefor, I want to be able to continue reading the story if I want. Further, if the anime decides to wander off and do its own thing, I want to know that as well. Having the source manga material allows me to know what's what.
Finally, there's something wonderful about losing myself in the pages of a book, including a manga. And reading or rereading about the adventures of the artificially created Forger family does wonders for me. Anya managed to trump Yotsuba as my favorite fictional daughter.
Extras
SPY×FAMILY Volume 01 is pretty light on the omake materials. I don't think this has anything to do with Viz. That aside, we get a one-page omake manga with Twilight and Anya shopping. Endo-sensei also gives us a glimpse of some early artwork for the series. Then after a thank you page, Endo-sensei does one more Anya pictures. This is followed by a redacted profile of Twilight. And then there are some final words from Sensei as well as a tiny biography.
Final Thoughts and Conclusion
In the end, SPY×FAMILY Volume 01 introduces us to the three main, lead characters of a male spy, female assassin, and very young female telepath. We then are shown how they start to become a family for their own purposes. And frankly, I can't wait to read more, even if Viz is publishing it. However, as I've already started the anime, I'm going to watch that first, then read more of the manga.