Miss Shachiku and the Little Baby Ghost 05
社畜さんは幼女幽霊に癒されたい 05
Shachiku-san wa Yо̄jo Yuurei ni Iyasaretai Episode 05
Shachiku-san Wants to be Healed by a Little Girl Ghost
SPOILER Summary/Synopsis:
Myaako (in kitten form) and Yuurei-chan are fascinated by the large, koinobori flying outside the apartment window. Fushihara explains why koi streamers are flown on Children's Day. She goes to work, leaving the two to watch the apartment. Yuurei-chan starts plucking daisy petals to see if Fushihara will come home early. Myaako (in human form) joins her. All of the flowers come up negative.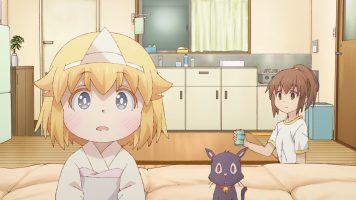 However, Fushihara comes home early to find the two in a daze in a pile of petals. The two clean up as Fushihara makes dinner, complete with tiny koi streamers. The next day, they eat breakfast Myaako made. After Fushihara leaves for work, Yuurei-chan asks for cooking lessons so as to help Fushihara come home early. Myaako agrees.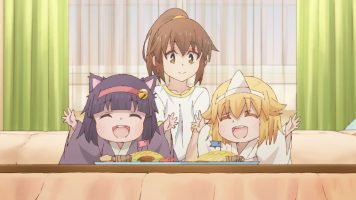 With the bento made, Yuurei-chan sets out to find Fushihara's work building, but gets lost. No one can see or hear her. Depressed, Yuurei-chan thinks on how Fushihara was the first person to see and hear her. Meanwhile, Myaako finds Fushihara and learns she hasn't seen Yuurei-chan. The two search and find the grateful Yuurei-chan, who wants to stay with Fushihara forever. Myaako leaves and Fushihara enjoys Yuurei-chan's bento, even though it isn't the best.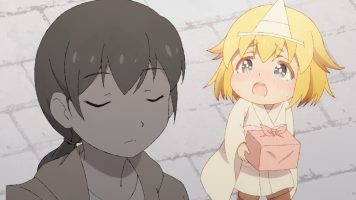 Sometime later at a park, Myaako pets a puppy as Fushihara talks to its owner. Yuurei-chan is afraid of dogs, even puppies. But eventually, Myaako and Fushihara convince her to pet the puppy.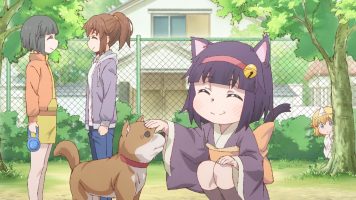 Thoughts/Review:
Another adorable outing with Miss Shachiku and the Little Baby Ghost 05, though somewhat depressing as well.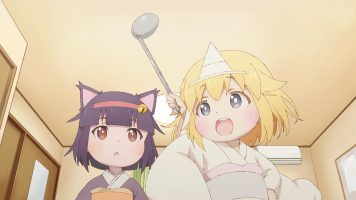 Children's Day
I don't think I've seen Children's day get featured in anime as much as it was in Miss Shachiku and the Little Baby Ghost 05. It was cute seeing Yuurei-chan and Myaako puck the petals from flower after flower, hoping to end on Fushihara coming home early. So they get depressed from that. But then she comes home early anyway and they have a mess to clean up. 😂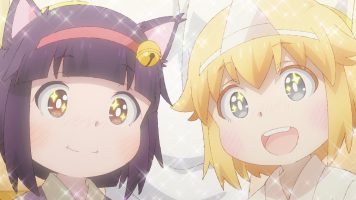 I'm glad Yuurei-chan can eat, despite being a ghost.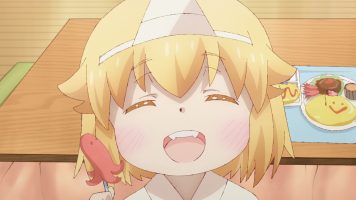 Making a Bento
I don't know how Myaako-chan knows how to cook. Nevertheless, she gives cooking lessons to Yuurei-chan in Miss Shachiku and the Little Baby Ghost 05. I'm glad this part of the episode didn't focus on Yuurei-chan's mistakes in cooking. I was hoping she had done better than what she did. Nevertheless, the "bad bento" cliche is not my favorite. But it wasn't too bad here.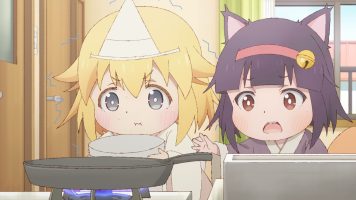 The depressing aspect came from Yuurei-chan getting lost, trying to deliver the bento. Not sure how that happens, since she's been back and forth to the office building a few times. Nonetheless, Yuurei-chan did get lost. And since the general population cannot see her, she is alone in a world full of people. And that depresses me to no end.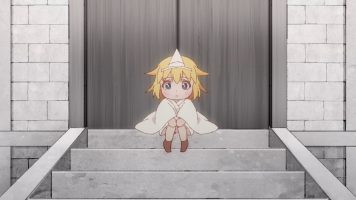 Still, after however many decades or more of being alone, Yuurei-chan has a family. But she is a ghost so…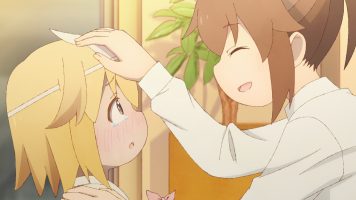 Puppies
The little omake story after the end credits in Miss Shachiku and the Little Baby Ghost 05 kept me wondering. The obvious joke was to make the puppy bite Yuurei-chan when she finally found the courage to pet it. I'm glad the episode didn't go that route.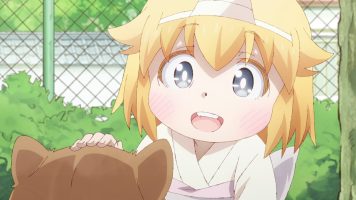 Final Thoughts and Conclusion
In the end, Miss Shachiku and the Little Baby Ghost 05 is more adorable adventures for Yuurei-chan and Myaako. But there's also tear-jerking moments when Yuurei-chan gets lost.