Miss Shachiku and the Little Baby Ghost Review
社畜さんは幼女幽霊に癒されたい
Shachiku-san wa Yо̄jo Yuurei ni Iyasaretai
Shachiku-san Wants to be Healed by a Little Girl Ghost
I'm often introduced to new anime or manga titles via Twitter. That's because the Japanese manga-ka and other artist I follow will share things from other manga-ka and artists. Thus was the case with Miss Shachiku and the Little Baby Ghost, which is a rubbish English title name. That's how I was introduced to manga-ka ARITA Imari and Shachiku-san Wants to be Healed by a Little Girl Ghost, the accurate but readable title name.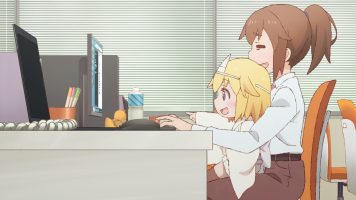 S P O I L E R S !
The Story, in Brief

Fushihara-san is a typical "corporate slave" (Shachiku-san). She works for a company that forces her to stay well after 2am at the office in order to get her tasks done. The small office she works at is "haunted" by an unnamed, little girl ghost. This little girl ghost, nicknamed "Yuurei-chan" (yuurei being the Japanese term for ghost), feels bad for "Shachiku-san". As such, she works to get Fushihara to start going home earlier.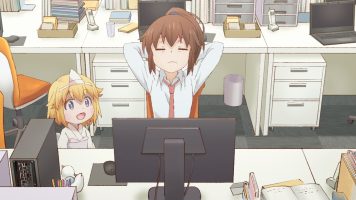 Yuurei-chan starts accompanying Fushihara to her apartment. One night, they find an abandoned kitten in a box and take it home. Yuurei-chan names the kitten Myaako. However, Myaako turns out to be a bakeneko — a ghost cat. She can take humanoid form, and unlike Yuurei-chan, more people can see Myaako's physical form.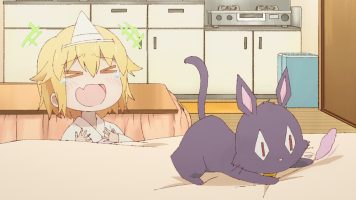 Fushihara finds her soul being healed by having these two spirit girls in her life, waiting for her when she gets home. She also comes to know her neighbor Satsuki, who is also sheltering a little girl ghost named Lily. Lily works as Satsuki's maid, but also drives her to finish her art for her job.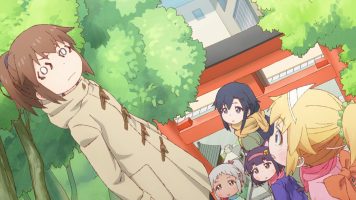 Eventually, the group is introduced to the local shrine deity, Miko-chan. She is an oni mikogam. When Fushihara and Satsuki's apartment building catches fire, Miko-chan gives them permission to live in a special apartment tower, where special people like them are allowed to stay along with other, supernatural entities.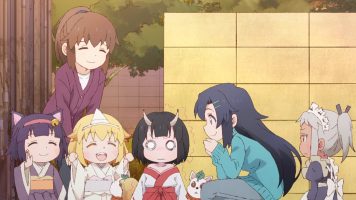 The Source Manga

As is typical for an anime, Miss Shachiku and the Little Baby Ghost started as a manga series. Indeed, ARITA Imari-sensei published the first volume or so of 4-page chapters online. The scanlation community went to work to make these in English. After that, Square Enix came in and shifted the publication to Monthly Shounen Gangan. Sadly, Square Enix has not bothered with bringing this manga series to the West, and I'm pissed about that. And since no one seems to scan Monthly Shounen Gangan, the scanlation community hasn't touched it since volume 2.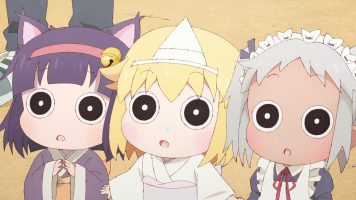 That aside, the anime adaptation of Miss Shachiku and the Little Baby Ghost took the source manga, heavily padded it, and also rearranged things as they saw fit. I can't speak to the stuff in Monthly Shounen Gangan. (I don't even know how many pages per chapter there are in the magazine). However, I suspect that were I able to read those chapters, it would be a similar story. I just wish it were licensed for an English publication.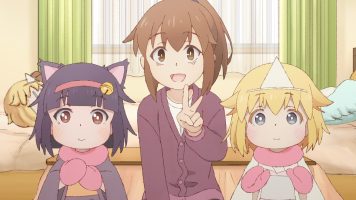 The Good: Adorable Cuteness

There's no doubt that Yuurei-chan, Myaako, Lily, and Miko-chan are all insanely adorable and cute in Miss Shachiku and the Little Baby Ghost. Although Yuurei-chan has been around for possibly 100 plus years, there were many things she didn't know or hadn't experienced. As such, it was a delight seeing her brighten up and be extremely happy when experiencing new things.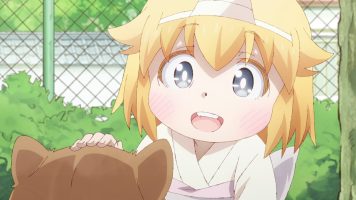 It is a similar tale with Myaako as well. I loved the sister-friend dynamic that formed between Yuurei-chan and Myaako once Myaako revealed her bakeneko, humanoid form. There may have been brief times of rivalry and jealousy between the two, but mostly, they experienced things together as equals. So it was a delight seeing them get Christmas presents for the first time, or New Year's money.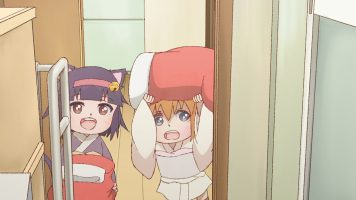 Lily doesn't brighten up the way Myaako and Yuurei-chan do, but she too has her cute moments as the resident tsundere character.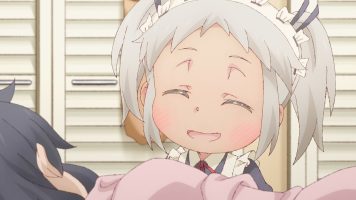 The Bad: Clouds of Depression
The biggest issue I had with Miss Shachiku and the Little Baby Ghost is that it is so depressing at times. Nothing bad happens to any of the ghost girls in the series. And yet the mere premise if the story is that a little girl ghost (maybe age 5) is "living" in a small office's storage room. The fact that the adorable Yuurei-chan is a ghost already has a depressing element to it. Then learning that Myaako is also a spirit has a depressing element in it as well.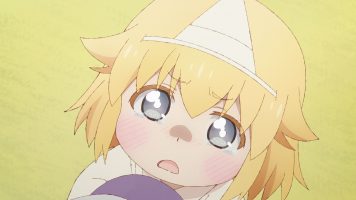 Yuurei-chan sees a lot of her deceased mom in Fushihara, and is desperate for Fushihara to not work herself to death. While this "go home" aspect doesn't remain a focus for the entire series, Yuurei-chan's tearful pleas tug at the heartstrings. The gag of Fushihara being inspired to work more because Yuurei-chan is so cute and adorable when in tears didn't work for me.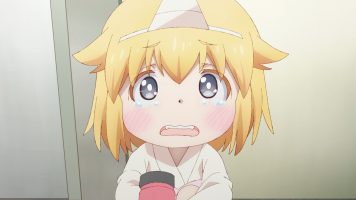 Even after Yuurei-chan comes to permanently live with Fushihara, there are still depressing elements. For example, in the Christmas episode, Yuurei-chan and Myaako are so excited to have Santa come and give them a present. But as time passes, the two reflect on the fact that Santa has never visited them in the past. Thus this means they've not been good girls. It was very depressing. Sure, there's a positive payoff in the end, but I didn't want to be depressed to get there.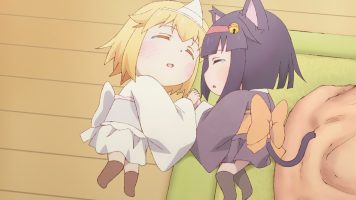 The source manga gets away with stuff like this as only a few panels are dedicated to any tearful, depressing elements. The anime does not get away with it. Toward the end of the series, the depressing elements are lessened, which is good. I just wish the tear-jerker stuff was lessened.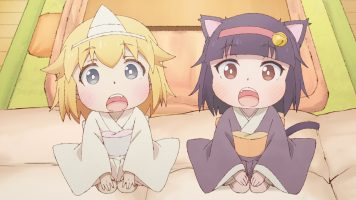 Unanswered Questions
Unfortunately, Miss Shachiku and the Little Baby Ghost leaves us with a lot of unanswered questions. Sadly, short of a sequel anime series (the manga seems fairly popular in Japan), or Square Enix bringing the manga to the US, I don't think we'll get answers. Nevertheless, here are a list of questions I want answered.
How did Yuurei-chan and her mom die?
Is Fushihara a reincarnation of Yuurei-chan's mom?
What killed Myaako?
How did Lily die?
Why is Lily a maid to Satsuki? For that matter, how did Satsuki encounter Lily to begin with?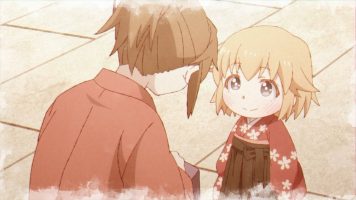 Sometimes, it really sucks being a Western fan of manga or anime. I really want to read the source manga.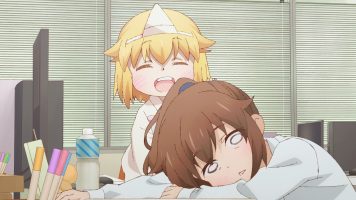 Final Thoughts and Conclusion
In the end, Miss Shachiku and the Little Baby Ghost can be rather slower paced than most folks like. That didn't bother me. However, the depressing elements of the story did. To me, having orphaned spirits taken into a warm, loving home shouldn't make me want to cry. I guess the Japanese are just going for the "its adorable, even if it makes me cry, so it is all good." But all I want is heartwarming, cheerful stuff.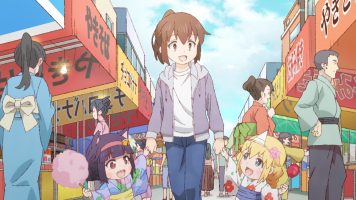 Additional: I also hate the official English title. Shachiku-san and the Little Girl Ghost would have been a better choice.