TONIKAWA: Over The Moon For You 11
Tonikaku Cawaii: Fly Me to the Moon 11
Tonikaku Kawaii/トニカクカワイイ
SPOILER Summary/Synopsis:
Chitose is horrified to discover Tsukasa's apartment is gone. Aurora informs her that the place burned down while Nasa and Tsukasa were in Nara. Tsukasa wanders past, so Chitose stops her. Tsukasa acknowledges the loss of the apartment, but says she now lives in a local part. Charlotte is amused at how gullible Chitose is as Tsukasa slips away.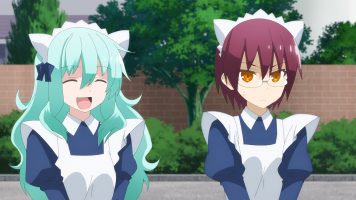 Tsukasa returns to the bathhouse to discover Nasa has unearthed a takoyaki cooking tray. After learning what it is, Nasa decides they should have a takoyaki party and invite Kaname and Aya. Chitose barges in, so Tsukasa trolls her some more, claiming to sleep in the waiting area of the bathhouse. Aurora and Charlotte arrive. They get permission to have a bath, and drag Chitose off. This initially distracts Chitose, but then she returns with a vengeance.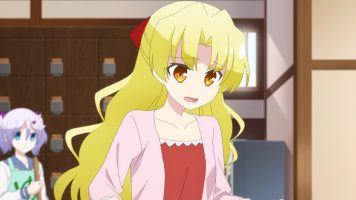 Chitose attempts to bribe Tsukasa to return home with a promise of multiple game consoles. Aya shows up, asking to go. Nasa and Tsukasa decide to proceed with the takoyaki party. Charlotte and Aurora produce groceries, so they and Tsukasa make the food for the party. Aya is impressed by the food. However, she wants to further see if Tsukasa is a good wife for Nasa. As such, it is time for the games.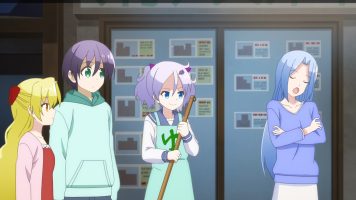 Nasa quickly reveals himself to suck at games. Tsukasa crushes Kaname at the fighting game. Aya destroys Chitose. Thus Aya and Tsukasa duke it out. Tsukasa loses at the modern fighting game, but she brings out an old console and old fighting game. There, she has an advantage, but Aya soon catches on. This leads them to a draw and a new friendship is formed. Afterward, Tsukasa and Nasa clean up, where Tsukasa claims her prize — kissing Nasa.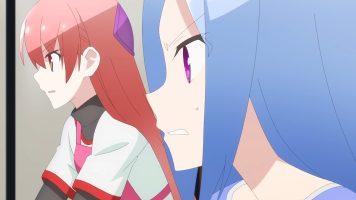 Thoughts/Review:
As an episode, TONIKAWA: Over The Moon For You 11 would likely have worked better if I didn't know the source material. As it is, some things don't jell quite well for me.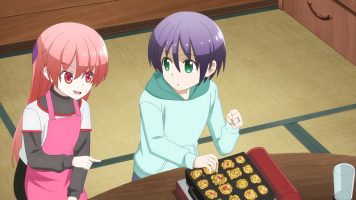 Modifications to the Source Material
In order to create TONIKAWA: Over The Moon For You 11, things get started with the first part of chapter 44. Then we jump back to chapter 41 before jumping forward to 44. Then  it is back to finish chapter 41 before proceeding to chapter 42. There are TONS of changes simply due to the jumping around in chapters and then making the result work. As such, I'm not going to bother with listing those changes as Chitose, Aurora, and Charlotte weren't originally involved with the takoyaki party. I will discuss the fallout later though.
In the manga, Tsukasa is out to get food for dinner, while in the anime, she's getting detergent for laundry.
Aurora and Charlotte are not shown in the bath with Chitose in the manga.
Tsukasa cites a Sega Genesis as  the reason for staying in the guesthouse in the manga. The anime changes it to Mega Drive.
Aya did not reveal her Internet persona in the manga.
They actually make takoyaki in the anime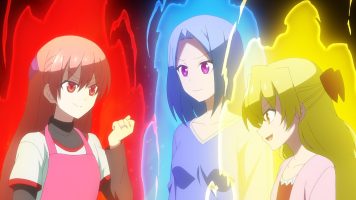 I did find it interesting that the anime actually used game footage from both the new Street Fighter and old Street Fighter games.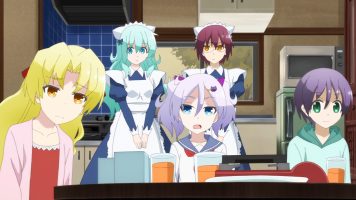 Mix and Match
With Hata-sensei's writing style, I get why the writers of TONIKAWA: Over The Moon For You 11 felt the need to do what they did. They had chapter 44, which was Chitose and her maids discovering where Tsukasa really lived. They also have chapters 41 and 42, where Aya decides to see if Tsukasa is a good wife to Nasa. And that's also where the takoyaki party comes in. But this means there are two competing agendas at work.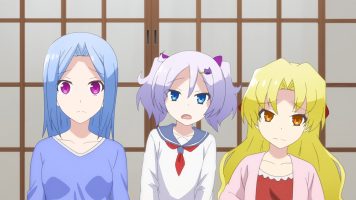 First is Aya's desire to test Tsukasa as a worthy wife. One aspect of this is to see what kind of cook Tsukasa is. Because Tsukasa does everything by herself in the manga, Aya's challenge on this front is an easy loss. She can't object to Tsukasa's cooking. But in the anime, Charlotte and Aurora help Tsukasa. And while there's a line about the maids not really doing anything, it seems like an excuse. Thus Aya's acceptance of Tsukasa's cooking doesn't have the impact in the anime that it had in the manga.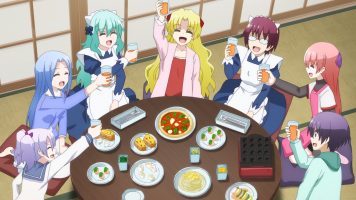 The second agenda is Chitose's attempt to get Tsukasa to return home. In the manga, Chitose is playing the tsukkomi part all day long, going off left and right. Yes, Hata-sensei ends it all with the gag of Aya wanting to go to Chitose's home to play on all those game consoles. But in the anime, Chitose loses the tsukkomi aspect of her character once she's involved in the takoyaki party and game playing that followed. She no longer goes off, but accepts things. While that is character growth in the anime, it isn't how things run in the manga.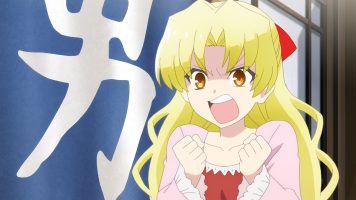 I wonder how this will be dealt with in the future anime.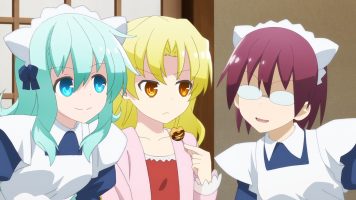 Final Thoughts and Conclusion
In the end, TONIKAWA: Over The Moon For You 11 was fun enough for what it was. Had I not been so versed in the source manga, I probably would have enjoyed the episode more. As it was, I can see the cracks and such where two different stories were attempted to be melded into something new.