Lupin the 3rd: Part 1 07
ルパン三世
Lupin III Episode 07
SPOILER Summary/Synopsis
Lupin assumes the identity of Annaka no Hanjiro in order to get back the stolen family treasure, the Zantetsuken Book of Secrets. At the contest, run by Goemon, the other three male finalist introduce themselves. A woman named FUJINAMI Ginko is also a finalist. The three men fail their bouts, leaving Ginko's turn. She wins and joins Goemon's side. Lupin manages to win his bout. Goemon decides to attack "Hanjiro", so Lupin pretends to get knocked out while planting a bug on Goemon. As such, he's able to overhear Goemon's conversation with an old swordsman who wants Lupin dead.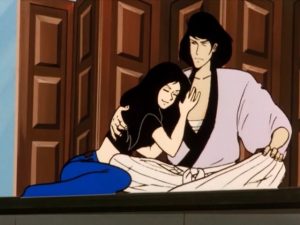 Lupin attempts to pay "Ginko" a visit, believing her to be Fujiko, but is thwarted. She reveals herself to be Fujiko and the other three contestants are on her payroll. However, when Fujiko reaches the place where the scrolls making up the Book of Secrets is at, she finds Goemon waiting for her. Goemon kills her two compatriots, but lets her flee. Meanwhile, Lupin visits the old swordsman, who confesses that years earlier, he was defeated by Lupin II. Thus he stole the Book of Secrets.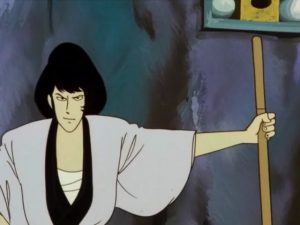 Goemon overhears the conversation and decrees Lupin and the swordsman fight. Lupin wins by luring the old man into a couple of traps. He goes to claim his prize, but Fujiko steals them. Goemon reveals those scrolls were fake and gives Lupin the real ones. He reminds Lupin that they have unfinished business. Lupin drives away and finds Goemon waiting for him. Lupin attempts to run over Goemon, but ends up with a halved Mercedes Benz SSK. He continues to chase Goemon in the busted car, causing both men to laugh at the absurdity of it all.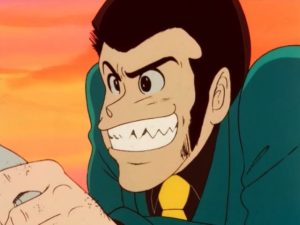 Thoughts/Review
And so we get to see Goemon join Lupin's crew in Lupin the 3rd: Part 1 07. We also learn of Lupin's connection to Zantetsuken.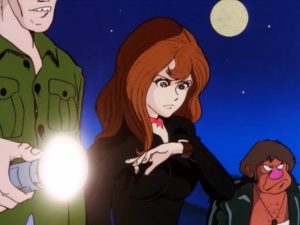 Goemon and Fujiko
It was nice seeing Goemon return in Lupin the 3rd: Part 1 07. And it is especially nice that this episode continues the antagonistic thread started when they first met in episode 5. Once Lupin is revealed, I liked how Goemon handled the situation. The swordsman's previous actions in stealing the scrolls from Lupin II were dishonorable. So Goemon's solution of having the swordsman fight Lupin makes perfect sense.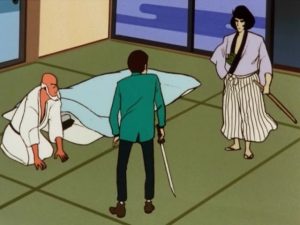 I wasn't sure how Goemon would feel about Lupin using tricks to defeat the old swordsman. Nevertheless, a win is a win, and Goemon honorably gave the scrolls to Lupin. Of course Goemon would later challenge Lupin and lose in the same manner, followed by winning by destroying Lupin's car. I have to say, the absurdity of Lupin chasing Goemon in a halved car was pretty funny. And I liked how Lupin and Goemon felt the same, thus they came to reconcile.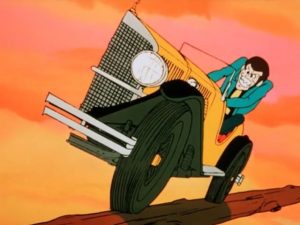 As to Fujiko, her using an alias is a rare thing. Normally, she just blathers that she's Fujiko, only with a new look. As such, I appreciate this attempt on her part to not be recognized. That aside, what amazed me was that Goemon gutted Fujiko's two, surviving henchmen. Fujiko appeared to genuinely be afraid for her life. But since Goemon is a soft touch, well, Fujiko wins in the end.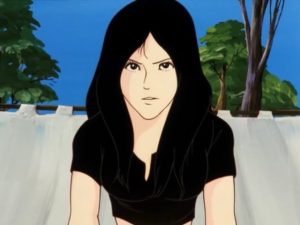 Lore
I love getting more lore in Lupin the 3rd: Part 1 07. I have noticed that some of Lupin's adventures center around something being stolen from his family. Funny how that happens. Nevertheless, in this case, it was the Zantetsuken Book of Secrets. So now we have a connection between Lupin and Goemon that I never knew about before.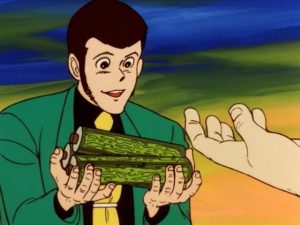 Also, we get to see Lupin II, who looks a lot like the design for the original, French Arsène Lupin. Not sure why Lupin II would dress as if he's from the 19th century in 1946 (based on the original airing of the episode in 1971). But I suppose this is Lupin III's father. And it is an interesting tidbit of lore.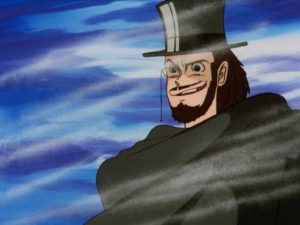 Final Thoughts and Conclusion
In the end, Lupin the 3rd: Part 1 07 was a fun episode, allowing for the return of Goemon and a bit of lore. And I admit, the end had me laughing alongside Lupin and Goemon. And Jigen was along for a cameo.