Lupin the 3rd: Part 1 09
ルパン三世
Lupin III Episode 09
SPOILER Summary/Synopsis
A hit-man named Poon meets up with an acquaintance named Cap about some secret documents. Poon is interested in finding Fujiko. Meanwhile Lupin plans a heist of some secret documents. However, since Fujiko is involved, Goemon bails. Lupin hits the building where Cap is. Lupin defeats Cap, but is revealed to be Fujiko. Before she can leave, Poon shows up and Cap shoots her.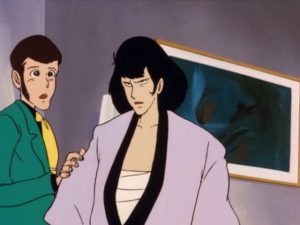 Meanwhile, Lupin scores the secret documents. He returns to his rundown, mansion hideout, where the injured Fujiko is. After hearing Fujiko speak of Poon in her sleep, he speaks to Jigen about Poon. They piece together that Fujiko was Poon's partner, but Poon allowed her to escape after a hit was put out on her. A doctor attempts to treat Fujiko. However, he is knocked out when Poon and Cap show up. Cap shoots Jigen's gun from him.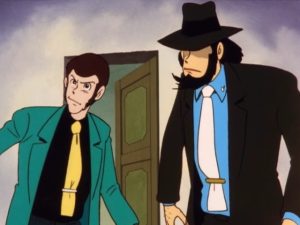 Cap and Poon take Fujiko and leave. Lupin gives chase to find their hideout. He summons Jigen, who cannot assault the hideout. Lupin fires a walkie-talkie to Poon, begging to let him help Fujiko. Poon declines, but does agree to let Lupin send medical supplies over. Goemon delivers said supplies. Lupin takes advantage to get the drop on Cap. Lupin steals Fujiko away. Poon tries to stop them, apparently still having strong feelings for Fujiko. She weakly shoots him and he dies.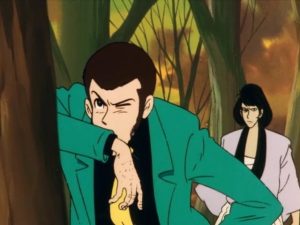 Sometime later, Fujiko and Lupin are at a party. However, Fujiko ends up tying Lupin up so she can flee. Jigen arrives and laughs at Lupin. Elsewhere, Fujiko sheds a tear for Poon.
Thoughts/Review
Although Lupin the 3rd: Part 1 09 is there to give Fujiko some backstory, it is done in a boring fashion.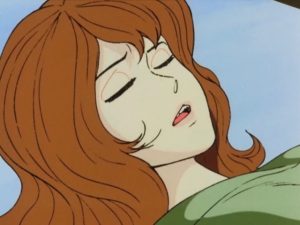 Loving Fujiko
One of the things that has disappointed me about Lupin III Part 1 is the relationship between Fujiko and Lupin. This is because in Lupin III: Castle of Cagliostro, Fujiko mentions how she and Lupin are sometimes lovers and sometimes not. That said, in Lupin the 3rd: Part 1 09, we see Fujiko becoming superficially loving with Lupin. Or at least, that's how I interpreted it.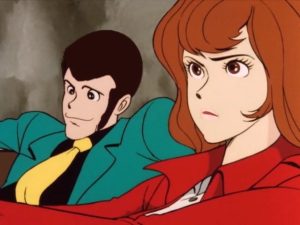 But then Fujiko often leads men to believe she cares when in fact she doesn't. And yet with Lupin, at times we see moments that suggests she does care. Even within this episode, one could almost believe she had some level of feelings for Lupin. And though he denies it, Lupin has some level of feelings for her. In the future, I like how this is defined as Lupin scoring the ultimate treasure — Fujiko's heart.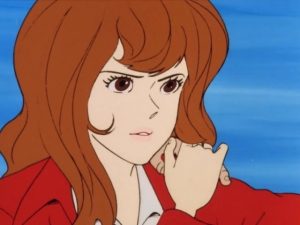 That aside, we are introduced to Fujiko's former partner, Poon. He had such strong feelings for her, he couldn't carry out her execution. And even now, he couldn't kill her, though he was willing to let her die. Considering the regret Fujiko had upon killing Poon, I suppose she had some feelings for him. And yet, I couldn't help but feel sorry for Poon. Despite whatever feelings Fujiko may have had for him, in the end, he was just a useful pawn.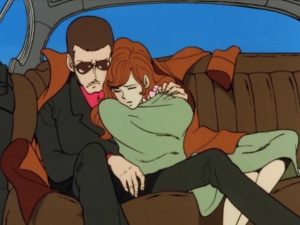 Poorly Done Story
Sadly, Lupin the 3rd: Part 1 09 is a poorly paced story, where a lot of time was spent showing nothing happening. Poon often just stares at the unconscious Fujiko. We have time wasted with Lupin pleading with Poon to save Fujiko. There's time for Fujiko and Lupin to party at the end. Heck, there's even time to show Goemon playing a flute 'cause 25 minutes is a lot of time to fill. And clearly, they didn't have enough story to do that.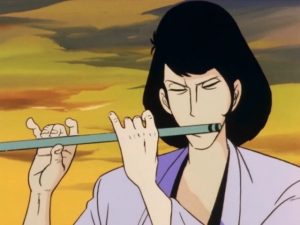 Another irritating element in this episode was the cliched "let the heroes stay alive" stuff. Cap is shown to be so good with guns, he even defeats Jigen. But rather than kill Lupin and Jigen, Cap and Poon let them live. Yes, the show ends if Jigen and Lupin are killed. But the arbitrary decision of the antagonists to use non-lethal force just feels wrong.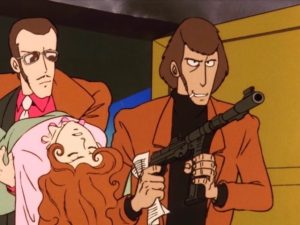 Finally, this whole rubbish about Lupin or Poon doing surgery to remove the bullet from Fujiko made my eyes roll. Not sure how either man has the medical knowledge to do such an operation. Get Fujiko to a bloody hospital, or at minimum, force the doctor from earlier to work on her in Poon's hideout.
Final Thoughts and Conclusion
In the end, Lupin the 3rd: Part 1 09 was a mostly boring episode, attempting to tell something interesting about Fujiko's life and character.