Tonikaku Cawaii Chapter 202
Tonikaku Kawaii Fly Me to the Moon 202
トニカクカワイイ 202
Spoiler Summary/Synopsis:
As Tsukasa walks in the forest, she misses the well off stranger's visits (the emperor). She hopes she will find someone someday. Meanwhile, the emperor courts Kaguya successfully. He has to go out of town for a while, but promises to write. Kaguya teases him about his own prose not being as good, but brightly assures him that as long as he writes for himself, he can write about anything. The emperor leaves, promising to think of Kaguya when he looks at the moon.
The emperor summon Tsukasa's father, Iwakasa to make something for him. Later, the emperor returns to Tsukasa's woods and finds her. He presents her with a new hair clasp for the back of her head. With that, the emperor promises to return with Kaguya, after he marries her.
At the bamboo cutter's mansion, Kaguya is depressed. As much as she's come to love Earth, her people are coming from the moon to take her back home.
Thoughts/Review:
We have the upbeat elements in Tonikaku Cawaii Chapter 202 before the storm hits.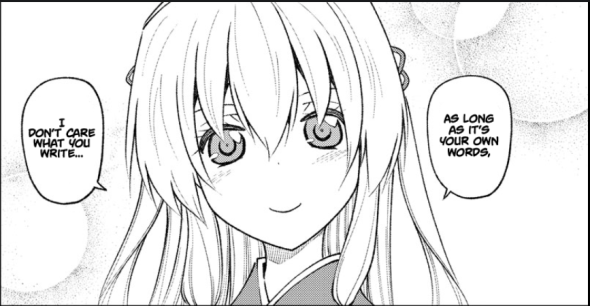 Wholesome Romance
I rather like the romance between the emperor and Kaguya. It is a wholesome, chaste romance that is lovely to see. Who cares if all they've done is hold hands. Under normal circumstances, there's no rush. Kaguya and the emperor just enjoy spending time with each other, and I love it.
Indeed, Tonikaku Cawaii Chapter 202 shows us a side of Kaguya we have never seen before. She loves the emperor, so anything he writes to her will be treasured by her. The emperor loves her, so naturally he'll do his best. And I liked how the two agreed to look at the moon and think of each other.
I suppose that's what makes their romance so tragic. The lunar folks are coming for Kaguya, meaning the emperor and Kaguya can never be together.
Final Thoughts and Conclusion
I'm behind, as usual, so let me wrap up my review of Tonikaku Cawaii Chapter 202 with some final thoughts.
We've seen Kaguya with her hair clasp before. But here, the emperor gives her a new one. Part of me suspects that somehow, the hair clasp that is part of Tsukasa's look is the same one the emperor gave her. I wonder if Tsukasa ever learned this was the emperor since her father worked for him.
It is ironic that Tsukasa's father ended up making Tsukasa's hair clasp and doesn't know it is for her. I don't recall him mentioning Tsukasa's hair piece later, but then he may have been too focused on his daughter's illness.

In the end, Tonikaku Cawaii Chapter 202 was a lovely chapter for folks like me who want to know more of Kaguya's backstory and how Tsukasa fits into that.