うる星やつら episode 12 (2002)
Urusei Yatsura 12 (2022) review
SPOILER Summary/Synopsis:
Ataru's parents annoy him by fawning over Lum in a kimono. He steps out of the house and discovers an Oni boy stuffed into the letterbox. Ataru brings in the kid, whom Lum recognizes as Ten-chan. She decides to bring Ten-chan with them as they go to Sakura-sensei's home for New Years. This annoys Ataru, who discovers Ten-chan can breathe fire. Ataru is further irritated at how Sakura and Shinobu fawn over Ten-chan.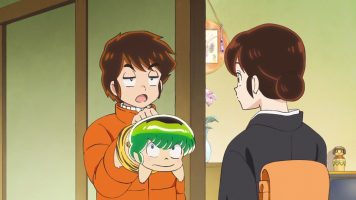 Ran shows up, so Lum uses Ten-chan to reveal that Ran is also an alien. Ran manages to avoid Lum's trap. The group, play a game where he says something and someone has to pick a card representing that. Ataru purposefully is slower than the girls so he can touch their hand. Ten-chan burns his hand as a result. Ran feigns to care about Ataru, but Ten-chan's fire prevents Ataru from kissing Ran. As such, Ataru goes on a rampage and is thrown out by Sakura-sensei.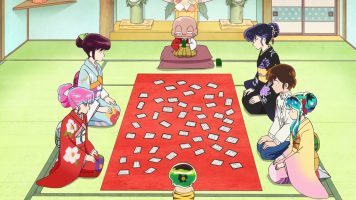 At Ataru's home, Ten-chan crafts a love letter for Sakura-sensei. Ataru decides to help him. As such, Ten-chan writes a perverted letter, requesting Sakura meet him for a date. This enrages Sakura-sensei, thinking it is one of the boys at school. However, learning it is Ten-chan takes her aback. The boy takes her to a perverted cafe. Sakura-sensei refuses and takes Ten-chan to a normal cafe. Ten-chan is upset, so Sakura-sensei agrees to do whatever he wants next.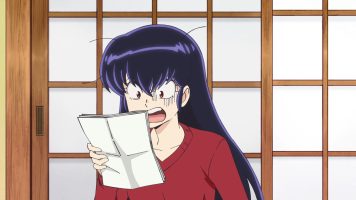 They go to a movie with a perverted title. Lum and Ataru follow, where Lum gets into the dumb movie. Sakura-sensei gets incensed and gets them all out of the theater. When Ten-chan suggests a hotel, Sakura-sensi angrily goes off on Ataru. That evening, Ten-chan learns that Sakura-sensei is engaged. As such, he is crushed and so angrily breathes fire on Ataru.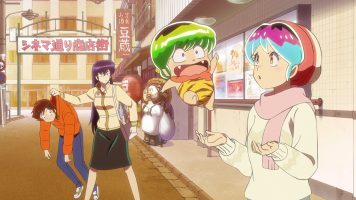 Thoughts/Review:
And so, one of the most annoying characters in Urusei Yatsura finally shows up in Urusei Yatsura 12. Thankfully, Ten-chan isn't nearly as irritating as he was in the OG anime.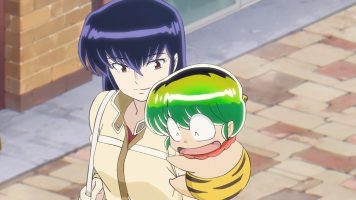 Ten-chan Arrives
In OG episode 2, Ten-chan arrives at Ataru's home and is just the worst. Thankfully, the writers of Urusei Yatsura 12 delayed Ten-chan's arrival until now. In the OG episode, Ten-chan burns Ataru's home to the ground. In the 2022 version, there is no fire, thankfully. As such, Ataru doesn't get burned until they are walking to Sakura-sensei's home.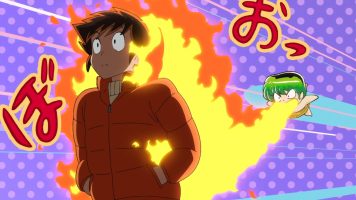 From there, the Ataru vs. Ten-chan elements are carried out to some degree in Sakura-sensei's home. However, things are done in a much better way in the new version. I didn't find myself getting irritated by Ten-chan's presence. And his sometime hostility toward Ataru felt more justified. At the same time, we didn't get a house burned to the ground as a joke.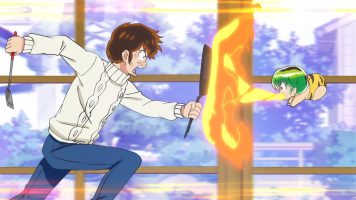 Speaking of Sakura-sensei's home, I couldn't find where Sakura-sensei threw any party at her home, New Year's not withstanding. Those of you with knowledge of the manga, or better anime memories than I can correct me if I'm wrong. But I did enjoy seeing Lum, Shinobu, Ran, and Sakura-sensei in elaborate kimonos.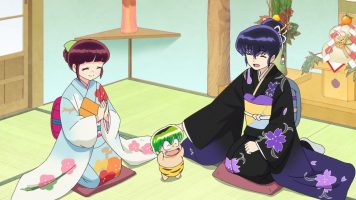 Ten-chan's Crush
Based on the New Year's party, Ten-chan develops a crush on Sakura-sensei in Urusei Yatsura 12. As such, I felt there was a better flow to things here. In OG episode 26, Ten-chan's decision to ask Sakura-sensei on a date just comes out of the blue. Further, the other annoying brat, Kintaro, was in the OG episode to encourage Ten-chan in his unrequited feelings. And it was apparently Lum who got Sakura-sensei to go out with Ten-chan due to the Children's Day celebration.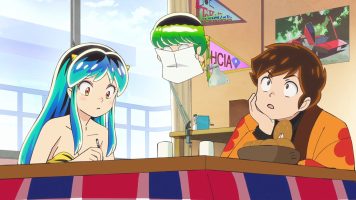 The 2022 episode is so much better. For a start, Ataru "helps" Ten-chan by dictating a perverted letter. Why Lum didn't object to this is a mystery, but that aside, it enraged Sakura-sensei. And the only reason she went to meet the letter writer was to punch them, not to date them. That struck me as pretty funny.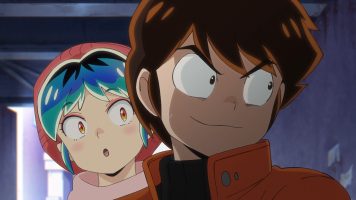 Ten-chan's innocence in following Ataru's perverted date plan made Ten-chan less annoying. As such, we get the humor of Sakura-sensei getting carried along by events, then feeling sorry for Ten-chan and thus allowing things to proceed despite the perverted undertones of everything. I had to laugh when Lum got into the dumb, double entendre movie that Ten-chan took Sakura-sensei to see.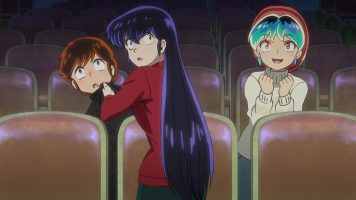 Finally, we get to Ten-chan's heartbreak upon learning Sakura-sensei has a fiance. Since Ataru had set up this perverted date, I had no problem with Ten-chan deciding to roast Ataru with fire. And that's what I mean by Ten-chan not being so annoying. In the OG episode, Ten-chan mostly came off as a punk. In the 2022 episode, he's more of a regular kid. I'm okay with that.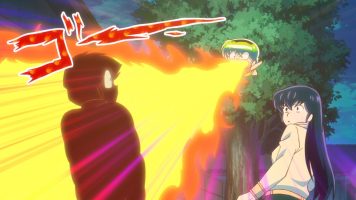 Final Thoughts and Conclusion
Let me wrap up my review of Urusei Yatsura 12 with some final thoughts.
The Sentai subtitles for this episode are such trash. The translator/adapter (whomever) decides to insert a lot of profanity where none existed in the actual Japanese. These subtitles continually remind me of trash fansub groups from back in the day.
I really like how Ataru's family love Lum in this 2022 version of the anime. In the OG version, Ataru's parents never cared much for Lum. But then that's because bad things were always happening in the OG anime that don't happen in the new anime.
Cherry was in this episode and didn't annoy me at all.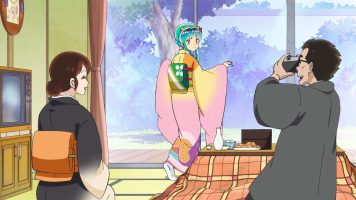 In the end, I really enjoyed Urusei Yatsura 12. I didn't think that would happen with Ten-chan's arrival. But his irritating aspects were heavily curtailed.