Trigun Stampede 05
SPOILER Summary/Synopsis
Meryl, Roberto, Vash, and Wolfwood drive across the desert. Roberto explains that the sand is red due to a monster slaughtering people. Vash seems affected by the story. Meryl sees a medium, dead worm and swerves to miss it. Wolfwood notes that it has been dead for ages. Vash notices a settlement a mile or two away, so he walks off there, followed by the others. The settlement is abandoned and its windmills stopped due to no wind. As they explore, Vash comes under heavy machine gun fire and retreats.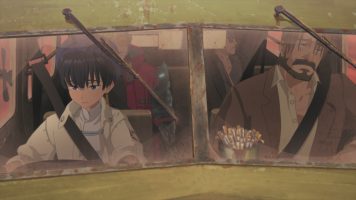 In the past, a boy and his mother pray for salvation. One day, the boy, Rollo, discovers he's next to be sacrificed to appease God. He runs away, only to be returned by Vash at Rollo's mother's request. Vash promises to go get medicine for the boy's ailment, but fails to get it in time.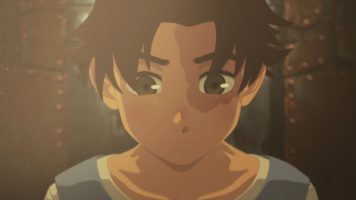 Back in the present, a giant cyborg attack, calling out Vash's name repeatedly. Wolfwood demands Vash tell him the whole story, so Vash does. Rollo was taken by the Doctor and the fanged "angel" girl and experimented on. The kid survives for five years, to become the giant cyborg. When released, Rollo slaughters his mom and presumably the settlement.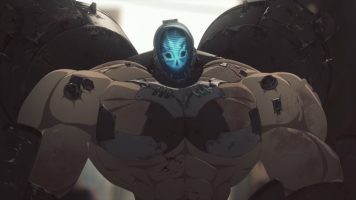 Meanwhile, Meryl discovers a photo of Vash with an infant Rollo. Vash tries to plead with the cyborg Rollo, but takes a beating. However, Rollo does stop and allow Vash to explain. Wolfwood consumes a substance, then uses the energy weapon function of his cross to kill Rollo. Vash becomes despondent and angry, but Wolfwood says it was an act of mercy.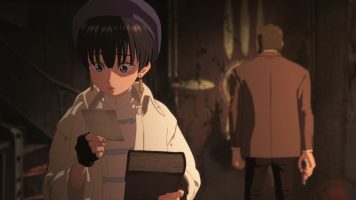 Elsewhere, the doctor and fanged girl get a report on Rollo's death from Zazie.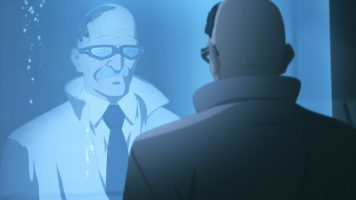 Thoughts/Review
To some fans, Trigun Stampede 05 is something completely faithful to the manga, even though this episode is an anime original tale, taking a manga (and OG anime) villain and repurposing them. However, it is clear to me that this new series is merely taking characters and situations to create a brand new entity.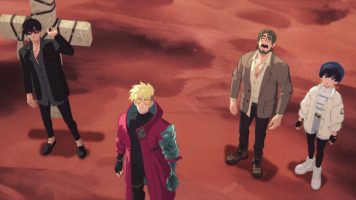 Not "Monev the Gale"
In OG anime episode 12, we are introduced to a large, cyborg character named Monev the Gale. He's a member of Gung-Ho Guns, dispatched to kill Vash. For Trigun Stampede 05, we get a similar cyborg, only larger and named Rollo. That's where the similarities end. For the OG episode, Monev pushed Vash to the breaking point, where he almost executed the cyborg. And it was a good episode.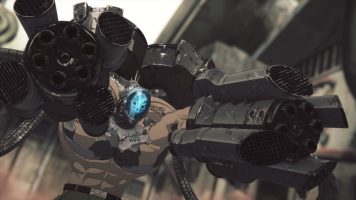 For the reimagining, the moment it became clear that the parts of the episode with young Rollo were from the past, it was obvious that the cyborg would be Rollo. However, the biggest question I have is how did Vash KNOW Rollo was the cyborg? And I have a theory about that.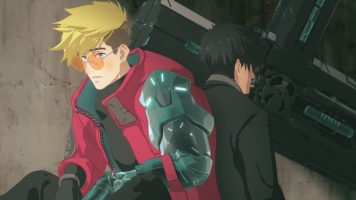 It seems that after the destruction of the colony fleet, Vash followed Knives around for a long while. I suspect that although Vash disapproved of things, he went along with whatever his brother wanted. I mean, Vash was at the settlement at the same time that the Doctor and fanged girl were there, conducting their experiments. He brought Rollo back. If I had to guess, Vash may have been naive in thinking the Doctor would cure Rollo in a traditional sense. But then Vash learned the truth after Rollo slaughtered everyone. So Vash left him alive and alone in the settlement, where Rollo's resentment took root and grew.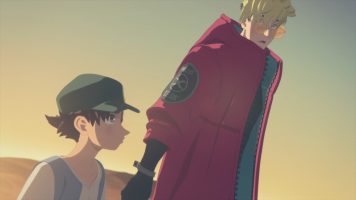 I suppose massive failures like Rollo are why Vash is such a pathetic loser in this remake. If my theory is right, nuVash feels responsible for not stopping Knives decades or even centuries ago.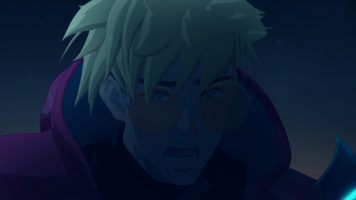 No Gung-Ho Guns
One of the main group of opponents of Vash in the manga and OG anime were a criminal organization known as Gung-Ho Guns. And they were technically created by Knives.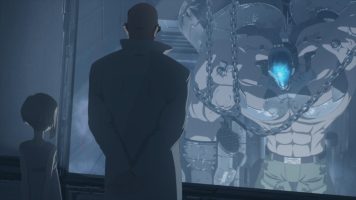 In Trigun Stampede 05, several members of the Gung-Ho Guns, not counting
have shown up. Zazie is one and if Rollo were Monev the Gale, that would be two. Going back, E.G Bomber is a take on E.G. Mine from the manga/OG anime. But none of these characters have stated they are members of Gung-Ho Guns. Rollo was simply an experiment that survived and waited in his old home settlement. And for a possible big spoiler…
Spoiler
Gung-Ho Guns #13, Elendira the Crimsonnail, who wasn't in the OG anime, is apparently represented by fang girl in the new anime. We'll see if that's true or not since in the manga, she's a tall, human woman whereas in the new anime, she's a child who apparently does not age.
[collapse]
As such, I feel confident in stating that Gung-ho Guns as an organization will not exist in this modern Trigun series. Yes, the characters will show up in new forms, all loyal to Knives. And they will apparently be used in part as cannon fodder. But there won't be a take on old western film criminal gangs, as I see it.
Final Thoughts and Conclusion
Let me wrap up review of Trigun Stampede 05 with some final thoughts.
I'm not sure Orange meant this to be funny, but I laughed out loud when Wolfwood remarked on the stupidity of total reliance on wind power. No wind, no power. And then at the end when the last resident of Windmill Village died, the wind picks up and there's power.
I miss Milly. In the OG anime, she played a role in helping Vash. I know some folks cling to the hope that she'll show up. But I doubt it, at least, not in a form we'd appreciate.
In a similar vein, I miss proper Meryl. nuMeryl is a child who happens to be 24. OG Meryl at least tried to be useful. And she wasn't a child.
The CG animation still enters uncanny valley for character movements at times.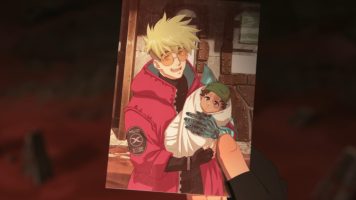 In the end, Trigun Stampede 05 is the best of the episodes so far. And at least in this case, Vash had a reason for his normal, depressed, pathetic routine, even if it was kinda cringe at the end.