TONIKAWA: Over The Moon For You OVA 2 ~Uniform~
Tonikaku Cawaii: Fly Me to the Moon OVA 2 ~Uniform~
Tonikaku Kawaii/トニカクカワイイ
SPOILER Summary/Synopsis:
Tsukasa plays a video game and notices Nasa diligently working, not distracted. As such, she puts on a quiz show, where Nasa scores the first answer without stopping his work. He even explains things. She makes a fig bet with him, so he gets the second one right without stopping work. Charlotte and Aya show up to assist, but again, Nasa is unphased.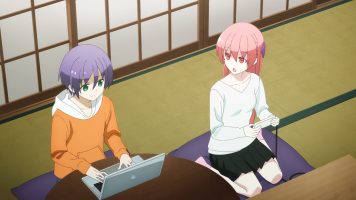 Determined to derail Nasa, Charlotte and Aya convince Tsukasa to wear Charlotte's maid seifuku (uniform). She comes in as a maid and addresses Nasa as "master". This gets him to stop work, but he still answers the next quiz question correctly. Later, Tsukasa overhears Nasa pondering aloud about getting her to wear the uniform. As such, she reveals her presence and shows she has a maid uniform. However, Nasa's eagerness puts Tsukasa off the idea of wearing it.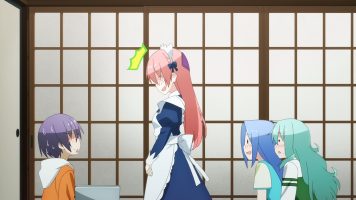 Sometime later, Kaname wants to know what kind of cosplay he'd like Tsukasa to do. As they clean the outside of the bathhouse, Kaname suggests a school seifuku date. Aya shows up and agrees. To that end, Aya cons Tsukasa into agreeing to wear a school seifuku. Again, Nasa is floored by seeing his wife in another uniform. He wonders what it would be like to have gone on a date with her, if they were in high school together.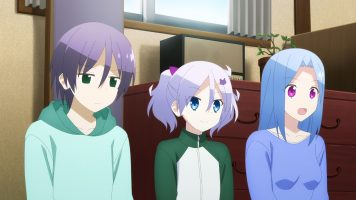 Again, Tsukasa overhears Nasa thinking aloud. She agrees to put the seifuku back on. Nasa wants to touch, but Tsukasa forbids everything, sans removing her stockings. Nasa pushes it further, and they make out. Later, Nasa dreams of Tsukasa waking him in the school seifuku.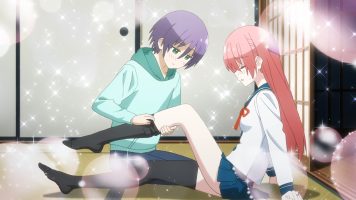 Thoughts/Review:
And so we have TONIKAWA: Over The Moon For You OVA 2 ~Uniform~, which actually came out last November, but it completely passed me by.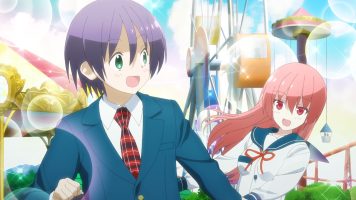 Modifications to the Source Material
The source manga chapters for TONIKAWA: Over The Moon For You OVA 2 ~Uniform~ are chapter 47 and chapter 54, as well as the omake chapter from volume  For the most part, the maid seifuku story is pretty accurate to the manga. However, chapter 54 gets more changes. The omake "58.5" is pretty much faithfully adapted.
Nasa reflecting on Tsukasa wearing a maid outfit again, and Tsukasa offering to do so was not in the manga.
Kaname replaces Ginka in the anime, school seifuku story. Toast is also missing from the anime story.
The anime premise for the school uniform is that cosplay fetish stuff in a marriage is cool. This leads to the seifuku date discussion. In the manga, Ginka is more curious about Nasa getting married so quickly. And that leads to the seifuku date discussion.
By removing Ginka, the Aya x Ginka ship is also removed, which is unfortunate.
In the source manga, Nasa sends Ginka home before Tsukasa tries on the uniform. Obviously, Kaname hung around.
Tsukasa's seifuku is a different color in the anime than the manga.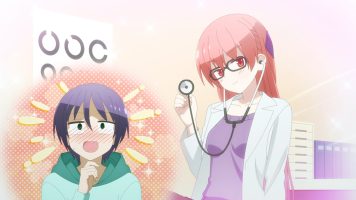 I always hate it when stories get changed to meet an anime's requirements.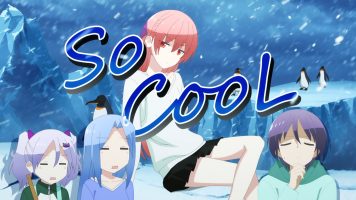 Seifuku — Uniforms
As to the stories of TONIKAWA: Over The Moon For You OVA 2 ~Uniform~, they are just mindless, but amusing fluff. I liked the little nod to Lum from Urusei Yatsura. One of the "cosplay Tsukasa" figures shows her as a knife assassin. It would have been WAY cool if she had looked like Yor from Spy × Family.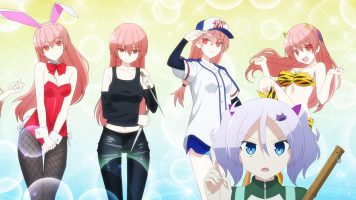 Beyond that, there's not a lot for me to comment on. Fluff stories, whether in anime or manga, just don't give me much to speak on. Okay, so guys like to see their girl cosplay stuff. That's not exactly news to me. The episode did what it was supposed to do — entertain me. Sure, it is disappointing about Ginka, more so since he'll be in the upcoming season/series. But, he hasn't been introduced in the anime yet.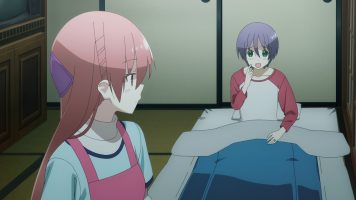 Final Thoughts and Conclusion
In the end, TONIKAWA: Over The Moon For You OVA 2 ~Uniform~ is an appetizer for the upcoming, new TV series. It entertains and provides a smile, but is otherwise mindless fluff…with a side if mild ecchi at the end.