Tonikaku Cawaii Chapter 221
Tonikaku Kawaii Fly Me to the Moon 221
トニカクカワイイ 221
Spoiler Summary/Synopsis:
Nasa worries Tsukasa is hiding something from him. He ponders asking her directly, but then figures she wouldn't give a straight answer. In the end, he decides their marriage is strong enough to survive whatever.
Sometime later, Tsukasa announces she wants to talk to Nasa about something important. Seeing the look of determination on her face, Nasa asks if this is serious. She confirms it is. Tsukasa suggests a walk to the now more worried Nasa. As they walk, Nasa prompts her to speak. However, Tsukasa says it is still a secret. At that moment, Nasa understood that their discussion wouldn't be that serious.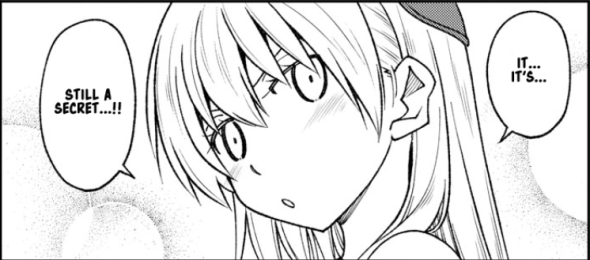 Thoughts/Review:
With a short, 8-page chapter like Tonikaku Cawaii Chapter 221 (including the splash page), there's really not a lot to say. Nasa's worried that there's something serious bothering his wife. Then his wife says something to let him know it won't be a serious thing.
This is the compromise Hata-sensei made with the audience and the publisher. For weeks when he doesn't have anything, or needs the week off for something, he splits an 18-page chapter into one 10-page chapter and one 8-page chapter. Thus we don't get a lot of frustrating time off breaks, like we used to get in Hayate the Combat Butler. In return, we get a couple of fluff chapters that don't do much of anything. But, when read as part of the bigger whole, they aren't so bad.