TONIKAWA: Over The Moon For You Season 2 02
Tonikaku Cawaii: Fly Me to the Moon Season 2 02
Tonikaku Kawaii S2/トニカクカワイイ
SPOILER Summary/Synopsis:
Yanagi-sensei feels under pressure as a teacher, especially after her former student Nasa quit and the average grade score dropped. Taniguchi-sensei asks Yanagi-sensei on a date, but she refuses. That night, as she ponders things, she runs into Nasa outside a convenience store. Upon seeing Nasa's wedding ring, she demands to make a home visit. However, after meeting Tsukasa and eating her food, Yanagi-sensei decides she needs to relax more. As such, she calls Taniguchi-sensei to accept his date offer.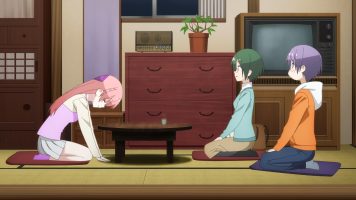 Meanwhile, a teenage yakuza enters the bathhouse, demanding to see Nasa. Tsukasa is not impressed and stands up to the guy. Nasa arrives and states the guy is his cousin, Ginga. After talking a bit, Ginga wants to see some affection between Nasa and Tsukasa, to prove their love. Kaname is on board with this, but gets upset when Ginga bails out on the idea.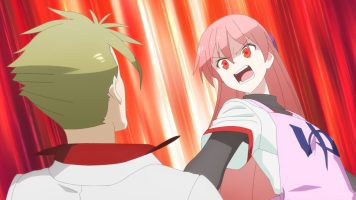 Ginga has his minions bring out a carrier with a rescued kitten inside. Nasa sends them to go get food and supplies for the kitten. Meanwhile, Nasa and Tsukasa take the kitten to the vet. Tsukasa names the kitten "Toast" due to its golden-brown color with the white square patch on its back.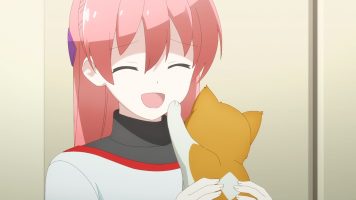 That night, Toast wakes Nasa up in order to be fed. Then it snuggles up with Tsukasa. The next day, Tsukasa plays with Toast. She wants some attention from Nasa. He attempts to oblige, but Toast decides to intervene.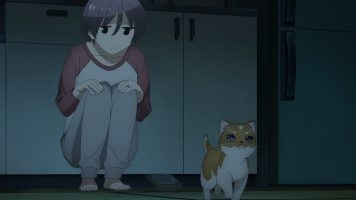 Thoughts/Review:
I know some will find this to be extreme nitpicking, but TONIKAWA: Over The Moon For You Season 2 02 is one of those "why did the anime folks do this?" episodes.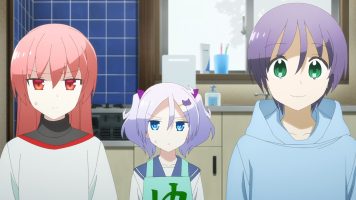 Modifications to the Source Material
Source manga chapters 48, 50, 51, 52, and chapter 53 went into the making of TONIKAWA: Over The Moon For You Season 2 02. And there were a lot of modifications.
The bit at the beginning of the episode is anime original. I've no issue with that.
The stuff with the principle taking to Yanagi-sensei is new. Taniguchi-sensei's date request changes from a movie date to an amusement park date in the anime.
Yanagi-sensei's thoughts about Nasa are modified to happen differently. Also, there are a bit less of said thoughts.
Kaname's dialog with Tsukasa while doing bathhouse chores is inexplicably changed. In the anime, it is just a bland, "Oh, you're fitting in" remark. In the manga, it is Kaname worrying 'cause she's not hearing "sounds" at night coming from Nasa and Tsukasa. This irritated me 'cause later in the anime, the payoffs to this perverted introduction are retained.
There are a lot of other, minor changes made to the presentation in the anime as opposed to the manga.
I guess the other thing that has me irked is that chapter 54 cannot be used to continue the story flow. The episode got used in the OVA 2 episode "Uniform", removing Toast and Ginga from the mix. So the initial encounter between Aya and Ginga is gone.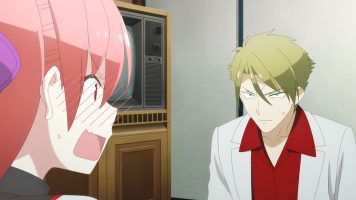 Tsukasa vs. the Yakuza
For some reason, my review of chapter 50 of the manga has long tails. In that review, I remarked on how impressive it was for Tsukasa to stand up to yakuza types. As such, when the moment came up in TONIKAWA: Over The Moon For You Season 2 02, I couldn't help but smile. I won't give any spoilers, but there's a distinct reason Tsukasa has no fear of a yakuza.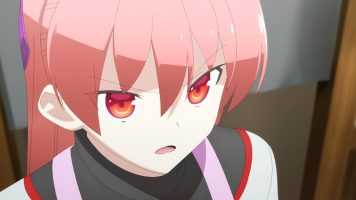 Looking back, I suppose Ginga was Hata-sensei's joke way of foreshadowing about Tsukasa. After all, at this point in the anime's story, Tsukasa is still a mystery. Yeah, the bloody OP is so full of spoilers, all taken from different splash pages from the manga. These splash page moments in the manga caused speculation only. But in my opinion, putting them into the OP pretty much gives away the game for this season, in my opinion.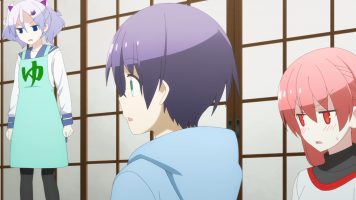 That aside, it is pretty funny for a yakuza-type to care about a kitten. But, that's how Nasa and Tsukasa get Toast. I wonder how often the anime will show him in future. The manga often has Toast here or there as part of the background of a scene, or as a side-glance where Toast is briefly seen while other stuff happens.
Final Thoughts and Conclusion
In the end, those who've zero knowledge of the source manga are going to like TONIKAWA: Over The Moon For You Season 2 02 the most. As adaptations go, it isn't the worst, but I am disappointed in some of the modifications made.