TONIKAWA: Over The Moon For You Season 2 01
Tonikaku Cawaii: Fly Me to the Moon Season 2 01
Tonikaku Kawaii S2/トニカクカワイイ
SPOILER Summary/Synopsis:
The shark movie on TV disappointed Tsukasa. As such, she wants some attention from Nasa. Nasa decides to take Tsukasa to see a movie. However, instead of watching, he's amused by her reactions to various parts of the movie.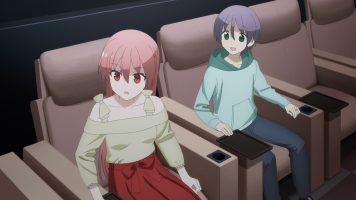 When they get home, Kaname asks Nasa if he and Tsukasa are going to have a formal wedding ceremony. After learning about it, and thinking of Tsukasa in a wedding dress, Nasa decides to ask Tsukasa about it. She's not interested, but Nasa fantasizes about having a wedding just the same. To that end, Tsukasa asks Nasa about what goes into a wedding. His answer causes Kaname to burst in. The three share the watermelon Kaname brought. There, Tsukasa and Kaname educate Nasa on just how expensive a wedding can be.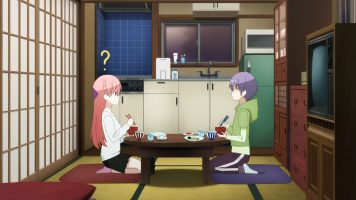 Meanwhile, Chitose trains with her maids, Charlotte and Aurora. They too discuss the idea of Tsukasa and Nasa having a formal wedding. Chitose promises she would not interfere, even if she dislikes Nasa. She would like her grandmother, Tokiko, to see Tsukasa in a wedding dress.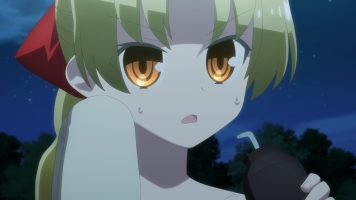 In the bathhouse, Nasa waits for his wife and ponders weddings. Aya has some additional information on the effort weddings take. Tsukasa enters, citing the hassle as another reason not to have one. Aya counters that Nasa would probably want to see Tsukasa in a wedding dress. As such, the couple go to a convenience store to pick up things, including a wedding magazine. Tsukasa explains she'd rather do stuff with Nasa than waste time on a wedding.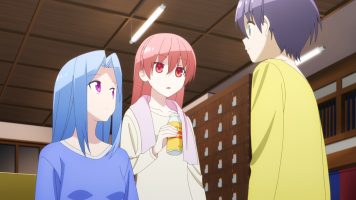 That night, they have a private exchange of vows. Tsukasa promises to one day, wear a wedding dress in private for Nasa.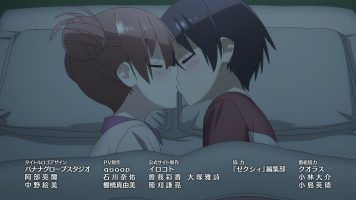 Thoughts/Review:
It is time for a movie date, and discussing a wedding ceremony for the married couple in TONIKAWA: Over The Moon For You Season 2 01.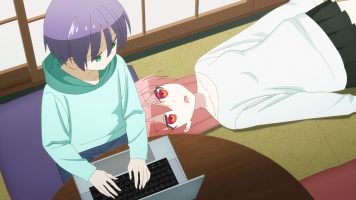 Modifications to the Source Material
TONIKAWA: Over The Moon For You Season 2 01 was mostly an anime-original story. However, a few pages from source manga chapter 63 were included. That was where Tsukasa got Nasa to go see Avengers Endgame. Obviously, there were no references to that in the anime episode. Someone mentioned they thought a bit of chapter 147 was used, but I don't think that was the case.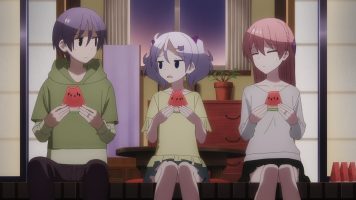 Plans for a Wedding
Now that I think about it, the lack of formal wedding planning in the source Tonikaku Kawaii manga is kind of surprising. I don't know how involved Hata-sensei is with the production team on the writing. But it is possible that he asked them to add an episode to address everything that goes into a wedding.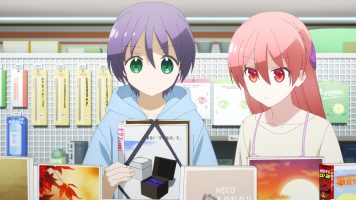 Still, weddings are more for the ladies than the guys. And as Nasa learned, they can be insanely expensive and time consuming to prepare for. Even if one attempts to go cheap and simple, there are still costs and planning. That aside, I wonder if the anime will have one.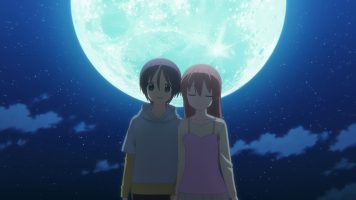 I liked the look-in on Chitose and her discussion of weddings with her maids. Also, I liked that Chitose does physical training with Charlotte while Aurora observes. That's a nice aspect to Chitose's character that has not been seen in the manga. In fact, I can't remember when we last saw Chitose in the manga. 😅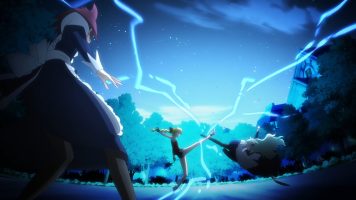 Final Thoughts and Conclusion
In the end, TONIKAWA: Over The Moon For You Season 2 01 was a pretty fun episode. While I prefer a faithful adaptation of a source manga, this episode addressed issues that in reality, the manga should have touched on.