Tonikaku Cawaii Chapter 220
Tonikaku Kawaii Fly Me to the Moon 220
トニカクカワイイ 220
Spoiler Summary/Synopsis:
Tsukasa reads a romance manga. This causes her to ponder how different expressing love is before and after marriage. She thinks of her and Nasa's visit to his grandfather's grave and decides to find a way to express her love to Nasa. To that end, at home, she tells Nasa she is going out alone. This causes Nasa to wonder if he did something wrong.
Some days later, Nasa comes home early. This causes Tsukasa to panic, leading Nasa to again feel he's done something wrong.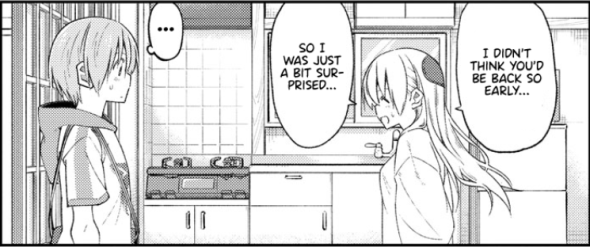 Thoughts/Review:
We get a short, 10-page chapter with Tonikaku Cawaii Chapter 220. As such, it is all about Tsukasa wanting to do something to express her love to Nasa. And her suspicious behavior causes Nasa to worry. I've no idea what she might be up to. I can't imagine it is food. But I can't imagine what she could be doing that causes such a racket when attempting to be hidden.
Final Thoughts and Conclusion
In the end, Tonikaku Cawaii Chapter 220 is 10 pages where nothing much happens. But it is setting up something else. I guess I'll find out soon enough.