TONIKAWA: Over The Moon For You Season 2 09
Tonikaku Cawaii: Fly Me to the Moon Season 2 09
Tonikaku Kawaii S2/トニカクカワイイ
SPOILER Summary/Synopsis:
Nasa finds it cute when Tsukasa can't use the remote because the battery is dead. Further, Tsukasa forgetting her phone password amuses him. Tsukasa is less than amused, so Nasa offers to buy her cake. She finds this old fashioned, but eventually agrees to it.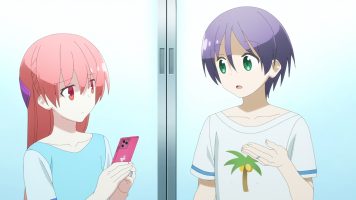 Later, Yanagi-sensei comes to Tsukasa and Nasa for advice as she's engaged. She and Tanigushi-sensei went out for gyudon, but he piled on the ginger. Despite his warning, she tried it and became addicted, even though it sucked. As such, she's afraid her boyfriend will no longer like her for giving in. Nasa advises her to talk to him.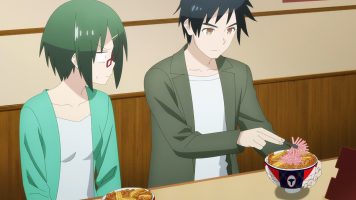 Nasa gets on the scales and discovers he's gained weight, thanks to Tsukasa's cooking and a lack of exercise. Tsukasa notices, but says it is okay. Nasa decides to exercise, but finds he's REALLY out of shape.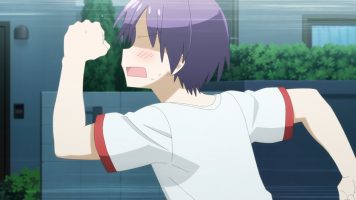 Sometime later, Tokiko invites herself over to have soumen with Nasa and Tsukasa. She invites them camping, but Tsukasa is adamantly opposed. Nasa is interested, so a final nudge from Tokiko gets Tsukasa to agree to go camping.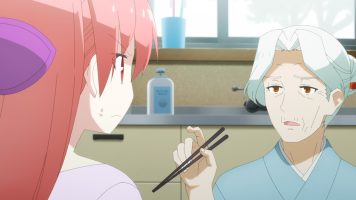 Thoughts/Review:
I guess because I refuse to get the trash adaptation from Viz of Fly Me to the Moon (Tonikaku Kawaii), I don't reread this manga. As such, the amount of stuff I forgot from TONIKAWA: Over The Moon For You Season 2 09 surprised me.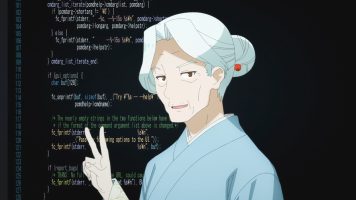 Modifications to the Source Material
The source manga chapters for TONIKAWA: Over The Moon For You Season 2 09 come from chapters 87, 91, 90, and 92. So as you see, for some arbitrary reason, chapters 90 and 91 were swapped in order. Chapters 88 and 89 were previously adapted. The only other major change is the intro to chapter 92 was made the intro to the episode.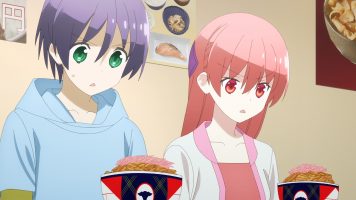 Slice of Life Stuff
The story of TONIKAWA: Over The Moon For You Season 2 09 is mostly just slice of life stuff for newlyweds, only without any ecchi. The first story just shows Tsukasa isn't great with technology and doesn't consider things like a battery going dead. Then the third story is about Nasa gaining weight after marriage. Both of these are just cute stories that newlyweds might encounter.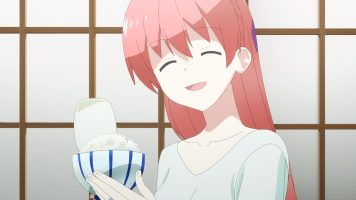 The second story with Yanagi-sensei is just kinda weird, but I suppose discovering your partner's weird habit and picking it up happens. That said, gyudon with a ton of ginger on top doesn't sound good at all.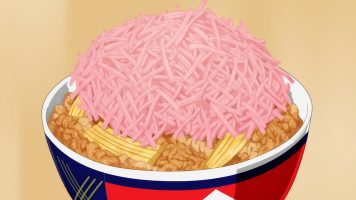 Finally, we have the stuff with Tokiko. It is funny how the anime clearly spells out who was who during the flashback. In the manga, there were debates even though I was sure I knew who was who (and I was right). That aside, this part of the episode is the only thing that helps advance the plot.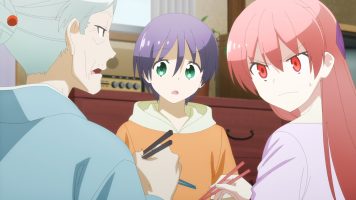 Final Thoughts and Conclusion
In the end, TONIKAWA: Over The Moon For You Season 2 09 is mostly marital fluff, but it is still enjoyable for what it is. Plus, there seemed to be a great deal of food in this episode. And we get a taste of plot as well.