FUNimation "Slayers" — CPM With a FUNi Logo
As I write this blog entry, I do so feeling very depressed. I am a fan of the Slayers TV series and own the Central Park Media (CPM) DVD releases for those series. I never watched the dub version (because by then, I quit watching dubs for the most part), and while I love the Japanese version, the subtitles aren't the greatest to me (no offense to the original translator, Neil Nadelman, who was kind enough to explain some things to me). For example, in Slayers, the term "Mazoku" (魔族) is used as the name of the evil (demon) race (the literal translation from what my sensei says) . CPM (Software Sculptors) had this translated as "Monster race" or "Monster." Even before I knew the term "mazoku," I didn't really get the difference between "Monster" and "monster" in the subtitles. Turns out (IMO), it should have been left "Mazoku" as the name of the demon race, especially since there are "monsters" and "demons" in Slayers who are not Mazoku.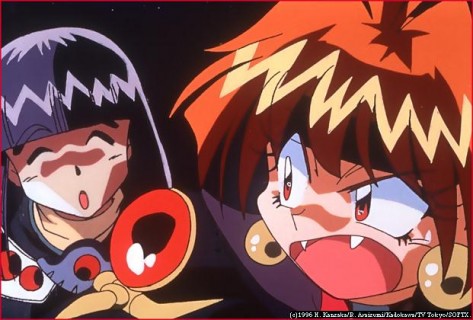 But I digress…
So my issues with the CPM release aside, I purchased all three DVD sets when they were still at the $100 range, that's how much I liked the series.
Fast-forward to May 2005 when FUNimation made a stunning announcement at Anime Central 2005. CPM's license on Slayers, Slayers Next, and Slayers Try had run out and FUNimation now had the license.
While a majority of the original dub prepared for the CPM release will be reused, one or two characters will be voiced by new talent who were not involved in the original release. Other actors that did have parts in the original may be asked to re-read specific lines or segments of the script. The dub (sub? -ANB) text may be rewritten or edited slightly – for example, chants and spell names may be left in the original Japanese, rather than translated. While the CPM release of Slayers was subject to a slight amount of content editing (no more than several minutes cut per twenty-six episode series), the Funimation release will be completely unedited. The DVD cases will feature new artwork and logos, rather than any version of the materials used for the CPM release.
This news had me very excited. After all, the reason I love FUNimation so much is that their subtitles include the Japanese honorifics and some titles (Yu Yu Hakusho for example) are even a bit more "otaku-ish" in their subtitles. Based on this announcement, I was ready to donate my CPM DVD's to the Goodwill and start fresh.
That was 2005.
For a long time, there was no news on Slayers. By the time 2005 came to an end, I was becoming a tad concerned, but thought, "Well, FUNimation is trying to get everything from Japan and I know how stupid the Japanese can be when it comes to these things." By May 2006, I thought, "it will be released by summer's end." Ha! No dice, pal!
Finally, in 2007, we got word that Slayers would be released that July. It was about time and the moment it appeared for pre-order, I had my order in.
Then at Anime Central 2007, a little over 2-years after the original announcement, FUNimation's Adam Sheehan confirmed that the Slayers Season One collection to be released July 17th will have "cleaned up" video and audio tracks, but will not include any re-dubbing due to the materials necessary for production no longer existing. (ToonZone)
Dub fans who'd been looking for some dub fixes were devastated. I became concerned that maybe there wasn't going to be a subtitle fix either.
This started to concern me, not because I'm a dub fan, but because maybe FUNimation didn't get the original Japanese scripts and so wouldn't re-subtitle the series. FUNimation hasn't stated anything about the subtitles and FuniRepBlue seemed out of the loop. (-AstroNerdBoy)
I held onto hope just the same, but I thought I'd ask FUNiRepBlue just the same.
AstroNerdBoy: …Are the subtitles going to be from a retranslated script or is FUNimation just going to use the CPM script?

FUNiRepBlue: I got word back and it's going to be the existing scripts.
. . .
I couldn't believe it. Seriously, what was the point of licensing the title if you weren't going to at least give it FUNimation-quality subtitles? Even if you couldn't get a script, you could have made SOME modifications to the subtitle script based on hearing alone (the replacement of "Monster" with "Mazoku" and the full use of Japanese honorifics). Ever heard of fansubs? Some of them are pretty good without a Japanese script. Basically, all FUNimation has done is take the CPM release and slap a FUNimation logo on it (we'll see how "cleaned up" the audio-video is).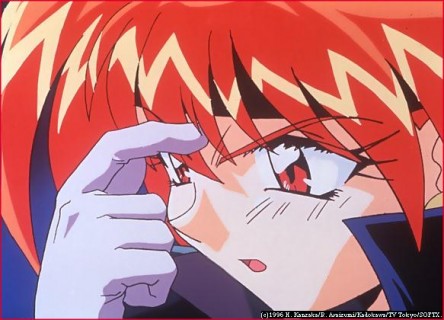 Naturally, FUNimation can't say why this is happening beyond a vague, "we weren't able to get the required materials to fix the dub" (and one presumes, the sub too). Non-disclosure agreements in the business world must be enforced and FUNi has to keep it's yap shut if it wants to continue to do business.
Still, I can't help but wonder what role Enoki Films played in this fiasco. After all, they are STILL attached to the project as distributor, just as they were with CPM's release.
Either way, FUNimation is disappointing more and more fans and this is not a good trend, guys. Yes, the gamble on the Dragonball Z widescreen release has paid off big time. Congratulations. However you did alienate a lot of hardcore fans there. I'm sure sales of Full Metal Panic: The Second Raid were decent, but again fans were very disappointed when you announced you had the license when in fact, Kadokawa Pictures USA had the license and you only had the distribution, packaging, and marketing aspects (the dubs and subs going to ADV). With Slayers, a lot of fans were prepared to double-dip and purchase your release based on your reputation of doing things right. I suspect most of those sales are gone, leaving you with the few new sales from those who've never seen the series or couldn't afford it when CPM held the license.
I know, FUNimation may be the victim in all this by setting up fan expectations then failing to follow through due to no fault of their own. For the sake of discussion, even if that is the case (as I think it is), you still get the black eye FUNimation. Now, I wonder if School Rumble will be done properly when before, I really had no doubts.
. . .
On a related topic, if you are interested in getting a lot of great
Slayers
(and
Lost Universe
) information, there's a wiki I stumbled upon where information is the name of the game.
KanzakaDex
is the name of the wiki and I am amazed at the information contained there (and it is far from complete). I encourage you to check it out if you want to know more about Hajime-sensei's works, or if you know them, do contribute over there.