Lord of Lords Ryu Knight 24
Haou Taikei Ryuu Knight 24
SPOILER Summary:
The witch Idoro resurrects Dark Knight Galden, who'd been slain by Adeu. She tells him that he needs the power of a Spirit Stone in order to defeat the Ryu Knight and he must wait.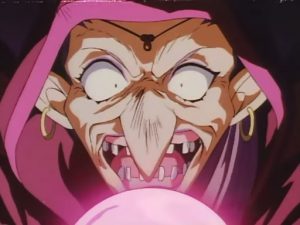 Meanwhile, Adeu's party are on the ship looking for the island where Paffy's parents, the King and Queen of Phahuricia have gone into hiding. A giant shell appears and is the Spiral Shell Tower, where Paffy's are hiding. Getting the signal from the royal aide Mirius, the group sets for shore except for the elf thief Katze, who decides to stay with the ship as it makes for port in order that she might try to make money.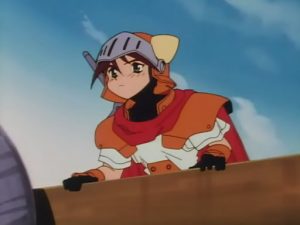 Within the tower, Paffy is reunited with her parents while Katze has gone to back to the mainland port. However, before she can make a sale, Galden arrives and forces her to reveal the location of Paffy's parents.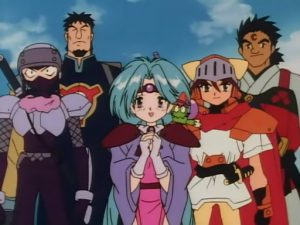 Paffy's mother, Maria, tells the secret of the Spirit Stone that she's been guarding, which is the true power behind the mecha units the group use. A Ryu unit with the power of a Spirit Stone is much more powerful than one without it. Galden's family has been after the Phahuricia one for years, but until Dark Knight Galden appeared, Phahuricia had always beaten them back. The Spirit Stones were designed with the Ryu units to protect Earth Tear from the fearsome Jya-ryuzoku (Helldragons), who are dragon-like in appearance with giant humanoid characteristics.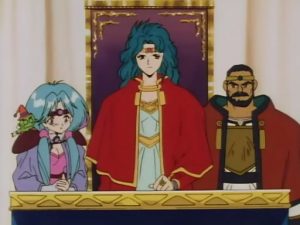 As Idoro and Galden spy on the island, Idoro detects a Jya-ryuzoku presence and sure enough, something emerges from the darkened sky and hatches to reveal one of their soldiers. As Adeu and company get their butts handed to them by this "low-level soldier," Idoro asks if Galden would like the power of a Jya-ryuzoku. He says he would and he arrives just in time to actually save Adeu's group, who'd been unable to even scratch the dragon-soldier.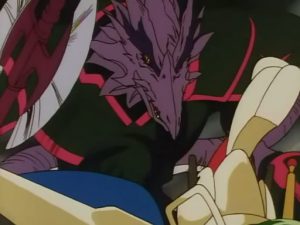 Galden easily slays it and it is absorbed into his sword. Now his Dark Knight Steru mecha unit upgrades with this new power and Galden begins beating Adeu's party, ending with Adeu's Ryu Knight taking Dark Knight off the tower and into the ocean where Galden stabs the Ryu Knight and leaves. As this happens, the island begins sinking into the ocean again and king, queen, and Mirius escape on a small boat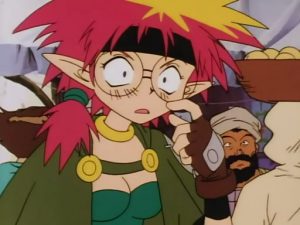 Thoughts:
There's really not a lot to say about these shounen-fare titles. My main goal is to finally finish the bloody thing.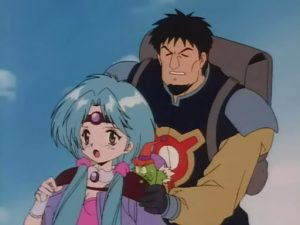 Update (10-Jan-2020): Hahaha! I can't believe this was my review. But then I remember the series was really beginning to grate on me.