Mai-Otome Zwei 04
SPOILER Summary:
All over the world, reports are coming in and the being they have been fighting is an ancient weapon known as Yuma. Yuma is responsible for the metallic plant-things that have appeared and those plant things will produce sub-unit monsters known as Childs. Yuma then summons a child, which rockets into the sky. The group ponders this and it is figured that the weapon's creator just couldn't control the weapon and so left it.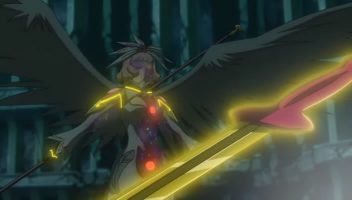 In a dream, Nina recalls some recent events and dreams of herself and the other Otome in space with Arika. The other Otome appear to be dead and Nina has been changed into the Ultimate Black Diamond robes. Arika demands to know why this had to happen, and Nina responds she only needs her father before waking up on the "Black Valley" Island (not an official name mind you, but I needed to name it something). She opens the book "The Book of Neptune" and discovers something surprising there. Emerging from the building, she finds Mai has prepared some interesting ramen dishes which Mashiro and the the little Jawa-looking native girl (whom I know learn has been called "Ribbon-chan").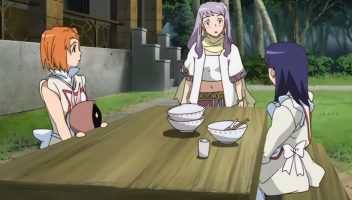 Elsewhere, Otome are preparing for combat with those metallic plant-things having emerged all over the world. Akira prepares to go find Mashiro. The cyborg Gal-san arrives with news from the leader of the Black Valley and offers to take her there. The leader, Midori, discusses the situation about the Black Valley with one of her cyborg aides. Gal-san delivers Akira, who has a message from Mashiro-chan, who's trapped on the island.
Back on the Black Valley Island, Mai, Mashiro, and Nina discuss the situation. Mashiro begins to wonder if she shouldn't have made Nina her Meister after all. While this is happening, Mashiro's cat Mikoto uses his ear ring to make a signal, which is responded to. As that happens, Nina and the native girl talk where Ribbon-chan reveals that she has a crystal, which can summon a SLAVE unit to fight. Before they can continue, the island is attacked by the Child-unit Kagutsuchi.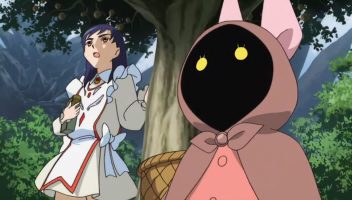 All around the world, various Meisters are watching the pods. It is decided that they have to attack to prevent the pods from giving birth the Child-units. However there attacks have no effect. Back on Black Valley Island, Mai fights both Yuma and Kagutsuchi. Yuma enters the ruined temple and takes the giant form of the founder of the Otome, Fuma. She begins destroying things and causes the blue start to go red, to aid her and her Childs, which have all hatched. Yuma sees Mashiro's Otome ring and attacks. She screams for Akira, who happens to be arriving on the back of a dolphin, who also has a ring like Mikoto. She rescues Mashiro, who activates Akira's Otome abilities, allowing her to join the fight.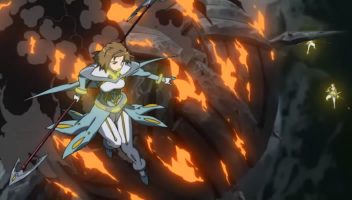 All around the world, the Childs continue to regenerate and the imprisoned Nagi calls Natsuki to offer a deal on how to defeat Yuma. She has no choice but to listen to his request as the battles rage with the fight at Black Valley Island causing Mashiro to get injured. This causes little Ribbon-chan to want to join the fight with her SLAVE. Nina stops her, but Ribbon-chan states that she wants to protect those she loves, causing Nina to remember her friend Erstin, whom she had killed. Embracing Ribbon-chan, Nina opens the book to reveal a Meister earring and finger ring. She promises Ribbon-chan that she'll do her part and won't make the same mistake twice.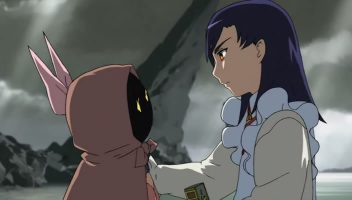 Coming to Mashiro, Nina reveals she has the Neptune Emerald and wants a Meister Otome contract with Mashiro. Nina convinces Mashiro, who goes through the contract with Ribbon-chan as witness. Now with her Otome powers, she joins the battle and saves Akira, who's been fighting Yuma. Akira has been unable summon the power of the Blue Sky. However, once the two make up from their fight earlier and promise to support each other, Akira can now summon her Zwei powers. However, because Yuma can regenerate, the additional power does them no good.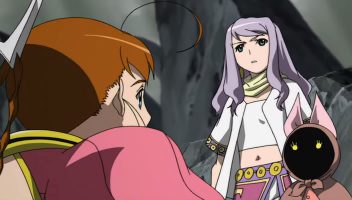 Using Nagi's information, Natsumi sends word to the Otome around the world that they will be cutting off power to the Shinso System which powers the Otome and will be switching to the Surrogate System since Yuma is using the power of the Shinsho System. However, they will only have 120-seconds to defeat Yuma and the Childs. Akira defeats Yuma with Nina's help while Mai removes the giant sword from Kagutsuchi, which turns it into a harmless kitten, whom she eventually hands over to Ribbon-chan.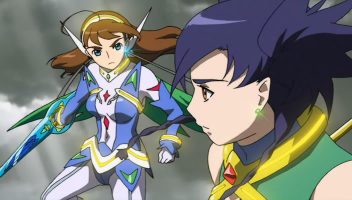 All around the world, the Childs are defeated and the previously petrified Otome are returned to normal. All is well and in orbit, Akira has Mashiro and shows her the view of the world from up there. Mashiro decides she wants Akira to show her more. Sometime later at the Garderobe Academy, Ribbon-chan comes up the stairs and no longer looks like a Jawa from Star Wars, but a cut little girl who strongly resembles Erstin. Ribbon-chan promises that one day she too will become an Otome.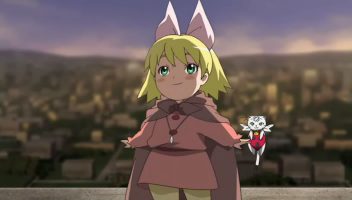 Thoughts/Review:
Well, I can say I was entertained, but this episode, and indeed the entire 4-episode OVA really did nothing to advance any characters much, nor did I learn a great deal about the world. It was just a story to say, "Here's something that happened to us," which while not bad, isn't anything great either. Oh well.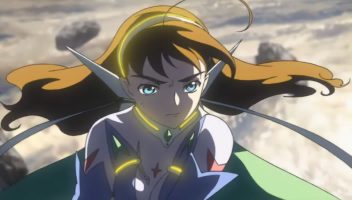 With only four episodes, I suppose this was to be expected. The OVA tried to have a greater link with Mai-HiME with Mai's Child from that series emerging here for Mai to fight. Plus there was the red star/blue star thing (the red star being from Mai-HiME). To do the new story justice, more episodes would have been required, but then the story really doesn't justify more episodes. With so many characters who get lost in the mix, well it was just disappointing.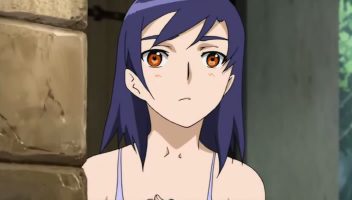 Ribbon-chan gets (non-sexual) moé points. Gah! She was so precious and cute, even when she looked like a Jawa. Nina wanting to protect Ribbon-chan and the others after listening to her bravery was a nice moment for me (even if clichéd).
The teaser for the prequel Mai-Otome 0~S.ifr~ was of interest but we'll see where that goes.