Hayate no Gotoku! 38
Hayate the Combat Butler Ep. 38
ハヤテのごとく!Episode 38
SPOILER Summary:
It is Christmas Eve and as such, Nagi, Hayate, and Maria are going to Nagi's grandfather's place for the big Sanzenin Family Christmas party. To ensure Nagi's participation, Mikado (Nagi's grandfather) includes a threat to distribute a picture of a young Nagi. Maria shows this to Hayate, who understands that this would be embarrassing to Nagi. He also notes someone else in the background of the shot, which Maria identifies as Himegami, Nagi's former butler.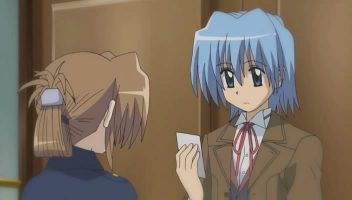 Nagi comes down the stairs wearing the coat that Hayate had let her borrow the year before when they first met. At the party, Sakuya comes by to visit, as does her older brother. Mikado comes by to ask if Hayate has learned anything and gets rescued by Nagi. Nagi hands Maria her present before she and Hayate go for a walk. Mikado asks Maria about Hayate, who tells him he's working out well. Inside, she knows that while Nagi crushes on Hayate, it is still unrequited at this point.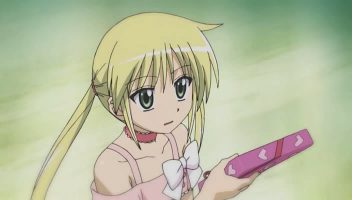 Outside, Nagi feels the mood is just right to take her relationship with Hayate to the next level. She casually mentions the romantic nature of Christmas Eve (were in Japan, confessing one's love on Christmas Eve is a big deal). However, the noise of someone else interrupts her plans and another Combat Butler attacks. Hayate gets Nagi out of harm's way, but finds himself trapped on the other side by Superintended Kuzuha and her giant snake, which holds him enthrall while Shion holds Nagi. Kuzuha's snake has Hayate in his mouth before spitting him out and the Combat Butler then proceeds to kick Hayate's rear. Kuzuha gets distracted by a crepe van and Hayate gets saved by Nagi's former butler, Himegami, who wants to be called by the English translation of his name — Princess God.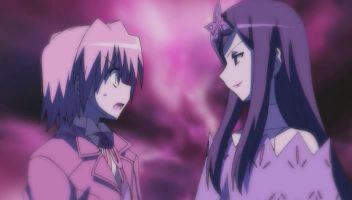 Back at the mansion, the beaten Hayate dreams of his parents before waking up from the nightmare to see a worried Nagi standing by him. After getting up, he goes with Nagi to find Klaus berating Himegami, whom Nagi had fired. Nagi and Himegami often bickered and do so now. As Hayate tries to perform his duties as butler, he finds himself screwing up everything, which leads to Klaus giving him a hard time. Maria and Nagi suggest Hayate take some time off, which he only reluctantly agrees to. On the mansion ground, Himegami tells him that Kuzuha took his butler abilities and Hayate can no longer protect Nagi. To drive home the point, Himegami does a simple punch which Hayate cannot avoid, after which he advises Hayate to leave.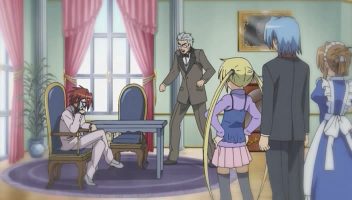 Back in his room, Hayate finds and un-addressed letter waiting for him. When he opens it, he is shocked by the contents. He then writes a letter of resignation and leaves, which Maria discovers a short time later.
Thoughts: So, we finally get to see Himegami and Hayate gets his butt handed to him. An enjoyable episode even if it was one of those evil, American-styled cliffhangers. ^_^
References! (Note: the site doesn't get 100% of the references, but they do get a very high percentage.)