Del Rey and Pumpkin Scissors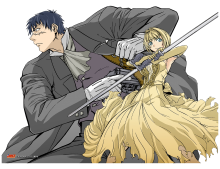 You know, I really had hoped that the flushing of Japanese honorifics for Pumpkin Scissors Volume 1 was just a fluke. As such, I went ahead and ordered volume 2 of the manga. Were there any changes? Nope. Ikoi Hiroe still insists upon flushing the Japanese honorifics, despite the fact that Del Rey proudly proclaims in this volume their policy of retaining the Japanese honorifics.
"Nope! I will not use Japanese honorifics. We aren't in Japan, so why would I use them? Besides, the other places I did freelance translations for did not want Japanese honorifics, so why is Del Rey using them? Nope, I will not use them, period."
OK, Ikoi Hiroe didn't actually say that, but I imagine something similar going through this person's head (don't know if its a guy or a girl). Even though they are a freelance translator, one would have thought that Del Rey would have given Ikoi Hiroe the sheet that says, "retain the Japanese honorifics." After all, Ikoi Hiroe somehow knew to include a few translator notes. Baring that, maybe Ikoi Hiroe would have looked at a Del Rey manga, but maybe not.
Either way, I'm very annoyed. Del Rey charges ~$11 per manga, and each volume has the same proclamation which states they will use honorifics in the translation. For an adapter to then seemingly thumb their nose at that policy makes me as a consumer say, "OK. I'll keep my $11. Thanks for nothing, Del Rey."
I know Del Rey has been made aware of this. There's no need for me to visit their forum multiple times a day to rant about it, nor pester their people about it, or even to insult Ikoi Hiroe, which I don't believe I've done. Del Rey will either fix the honorific problem, in which case they'll get my money, or they won't, in which case I'm saving money. For now, I've vented and those to whom this kind of thing is important, now you know.
See related article Del Rey is Slipping.