Taiho Shichauzo! Full Throttle Episode 15
逮捕しちゃうぞ フルスロットル Episode 15
SPOILER Summary: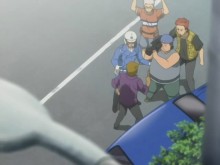 The filmmaker Hiraki is going to shoot a documentary on a day in the life of the Bokuto Traffic Division. So after getting shots of chalking and tagging illegally parked cars, Aoi-chan helping old folks, Yoriko helping kids, Hiraki and his crew think they are getting some passionate action when Miyuki and Natsumi help Nakajima on a high-speed chase until Nakajima manages to get close enough to order the vehicle over and give a ticket. Thus filming continues with officer interviews until the crew are ready for the final shot which they stage Miyuki and Natsumi in front of the station. However, the duo notice a man across the street about to jump off a building and rush to prevent this. After a weird conversation with the man, Natsumi uses her strength to toss the man on the safe side of the fence on the building's roof. The man is upset with Hiraki, who'd staged the suicide attempt to spice up his film. Natsumi decides to have an accident and destroys their camera. In the end, they film a boring piece which the other police officers find boring, but Miyuki and Natsumi remind them that this is their job.
Thoughts/Review: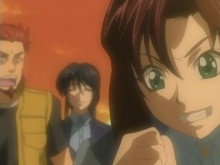 So, with the camera destroyed, just how did the filmmakers manage to get the last shot of Miyuki and Natsumi into their film? I mean, that scene was shot, then the staged suicide attempt immediately after. Oh well.
One thing that just has always struck me about this entire franchise is the way the writers portray speeders or other folks needing to be pulled over — they don't pull over, at least not for an extended period of time. What's up with that anyway?
Regardless, the episode was rather non-special and did reflect on just how boring things are in a real Japanese traffic division. Beyond that, there was no character development or anything else of note. Sad, unfortunately.