Sasami: Magic Girl Club DVD Review
Sasami – Magical Girls Club: Season One
砂沙美☆魔法少女クラブ
Sasami: Mahou Shoujo Club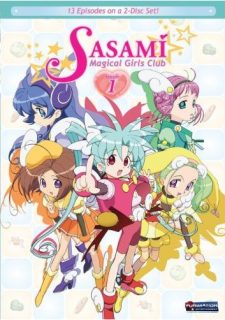 Being a Tenchi fan as most of you know, I am glad that AIC is still putting out new Tenchi titles, even if non-canon spinoffs. In the latest spinoff, AIC returns to the magic girl (mahou shoujo) genre with Sasami – Magical Girls Club. The characters Sasami, Washu, Ryo-ohki, and Mihoshi are brought over from Tenchi while the character of Misao is brought over from the Pretty Sammy series. How does it work? Surprisingly well.
Since magic girl titles are a dime a dozen in Japan, the production team had differentiate themselves somewhat from the pack while still making use use of the common elements of the genre (baton's, magical creatures, a magic world, girls in magic girl costume). One thing missing from this series are the dreaded henshin (transformation) sequences. I hate how most magic girl shows waste a lot of time going through these transformation sequences, so I'm very happy this one passes on that cliché.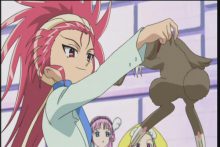 Another thing missing from this series is a plot, though the groundwork is set to have one in Sasami – Magical Girls Club 2. Instead of a plot, the stories are character driven. The first four episodes are dedicated to introducing the different magic girls and their coming into the club. Then, we are given a 2-part episode to introduce us to the magical (witch) world, which is nothing fancy at all (something the characters remark on as well). It is here that Sasami-chan meets Ami-chan, a mysterious older boy who appears to be focal for a plot that will happen in the 2nd series.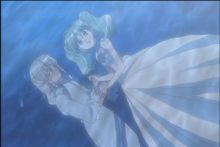 The remaining stories are still character driven, including the final 2-part episode with the Magical Girl Tournament. Sometimes, the stories might focus on the group or on an individual character. Because the girls are all voiced by real-life girls in the Japanese version, they bring a stark realism to their characters that I have not felt before from an anime (the boys are still voiced by adult women). As much as I like YOKOYAMA Chisa as Sasami-chan in all of the previous Tenchi titles, she could not have done what OGAWA Mana did (or the other girls) in bringing that true child emotion there. Chisa has done a great job playing Sasami-chan, but Mana takes the character to a new place. Normally angst bothers me, but this time, the voice acting changed all that for me in this series. As such, I actually felt for Sasami as she went through her first crush/love. I also felt for Misao as she dealt with her shyness.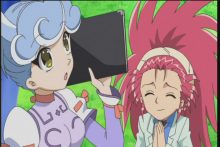 The series, while geared to a younger female audience, has some surprising things for older folks as well. I was surprised at how many laughs I found in the series. The writers do delve into some toilet humor (which I admit to finding the funniest stuff, but then I'm a guy), but by using the children seiyuu to deliver the jokes, the phrase "out of the mouth of babes" comes into play. Many of the jokes wouldn't have been as funny had real girls not been doing the Japanese voices.
The standout story for me is episode 10, which featured a very cute young girl who's parents are dead, causing her to live with her grandfather. That's sad enough as it is, but the production staff really brought home the emotion with their story. I admit that I had the sniffles by the time the episode was over. Having the loss of a parent or parents is not an uncommon anime or manga theme. Indeed, the character Tsukasa's mother has passed away. Normally, these things don't affect me, but the way this episode was presented really hit me. Maybe I'm just becoming a softy as I get older.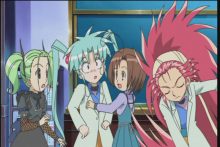 For those wondering about the new seiyuu doing the voices of Ryo-chan, Washu, and Mihoshi, they all do fine. I felt they captured some of the spirit of their predecessors without making it a pure copy presentation. I have never learned why AIC went with new seiyuu, but it isn't a problem here and I don't suspect the change in voice actors on the English dub side will present much of a problem either.
As to the DVDs from FUNimation, the case is a traditional hard-shell plastic case that is set up to hold two DVD's. I'm kinda glad they went this route because making a mini-box with two thin cases just doesn't work as well for me. The DVD cover is a reversible one, with the reverse-side artwork being the Japanese volume 1 cover. To bad the artwork from the other four volumes (yes, in Japan, the first series is a 5-disc purchase) couldn't have been included somehow.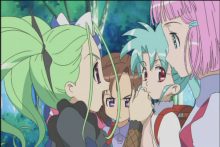 There are no extras to speak of save textless music and ads. I miss not having the Japanese title screens for each episode. So those hardcore fans like myself have to settle for the English title screens. Hardcore fans will be happy to hear that the Japanese honorifics survive in the subtitles (normal practice for in-house translated FUNimation titles). The audio and visuals look fine to me, but then I'm not an audio or videophile.
Ultimately, Sasami is a wonderful little anime that sucked me in and made me really enjoy my time in this fantasy world, enough that I can see myself visiting again and again. This is not because I'm a Tenchi fan (indeed, one does not have to have seen ANYTHING Tenchi or Pretty Sammy to completely enjoy this), but because we have a nicely-written, laugh out loud funny at times, touching at times, sweet and relaxing set of stories. For the kids, I think they will enjoy it for what it is and for the adults (especially those watching with their kids), I think the series will make you feel like a kid again, even if only for a moment. I know it did for me.