Negima! 230 SPOILER Images
魔法先生 ネギま!Chapter 230 (Images)
What you see are the original-sized, sneak-peek images for Mahou Sensei Negima! 230 as posted on a short-lived Japanese page (click pic to make bigger, y'all). No cleanup this time because I don't have time.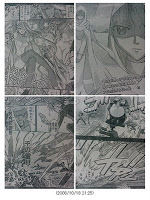 Looks like things are going to be a bit more ecchi in this chapter, which starts the Rakan flashback sub-arc. There's already rabid speculation that the woman identified as Arika (top right image, which is the last page of chapter 230) might be Negi's mom or Asuna's mom considering this blurb about her being "the MOST IMPORTANT character of AAA's past in magic world." I'll be stunned if it is Negi's mother but any additional information on her won't show up until next chapter at the earliest.
The 2nd and 3rd batch from chapter 230 is here.
Update: chapter review here.
Originally posted at
astronerdboy.blogspot.com
. If you are now reading this on another blog, it has been scraped from
AstroNerdBoy's
blog. You are encouraged to shun this pirate blog and come by the real McCoy. ^_^