とらドラ!Episode 09
Toradora! Episode 09
SPOILER Summary/Synopsis: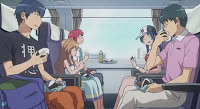 Ryuuji has a strange dream that he asks Taiga to marry him and she accepts him like a dog. When he wakes up and does laundry, he finds that Taiga has had a similar dream, which is a bad omen. The two take off to the train station, where they are shocked to find Yuusaku and Minori already there, doing windmill-type motions. Ami arrives a little later and is embarrassed by the little act the other four put on for her. Later on the bullet train, everyone is enjoying lunch, say what they've been doing over the summer, and Ami and Taiga have their normal verbal exchange. Taiga plays an audio file for Minori which supposedly has a ghost voice on it. Minori is freaked out by it, but it is part of the plan she has to get Minori and Ryuuji together.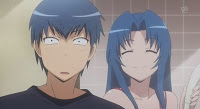 Arriving at Ami's beach residence, everyone is eager to hit the beach except for Ryuuji, who can't resist giving the place a clean. Later, when Yuusaku is going into town to pick up some food, using the motorcycle on the grounds, Taiga passes on an opportunity to go with Yuusaku out of fear of riding the bike, so Minori goes. Ryuuji points out that it was the perfect chance for her to be alone with Yuusaku, but Taiga puts it off, saying she's supporting Ryuuji's efforts with Minori. Ryuuji returns inside and is exploring the place more when he finds the bathroom. Ami is inside in the shower and grabs Ryuuji before he can leave. She's talking of him getting into the shower with her, but it is all a tease as all she was doing was cleaning. Ryuuji escapes and reports this to Taiga, who goes up to take care of Ami and gets a surprise.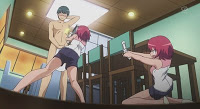 After Yuusaku and Minori return, Taiga plays on Minori's fears while Ryuuji makes curry. A battle between Ami and Taiga breaks out on how to make the curry but when Minori says "extra spicy," that's what Ryuuji makes. Yuusaku comes down in only a towel from the commosion which nearly puts Taiga into a coma and Minori taking pictures. Everyone eats and are surprised that it wasn't that spicy. Then, the heat hits everyone, thrilling Minori who loves hot food. However, this makes Taiga's stomach hurt, so Yuusaku takes her upstairs to lay down after taking stomach medicine. Taiga is very nervous the whole time.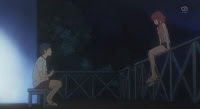 Meanwhile, Ryuuji is on the deck with Minori looking at the stars. Ryuuji asks if Minori has a boyfriend. Instead of answering directly, she talks of ghosts. People claim to see them and everything but she's never seen one. She relates the ghost experiences to her having a boyfriend, which she does not have and doesn't believe she ever will have one. Ryuuji picks up the topic to relay that he would like to have a girlfriend and that he hopes Minori can find someone because he thinks there's a ghost who wants her to see them. Minori sees something in the sky, thinking it is a UFO. Ryuuji explains that it is just a satelitte.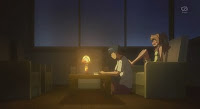 Later in his room, Taiga pays him a visit, feeling better. She's hungry, so Ryuuji makes her some food. Taiga asks what the plan will be for tomorrow regarding himself and Minori. He asks her about her plans for herself and Yuusaku. She reminds him that she's supporting him this time. However, she does remark on how spending time with Yuusaku has been a nerve-wracking experience for her, which is not what she expected. Taiga then reflects on how she's not nervous with Ryuuji and that even though they are in a large room, they are still close together. She then thinks back to her dream about marrying Ryuuji and ponders it for a moment. The return to their rooms where they find that their may well be a ghost in the home.
Thoughts/Review: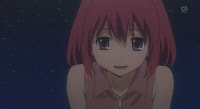 At last, some movement on the Ryuuji-Minori front. I can't help but wonder if Minori actually knows what Ryuuji and Taiga are up to, based on her conversation comparing ghosts sightings and meeting "Mr. Right." Minori is often portrayed as somewhat of a cheerful, optimistic airhead who's good at sports, but I do get a sense that maybe she's not at airheaded as she seems. Question is, does she even see Ryuuji as a potential boyfriend, or just another friend along with Taiga and Ami? I don't have an answer there. At least this episode had Taiga working to get Minori and Ryuuji together, and Taiga doesn't get all flustered like Taiga does around Yuusaku.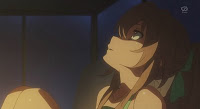 That brings me to another point — Ryuuji and Taiga. Their relationship kinda reminds me of my days in the military and the female friend I had at one duty station (whom I am still friends with to this day). Actually, it was something Taiga said about being comfortable around Ryuuji that reminded me of what the Wigster told me — she was comfortable being around me. We often spent lots of time in each other's room and in many ways, it is a wonder that we didn't just become a couple. The reason I even mention this is that the moment with Ryuuji and Taiga together with Taiga using Ryuuji's back as a footrest made me think for the first time that I could see them actually being a real couple. Assuming this line of story is followed, I wonder if we'll see a "we shouldn't ruin our friendship" element injected at some point.
Well, summer at Ami's place continues with the next episode.