White Album 07
ホワイトアルバム Episode 07
SPOILER Summary/Synopsis:
Yuki completes her recording session with a lot of passion after talking with Rina, leading to the satisfaction of Ogata-san. Touya gets his dad to put up Misaki so she can sew costumes. Touya starts tutoring his new student, Mana, who's the girl who tried to help him on his date with Yuki. Mana proves to be quite smart. Rina also makes a case for bringing Touya back to her employment and even shows Touya the hidden pub in the back of Echos (accessed from the broom closet). Because Misaki sees Rina take Touya to the backroom, she's now in a huff while Touya worries about not being able to help Misaki. Yuki still has to deal with the bullying from Sakura-dan. Haruka is depressed, more so because Touya is not home.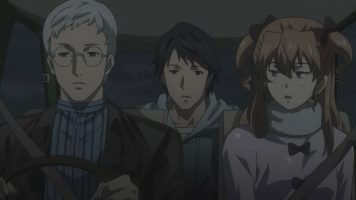 Thoughts/Review:
Whew. A lot of stuff to cover here.
First, there's MIZAKI Mana. I had wondered if her appearance in episode 4 indicated she'd be a player later. She is. I would guess her family is pretty loaded. After all, that sushi tray she tossed out was worth a lot of money and Mana bought McDonald's instead. Regardless, why does her mother want Mana to have a tutor? I realize the pressure to go to college is kinda high in Japan but Mana is either really smart or Touya is really dumb with the quiz he gave her. What is her relationship to Yuki? Touya was pretty dumb to let Mana's slip of the tongue go right over his head. Then again, he never seems to notice the obvious all around him.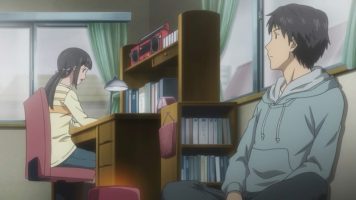 With oblivious Touya in mind, lets move to item two — Misaki. Somehow, Touya gets his father to put Misaki up for a while so that she can make her costumes. He's all in for helping her as we saw last episode. Yet Touya's actions lead him to be the king of misunderstandings. Touya has been seen with Misaki by Mana, who feels Touya is cheating on Yuki for being with a senpai. Touya's father seems to have the impression that Touya and Misaki might be an item. Misaki obviously likes Touya for some reason. Touya pisses off Misaki because he abandons her to chase after Rina, who was also pissed because the guy she's had an eye on is with some other girl who's not Yuki. It is a GIANT mess.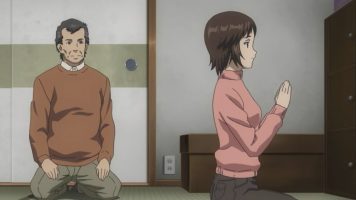 Moving on, there's Rina and whatever plan she has for Touya. She might be having some second thoughts after having seen him with Misaki but for now, she's trying to get her brother to bring Touya back to the Ogata Production's payroll. Plus, she's very keen on singing again herself. Interestingly enough, Eiji seems very on top of things. He knows his little sister has her eyes on Touya and Shinozuka-san also has her eyes on Touya to keep him from Yuki. I do wonder why Eiji calls Shinozuka-san "Yayoi-neesan" though. Is she his older sister or is this just a term of endearment? Is Touya back again an employee of Ogata Productions since he was taken to the studio again?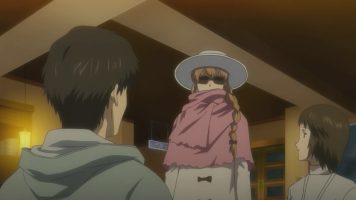 Haruka appears to be having a breakdown dealing with the loss of her brother. I guess she'd been using Touya as a crutch.
Yuki is still dealing with bullies. I thought we'd see Shinozuka-san go ape on Sakura-dan but Yuki stopped her. To me, that idol group is a greater thread to Yuki than Touya. I'd like to see Shinozuka-san still handle this in her own way behind the scenes.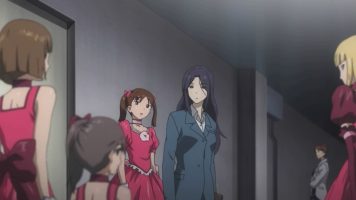 You know, the anime had presented Touya's relationship with his father as being very strained. If it were really that bad, why would Touya even consider having Misaki stay at his father's place? Further, why would his father even put up this college girl?
Ultimately, this episode is another type of giant mess, mostly thanks to Touya being involved with multiple girls. I think of how easily the heroes of Kanon, Air, and Clannad dealt with lots of girls which is fictitious. For White Album, this feels more real — girls aren't going to be so keen to tolerate other girls for the affections of a single guy. In trying to be the nice guy, Touya is creating a giant pit for himself and he's going to hurt people more than he has thus far and may lose everything in the end.