Clannad After Story 18
クラナド アフターストーリー Episode 18
SPOILER Summary/Synopsis:
In the Illusion World, Mystery Girl and Garbage Bot take off to try to find a new, better world.
In the real world, a brat kid annoys Tomoya and he snaps at the kid and his mom, frightening Ushio so that she disappears to the toilet. Tomoya finds her and learns that Ushio has been taught not to cry except in the toilet. At a stop at a train station, Tomoya offers to buy Ushio a toy from a nearby toy store. Since they are on the clock, Tomoya picks one for her — a robot. On the train, Tomoya wonders if Ushio would have preferred a more feminine toy, but Ushio is very happy with the robot.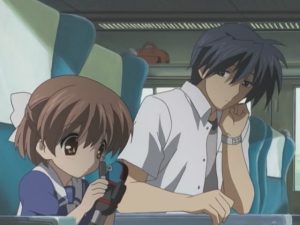 That night is spent at a resort hotel and in the middle of the night, Ushio has to go to the bathroom. To make sure she's OK, Tomoya gets up too and waits for her to escort her back to their room. After she does her business, they look out one of the windowed halls where Ushio and Tomoya see a small, flying light just outside. Tomoya says it is a firefly and Ushio is excited since she's never seen one. The next day, a small train goes to the end of the line and a small, country town. Walking, an unpaved country road, they find a field of yellow flowers. Both Ushio and Tomoya are in awe, so Tomoya puts Ushio on his shoulders so she can get a better look.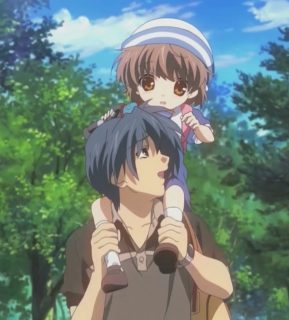 Tomoya sits in the shade while Ushio happily runs through the flowers with her robot in tow. Tomoya nods off and when he awakens, he finds a sad Ushio who's lost her robot toy. She cant find it and while Tomoya offers to buy another one, Ushio won't hear of it. Tomoya lets Ushio continue to look, but he has flashes of himself and his father here when Tomoya was a child. Tomoya tells Ushio to wait for him here while he proceeds up the road a bit. There, he finds an old lady who seems to know him and has his family name — Okazaki.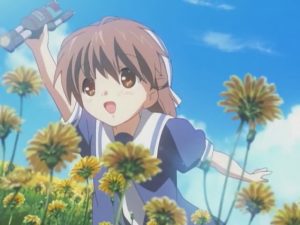 The woman is OKAZAKI Shino, Tomoya's grandmother and the mother of Tomoya's father Naoyuki. Shino tells Tomoya that Sanae-san had called her and told her to expect Tomoya's visit. She proceeds to inquire about Naoyuki and then tells Tomoya about Naoyuki meeting his wife Atsuko and his troubles accepting her accidental death. However, Naoyuki had vowed to raise Tomoya by himself. Shino notes how Tomoya is now in a similar situation. After hearing Shino's story, Tomoya answers Shino's question as to whether Naoyuki was a bad father or not by saying "no." Shino is relieved to hear this and the two head to where Ushio is.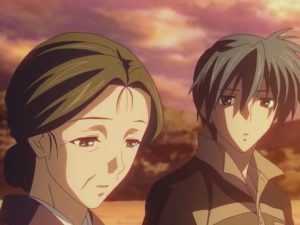 Ushio is still looking for the robot but can't find it. Again, Tomoya offers to buy a new toy, but the thought of this saddens Ushio. Tomoya says there are others but Ushio says there is only one. That's because her papa chose and bought that toy for her, the first present Tomoya ever bought her. The words cut deeply into Tomoya, leading him to promise to be a better father and asking if he can stay with her. Ushio agrees and cries in Tomoya's arms, the only other place Sanae-san said she could cry. On the train ride back, Tomoya decides to grant Ushio's earlier wish to hear about her mama, Nagisa. The memories cause Tomoya to cry and Ushio as well, but Tomoya now has a new reason to live — his daughter.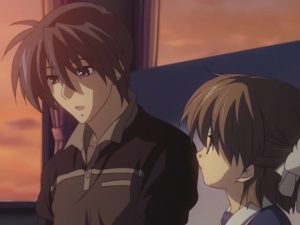 Thoughts/Review:
Was it me or did the robot that Tomoya purchased for Ushio in Clannad After Story 18 resemble Garbage Bot? I had thought that maybe Mystery Girl was in fact Nagisa but after five years and seeing the robot, now I wonder. Add to the mix that Ushio lost the robot (mysteriously it seemed), the field of flowers (which reminded me of the golden fields Mystery Girl used to be seen in), Mystery Girl and Garbage Bot holding hands (as Tomoya and Ushio did), and the mystery light that we've seen appear before in regards to wishes appears again in front of Ushio and Tomoya; I begin to wonder if I'm overthinking things.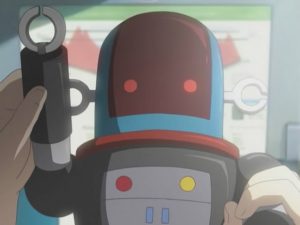 Could Mystery Girl be Ushio? If so, why? Then again, if it is Nagisa, why? It seems like Tomoya turned a corner here and the previews for next week would seem to suggest that this path is continued. There's just too little information about the Illusion World and its relationship to the real one (such as time passage and the like). Regardless, it is ironic that Garbage Bot and Mystery Girl head for new ground just as Ushio and Tomoya do the same.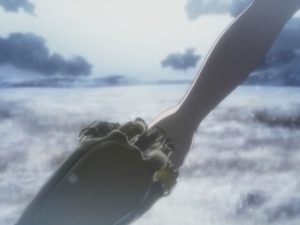 After last week's episode, I wondered if Tomoya could be any more of a jerk. Now we see the wisdom of Sanae-san and Akio-san's plan to have Tomoya and Ushio take a trip where he would see the grandmother he's long forgotten about. Nothing they said would ever get through to Tomoya. However, giving him a train ticket to the boonies with his daughter allows father and daughter a chance to bond some and gives Tomoya's grandmother a chance to see her grandson again as well as tell him an important story. It worked (of course) and at the same time, Tomoya is forced to deal with his own grief. Hopefully, this will mean he won't be a bad father from here on out.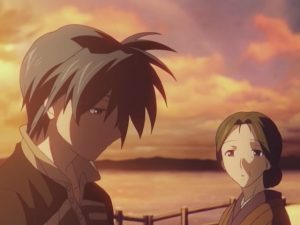 Ushio is such a cutie. Man, Sanae-san's teaching Ushio to never cry save in the toilet room or in her father's arms does seem harsh. Still, Sanae-san and Akio-san do appear to be teaching Ushio well. I see how well behaved she was compared to the other kid. Granted, there's still a fear factor involved between Ushio and Tomoya which would cause Ushio to behave better, but I think that even if that weren't there, Ushio would be like her mother, and that's a good thing. I just hope nothing bad happens to Ushio between now and the series end. There are a lot of episodes left. (I keep thinking about Garbage Bot and Mystery Girl and really wonder what horrible stuff to make the audience cry is in the wings.)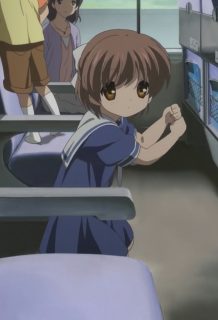 You know, if somehow that is Ushio in the Illusion World, it would make a weird sort of sense (I can't stop thinking about it, which is why it is taking me so long to write this article). The day her father bought her the robot and took her to the field of flowers I think is the happiest day of her young life. So if something bad happens down the road and she gets trapped and sent to an Illusion World, it would make sense to me that Ushio would try to recreate that happy moment with an illusionary world where there is a field of golden plants and a robot made of scrap metal that resembles the robot her father gave her. Now why Garbage Bot is alive is still one of those big unsolved mysteries. Is it Tomoya somehow? I couldn't say unless Tomoya goes after her to rescue her.