クラナド アフターストーリー Episode 24 (finale/end)
Clannad ~After Story~ Ep. 24 Recap
Clannad After Story 24
SPOILER Summary/Synopsis: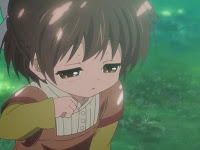 Tomoya tells Ushio the story of how he and Mama (Nagisa) met in high school, made friends with Kyou, Ryou, Kotomi, Tomoyo, and the others, including "Youhei-ojichan." Tomoya then tells of the formation of the Drama Club and the troubles they encountered to make Nagisa's dream come true, followed by the story that Nagisa wanted to tell, which somehow Tomoya knew. He tells of Nagisa's illness, failure to graduate, her later graduation, their marriage, and the birth of Ushio.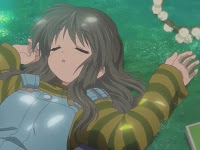 Ushio falls asleep but Tomoya reflects on the "dream" that he believes is real where Nagisa died after giving birth to Ushio and that Tomoya abandoned her for five years. After Sanae-san and "Akii" get Tomoya to go on a trip with Ushio, Tomoya resumes his fatherly responsibilities until Ushio in that world gets sick and eventually dies. It is then that Tomoya "wakes up" to find Nagisa giving birth and the current Ushio is healthy and strong. Ushio wakes up and Fuuko-chan still snoozes under the tree as Nagisa calls to them as it is time to go home from the picnic.
Thoughts/Review: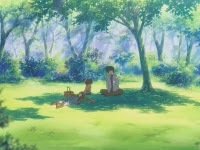 Recap episodes are usually dreadful to me because they are tedious and boring. The little bits of new animation usually aren't worth slugging through all of the rest of the crap, and that goes for shows I really enjoyed such as Vandread and Vandread: Second Stage. That didn't happen with this episode. I didn't find it dreary, tedious, or boring at all. I think having this presented as Tomoya having a father-daughter moment (with Fuuko-chan revealed to also be there at the end) that helps make it work.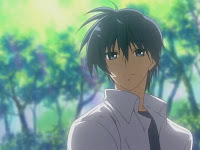 It was nice seeing the very brief highlights of Clannad and Clannad After Story. I also liked how Tomoya appears to remember that he repeated time even if he can't explain it. Having Ushio voiced by a real child works wonders as well (as it did during the series). Too bad American companies can't be bothered to do this.
The only annoying thing is an issue I was reminded of as they went through the first episodes — the initial airing of the series is in 4:3 whereas the later airings and DVD release are wide screen. This is very irritating because clearly, it is a marketing ploy to get otaku to buy the DVD. Ugh. Just air it normally like a lot of other anime titles are.
I'll write final words sometime later.