Minami-ke Okaeri 11
みなみけ おかえり Episode 11
SPOILER Summary/Synopsis: 
Riko observes Kana and Fujioka being friendly and is depressed enough to have Keiko notice. She's also noticed by Hiroko, who has an interest in the "banchou" stuff that Kana involved her in earlier, decides to help Riko win over the current banchou, Fujioka. To this end, she enlists her best friend Yuu to stand if for Fujioka. However, Yuu does things like pick her ear which puts Riko off. To complicate matters further, Kana comes out and Yuu is happy to see her. The image that comes to Hiroko's mind is one of Fujioka (Yuu) and Kana together and she tries to stop it. However, Riko has had enough and leaves.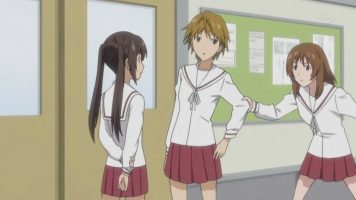 Kana decides to have a study session at her place and since Fujioka and Keiko are coming over, she invites Riko over too. Kana comes home and cleans the tub after deciding what her hospitality moment should be. After studying and eating curry, Haruka invites them to all take a bath. Fujioka is chosen to go first but because he gets nervous at the thought of bathing in the same tub as Kana, he takes a shower instead. Next is Riko, who gets nervous thinking about bathing in the same water as Fujioka, so she showers instead.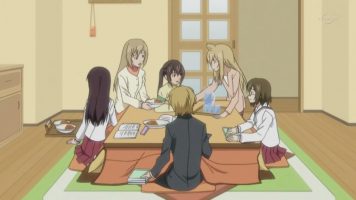 Keiko follows, but because her vision is bad and she's uncomfortable bathing in another home, she showers instead. When asked, all three report that they enjoyed their warm bath. Pleased with her hospitality, Kana goes for the bath next. Uncovering the tub, it is filled with hot red peppers — the ultimate warm bath. However, after a few moments in the tub, Kana gets burned and races out of the tub to challenge her friends on their bathing experience.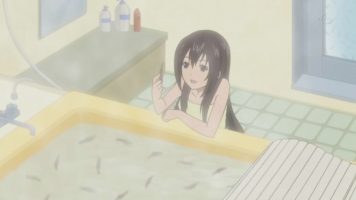 Riko has a new plan and that involves getting high test scores so that she and Fujioka can do some one-on-one studying together. She has made a 97 on the test, but Keiko has a 100. Riko's day turns sour when Kana comes up to thank Keiko for the advice as Kana made a 99 on the test. Fujiko comes up to thank Kana for the advice as he made a 98. Kana wants help on the next test, but Keiko decides not to make Riko mad and suggests Kana figure it out on her own.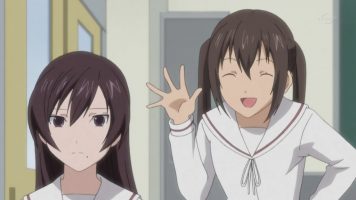 Kana goes to "Riko-sensei" and tries to get Fujioka to help her. Riko fantasizes about a more intimate study session with Fujiko addressing her as "Riko-sensei." That's crushed when Fujioka agrees with Keiko about studying on their own. Riko then randomly points to sections in the text book when Kana asks for help and to Riko's dismay, Kana again gets a 99 to her 97.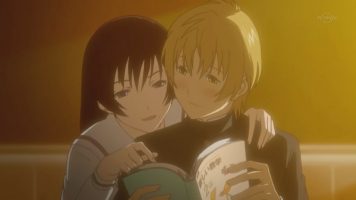 With Valentine's day approaching, Kana starts to make an announcement to Chiaki, Touma, and "Mako-chan" about it, then pulls out the Othello game. Chiaki agrees to play but says that she'll win against Kana just the same. So Kana decides to challenge Chiaki on making Valentine's chocolate now so that she's not out of it later. Kana also sends "Mako-chan" to help. When they return with a chocolate desert, they see Kana playing Touma. Touma realizes that Kana is "playing" them all by getting them to do what she wants — play Othello and eat chocolate.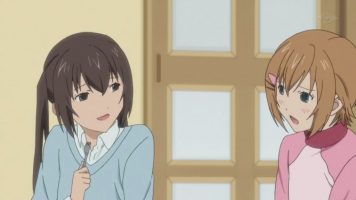 Since "Mako-chan" has also made chocolate, Kana decides to have some fun. She convinces "Mako-chan" to give it to Chiaki so that Chiaki can give it to someone at school. The next day, Makoto snickers at the idea of Chiaki giving some poor sap the chocolate he had made, especially since it hit the floor and Chiaki knew it did. Whomever she gave it too would have to rank pretty low in Chiaki's eyes. To his dismay, Chiaki comes up to him to present him the chocolate.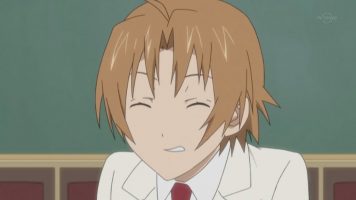 Thoughts/Review:
Man, the character designs here are so radically different, I didn't even recognize Hiroko at all and I barely recognized Yuu. They were introduced in Minami-ke Okawari episode 02 (click HERE for their images then). So while nice to see them, the story really wasn't that funny.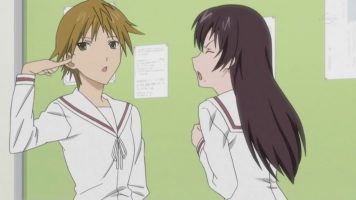 The second story was pretty predictable up until the end. I knew none of them would actually take the bath and their reasons were amusing. However, seeing a tub with a lot of hot red peppers and hot water is something I never expected to come from the hospitality minded Kana. *lol*
The third story was also pretty predictable. I figured that Kana would outscore Riko for both tests. I guess the writers are having a hard time coming up with new stuff since test score jokes have already been done.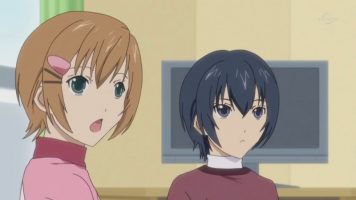 The fourth story was also pretty predictable. The funniest part was the look on Kana's face when she decided to ask "Mako-chan" whom he would give the chocolates too. Beyond that though, there wasn't much to say.
Riko got a lot of face time by being featured in three of the four stories.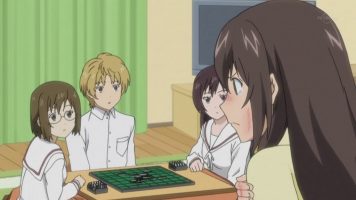 So while not an unenjoyable episode, Minami-ke Okaeri 11 really wasn't funny and felt too much like "been there, done that." They say you can't catch lightning in a bottle twice and this series goes a way to probe that. Still, it is better than Minami-ke Okawari.