Negima! Chapter 244 SPOILER Images
Negima! 244 SPOILER Images
魔法先生 ネギま!Chapter 244 (Images)
Here's what I know many of you have been waiting for — the original-sized, sneak-peek images for Mahou Sensei Negima! 244 as brought to you buy anonymous Japanese fans (click pic to make bigger, y'all). This is an early snapshot and hopefully more will be out later today or tomorrow.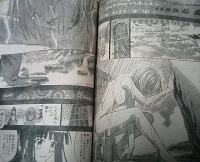 Poor Ako. Well, at least we know she has accepted it by the time the match started.
UPDATE: 2nd spoiler image post can be found –> HERE!
Updated 2: 3rd set of spoiler images can be found –> HERE!