Ah! My Goddess Manga/Oh My Goddess! Manga
ああっ女神さまっVolume 39 Chapter 244
Ah! My Goddess Ch. 244

Summary/Synopsis: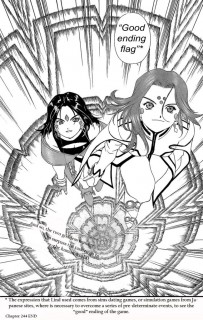 Chibi-Hild takes a knew before Urd and Belldandy and begs for their help. This move stuns Urd considering Hild is the former Daimakaicho of Niflheim. Chibi-Hild explains that her pride is not on the line and to do what needs to be done, she'll bow as many times as it takes. Hearing this, Belldandy happily accepts Chibi-Hild's request for assistance but Keiichi asks if humans can go to Niflheim.
In "The Heavens," Peorth notes a large amount of demonic activity on Earth and that the Gate is under assault to shut her down. Lind tells Peorth that if the forces of Niflheim are trying to shut them in, then they need to leave. Peorth leaves Chrono, Ere, and Ex in charge as she and Lind take off. Lind's Valkyries are trying to keep up but fall behind to Lind's and Peorth's superior speed. Lind chastises her girls for not keeping up as Peorth speculates that Hild has been overthrown which is why Gate is under assault. Lind realizes that if Hild is gone, Niflheim won't abide by any of the previously established agreements.
Gate yells at them to hurry up as she cannot hold the passage to Earth open for much longer. Peorth and Lind make it through before Gate closes.
Thoughts/Review:
YES! This current story arc started out by getting my attention and having Peorth and Lind return to Earth gets me excited. Gate didn't impress me when she was introduced, but seeing how she operates to connect Earth with "The Heavens" is a nice touch.
Lind's comment about Peorth's need for a more conservative outfit made me laugh. For whatever reason (likely fanservice), Peorth almost never wears anything other than her standard uniform. She did wear human clothing on her date with Tamiya, but that's the only time I remember it. So maybe Fujishima-sensei will give her something nifty and new to wear before the manga ends.
I also laughed at Chrono's, Ere's, and Ex's request for Peorth to bring them back presents. *lol* Nice touch.
Finally, there's the Daimakaicho — "Hild-sama." OK, Hild is in chibi form, but her bowing to make a request of Urd and Belldandy was something I didn't expect. However, her explanation makes total sense to me and actually makes Hild come off as a smarter ruler, even if she did get blind-sided and overthrown.
So hat's off to Fujishima-sensei for coming up with the best story arc he's had in a very long time. I really look forward to reading more.