フェイト/ステイナイト Ep 07
Fate/stay night episode 07
SPOILER Summary/Synopsis: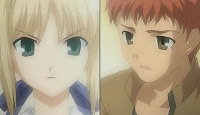 Saber confronts Shirou about his confrontation with Rider and the fact that he did not summon her. She also does not like it that he has partnered up with an enemy – Rin. He tries to play down her concerns and Saber does agree that a partnership with Rin does afford Shirou an opportunity to learn more. After a large breakfast, she plans to accompany he and Sakura to school. Before they can leave, they discover Rin there, who's planning on talking with her new partner. Sakura is distressed by Rin's appearance and hurriedly leaves for school. Since Rin is there, Saber is convinced to stay home.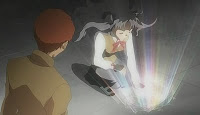 Upon entering the school grounds, Shirou has a terrible feeling that Rin believes is coming from the barrier. Shirou agrees to meet her on the roof at noon to plan a course of action. When noon comes, Shirou sees Sakura and decides to clear the air with her. Upon doing this, an annoyed Rin shows up to remind Shirou of their meeting. They head to the roof where Rin states that they will be unable to lower the barrier but they will be able to weaken it, likening their actions to adding cold water to a pot of near-boiling water. After school, Shirou uses his ability to sense out the spell spots for the barrier and Rin deactivates them.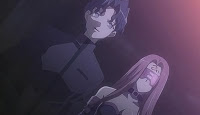 Once the job is done Rin and Shirou have a canned coffee before Rin goes home. After she's gone, Shirou gets a sense of something wrong and returns to the school. He goes to the one building that he and Rin did not enter and discovers a large magic circle on the wall. Rider appears as does Shinji, who orders Rider back. Shinji then suggest that he and Shirou play, something they haven't done in a long time.
Thoughts/Review: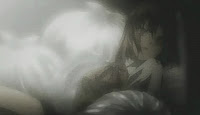 Obviously, I was reading too much into things last episode as it does appear that Shinji is Rider's master, seeing as how Ayako was found comatose. So how does Sakura fit into the equation, if at all? One would think she'd be more upset over her brother's apparent disappearance but she shows no sign of that.
While I'm thinking of it, how could Rin and Shirou be so blind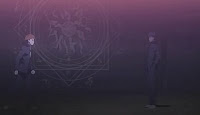 as to miss the biggest place as to the source of the school barrier? Yeah, yeah – a plot device. However, this is a case where logic fails in the story writing IMO. We'll see how things pan out next episode though. Still, I did like how well they worked together in clearing the spell points for the barrier.
Getting back to Sakura, this episode has her playing the role of "I'm so in love with Senpai" and getting upset about Rin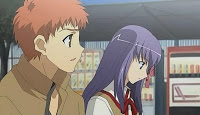 stopping by to visit that morning. Then Shirou has to play the nice guy bit to assure her that there's nothing going on between him and Rin. The whole thing is fairly clichéd and it made me wonder why Fujimura doesn't make more of an issue of Sakura doting on Shirou so much. I guess that a free meal is good enough to buy her off or Sakura has confessed her feelings for Shirou to Fujimura but has decided not to act on them. I guess we'll find out more as time goes on.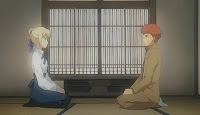 I'm somewhat surprised at how little we've seen Archer or Saber when it comes to action. Saber is more understandable since Shirou is so weak. However, Rin can bring Archer forward at any time without using a command spell, so why isn't Archer being used more? I figure it can't be too much longer before Shirou will be forced to use a command spell and summon Saber though.
Despite a few minor story flaws, I still like what I'm seeing overall. ^_^