フェイト/ステイナイト Ep 21
Fate/stay night episode 21
Fate/stay night – 21
SPOILER Summary/Synopsis: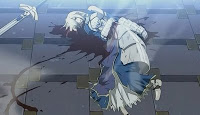 To Saber's dismay, Shirou tells her she has to run as he charges Archer-1 and with the snap of a finger, Archer-1 has stopped Shirou cold and has him on the ground bleeding. Saber gets angry and attacks but it is no use. To her amazement, Archer-1 has a dizzying array of Nobel Phantasms. He simply states that this is nothing considering he was originally Gilgamesh. He decides that he and Saber should go at it and despite Shirou's protest, Saber uses her Nobel Phantasm against one of Archer-1's. She loses and also falls to the ground as a bloody mess.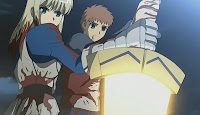 Shirou manages to stand up and use his ability to recreate a sword, but Archer-1 not only easily breaks this copy, he slices Shirou good too. Saber wants this to stop but before she has a chance to submit to Archer-1's demands, Shirou again is up, this time creating a sheath of energy based on Archer's words of advice to him. Archer-1 is amazed by this as is Saber, who gets up and with Shirou's help, places Excalibur into the sheath. When Archer-1 launches another ranged attack, the attack is deflected by the combined power of sword and sheath and hits Archer-1 full blast. With this, he elects to retreat and Shirou passes out.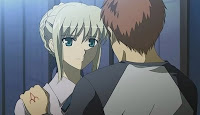 Later, Shirou wakes in his room to discover he's completely healed. Saber comes in, having been tending to him. When Shirou again expresses his wish for Saber to give up on what he feels is her foolish desire (based on a shared dream he had with her), Saber leaves and attempts to make dinner. Shirou has to teach her and tells her he saw her dream, attempting to get her to change her mind. She leaves, but he follows her, preventing her from entering her room by embracing her. She can't push him away because she doesn't want to and despite her protests, Shirou kisses her. They then apparently spend the night together but in the morning, she's her normal, distant self.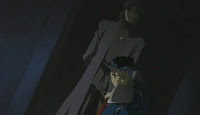 Shirou decides to speak with Father Kotomine at the church, but doesn't find him. He has a terrible feeling and his mind urges him to flee, but he doesn't. Instead, he looks around and finds and underground church with lots of desecrated coffins and rotting bodies. Shirou backs away, only to back into Father Kotomine. Shirou is stunned and Lancer appears, piercing Shirou in the process and apparently causing Shirou to black out.
Thoughts/Review: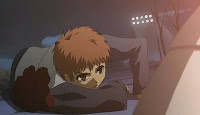 Hey! My name is Shirou. No matter how many times you tell me I can't stand up to a Servant, I will ignore you because obviously you are lying. No matter how many times a Servant kicks my sorry rear end, it has to be just luck because I'm going to keep on fighting Servants no matter what. My name is Shirou and I cannot die.
Yeah, yeah, I know — he became Saber's sheath (or always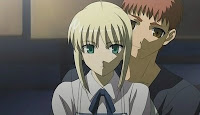 was in some sense) and he does have a power that combined with Saber makes him fairly powerful. Alone, he's still nothing though.
That said, you have to give the boy his props though. After all, he's not stammering around when it comes to Saber and wanting to be with her. Nope, he goes on in and even scores the kissed. Granted, he already had a sexual relationship with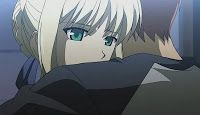 her (implied) in the fight with Ilya in order to recharge her mana. I gather he did the same after he kissed Saber, though she simply decided to act as if the act were nothing more than a recharge for her. My point is that while he acts an idiot by constantly going off without Saber and constantly doing things to protect the woman who's stronger than he is, he does get props for going after the girl in a fearless manner.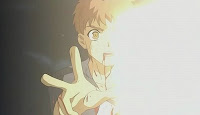 I'm going to guess that the sheath Shirou summoned was in fact Excalibur's original sheath. What I wonder is that as a mere copy of the original, can this copy be used as if the original once Shirou really masters his technique?
Also, I'm still thinking that Shirou is healing himself and that the power is not coming from Saber as Rin suggests.
So, my initial thoughts about Kotomine being Lancer's Master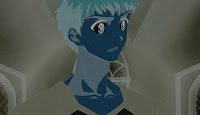 were correct. I admit, the arrival of Archer-1 threw me for a bit though since both Kotomine and Archer-1 were from the previous Holy Grail War. In my mind, it would make sense that Kotomine had somehow found a means of retaining his Servant, but then I was never quite clear on when Kotomine was knocked out of the fight.
So, if Kotomine is not Archer-1's Master, then who is? I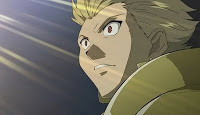 suppose that being Gilgamesh in his former life, Archer-1 could somehow have the power to stay on his own after the war — either that or the destruction of the Grail caused some sort of feedback that allowed him to stay.
Well, another episode down and one that just smoked by. To me, that's always a sign of a good series is when the time flies by when you watch an episode.