More Negima! Chapter 254 SPOILER Images
Special thanks to fg7dragon, who alerted me to a late-posted image on 2ch, which was done around midnight Japan time (11:00ET).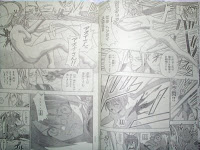 To quote the Japanese poster, "サービス♪サービスぅ♪ " (literally, they are saying "service" twice, which we in the English speaking world know as "fan service").