フェイト/ステイナイト Ep 24
Fate/stay night episode 24 (final episode)
SPOILER Summary/Synopsis: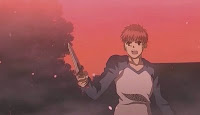 Shirou is trapped in the evil sludge from Kotomine and as the dead scream at him, he thinks of some words his adopted father told him, Rin's final words to him, and other people. As such, he finds the strength to be able to break out to Kotomine's surprise. Shirou pulls Azoth out to try to attack Kotomine again but finds himself hit by another mass of evil goo and thus trapped once again.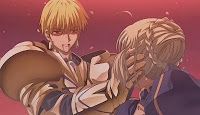 Outside, Saber and Gilgamesh are fighting still with Saber unable to defeat him. Pulling herself up, her connection with Shirou becomes strong and she sees a light. Shirou has a revelation as Saber thinks on how Shirou is her scabbard. Shirou uses his tracing magic to create the scabbard "Avalon" for Saber. So when Gilgamesh again attacks, Saber is able to return the attack to Gilgamesh. He's not defeated but before he can get another attack off, Saber hits him with her sword's attack at close range, defeating him. He understands that Avalon is Saber's true Nobel Phantasm.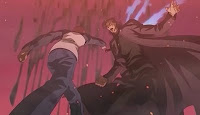 Meanwhile, as Saber receives Avalon, Shirou escapes again from Kotomine's evil goo. Now, Shirou is able to dodge Kotomine's attempts to ensnare him a third time and uses Azoth to stab Kotomine in the chest. He then speaks the command word Rin taught him to finish it. Kotomine wonders where he got the dagger. When Shirou says Rin gave it to him, Kotomine recalls handing it to the child Rin 10-years earlier. He then dies and turns into goop. Shirou uses his tracing ability to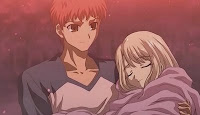 create a blanket with which he catches the falling Ilya. Saber comes up and requests Shirou give the command to have her destroy the Grail. Shirou again thinks of his love for Saber but gives the order just the same.
Saber destroys the Grail and she says she was glad to be able to carry out her oath. As the dawn breaks, Saber confesses she loves Shirou and is gone. She returns to her day, a dying k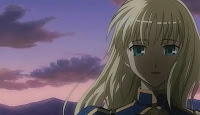 ing who believes she has just experienced a dream. She orders her knight Bedivere to return her sword to the lake, which Bedivere does. After Bedivere returns, Saber (King Arthur) passes away and Bedivere prays that the dream the king had will continue.
In the present, life returns to normal with Sakura coming by Shirou's place every day to make breakfast and Fujimura-sensei coming by to eat. Ilya now lives Fujimura-sensei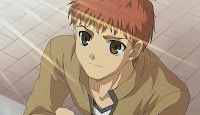 (at least, I think that's the case) and the two bicker a lot. Sakura makes a dish that Saber liked and the group goes to school. Shirou meets up with Rin on the way and confesses that while his memories of Saber will fade, he will always remember that he loved her. Instead of going to school, he leaves Rin and goes to the bridge that he and Saber had a long talk on, planning to carry forward to his goal.
Thoughts/Review: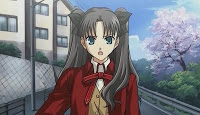 I am glad to see that Rin did not die. I guess despite how bad she looked and how she fell asleep (or passed out), she came through. I half expected her to still be living at Shirou's place, but that would be inappropriate wouldn't it?
I guess Ilya is living with Fujimura-sensei based on thier bickering conversation and the fact that they came to Shirou's place on the scooter bike. What confused me is that Ilya is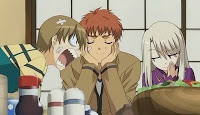 shown cleaning Shirou's place in a couple of brief scenes, which I suppose could be just her cleaning and nothing more. It would also be inappropriate for Ilya to live with Shirou even though she and Rin did so along with Saber.
Sakura looks no worse for wear and appears to be leading a normal life, taking a role in the archery club. So that's nice.
Shirou — on one hand it looks as if he's accepted things and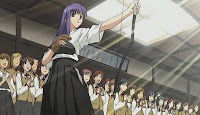 moved on but on the other, this goal of his seemed to imply to me a thought that someday he and Saber could be reunited. That's a sweet thought since Saber didn't get to survive in the modern time. So does this mean that Sakura and Rin have no chance to a memory? I realize that isn't an important question, but for some strange reason it is one I thought of.
Going back to the final battle, Shirou and Saber's connection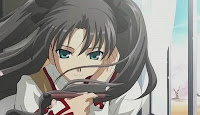 I'm guessing is what allowed Shirou to create the scabbard for Saber. I'm a bit confused because I thought Saber had extracted a scabbard from Shirou last episode. That's the problem with the anime — too much information gets flushed for time.
Saber's love confession to Shirou was very sweet. Often in anime, someone confessing will say "dai suki," which is often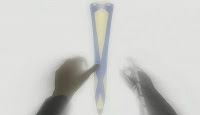 translated as "love" and that's not inaccurate. Saber says, "aishiteru," which I'm informed is a more personal (and deeper?) way of telling someone you love them. It is a bit sad that she didn't get to live a life in the present with Shirou, but oh well.
Did they make Bedivere a woman in this anime? I suppose that if Arthur can be a woman then why not Bedivere? I'm just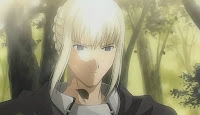 wondering why a female voice for Bedivere.
So things are now over. It was a good episode and I'll write a final review soon.