魔法先生 ネギま!Volume 28 Chapter 256 (manga)
Mahou Sensei Negima! Manga Chapter 256
Negima! Manga Vol 28 Ch 256 Review
SPOILER Summary/Synopsis: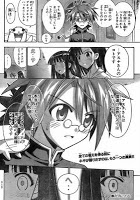 Jack's arrival causes a bit of hero worship with Craig and Tosaka but after that's over, Jack has Negi play Governor-General Gödel's invitation. Gödel not only invites Negi to come, but also his female companions, even offering to provide them dresses if Negi sends their measurements. Gödel promises not only their safety but also promises to have them stricken from the wanted list, something that apparently Theo, Seras, nor Ricardo can do. If that's not enough encouragement for Negi to come and should they attempt to go down to the surface, then Gödel will send a fleet of warships to hunt them down. As a final request, Gödel asks that Negi come in his Nagi disguise.
Negi says he will go but orders the girls to return to the surface. Shiori-Asuna rejects this immediately and chastises Negi for once again deciding to do things on his own. Jack figures to tag along as well and so it is settled.
Kaede is briefed on the situation which leads Setsuna to tell Negi about the Shinmeiryuu technique Zanmaken Ni no Tachi which Gödel uses but that someone of her status is forbidden to learn the technique as it is reserved for those directly connected with the Aoyama clan. Jack borrows Setsuna's sword and proves that by careful observation, such a technique can be indeed learned. He tells Setsuna that she could learn it if she wanted but if she's worried about status, he can rename the attack for her. He decides to call his attempt at the Ni no Tachi as "IN CELEBRATION OF MY FIRST KISS WITH OJOUSAMA… SPECIAL." Jack has Negi raise a powerful barrier and unleashes the attack. With it, he's able to (mostly) bypass Negi and strike a nearby floating boulder. That Jack does this amazes Setsuna.
Jack explains that Kurt Gödel was an orphan boy that Ala Rubra picked up during the war like Takahata. Gödel was keen to learn the Shinmeiryuu techniques that Eishun used. Eishun initially refused but seeing how Gödel began picking up things just from observing Eishun, Eishun began teaching Gödel properly. After the war, Gödel left the group as he didn't agree with their meathods on saving the world. Gödel got into politics and now is Governor-General.
Negi takes Chamo, Setsuna and Konoka off to the side — Setsuna still marveling that Jack was able to perform such a powerful Shinmeiryuu technique without training. Negi tells them that before they go to the ball, he feels he needs to tell them about Asuna and that maybe he'll need to tell the others at some point. After a bit of difficulty, Negi informs them that Asuna is actually from the Magic World and that in reality, Asuna is a Princess of Ostia.
Thoughts/Review: Well, it wasn't Motoko (well, unless you count that tiny example image as Motoko, which I know some feel it is her though not specifically stated) but we did get the "Aoyama" name-drop in this chapter. I still would love to see a proper appearance by Motoko or her sister at some point.
Still, we now have an opening for Setsuna to learn the Zanmaken Ni no Tachi, which I'm sure she will. Should there be a fight at the ball, I don't think she'll have learned it because as good as she is, I don't think she's as good as Jack at the moment. Then again, maybe this will be something else she attempts to acquire as a skill — learning techniques from observing others. That would give her an edge in fights both in "borrowing" an opponents attacks and using them against said opponent.
Now to Gödel — he certainly wasn't taking anything for granted with his invitation to the ball. Interesting that he is more powerful politically than Theo, Seras, or Ricardo. I think we all had been wondering why they hadn't removed Negi and company from the wanted list and now we know — they couldn't. That Negi would go to the ball was something I don't think anyone really doubted. What surprised me is that Jack is going to attend. That will make things more interesting.
Also of interest was that Gödel was briefly a member of Ala Rubra as a child. With Gödel throwing this ball, I begin to wonder if maybe Takahata will finally show up. Its a long shot to be sure since I think he and Mana will be used in the final battle to wrap up the story arc. We'll see though.
So an interesting chapter with table setting exposition to get us firmly into the next phase of things. Bring on the next chapter! ^_^