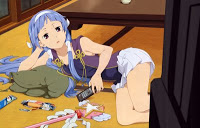 I'm a firm believer in supporting what you like. Going back to my teen years, I would purchase audio tapes to score my favorite songs when I was able, though most of my music came from recording from the radio or copying tapes of friends. After I left home and joined the military, I began collecting CD's and added the collecting of movies on VHS. When DVD's came out, I upgraded my favorite movies to that format. Now that Blu-ray is out, I am again repeating that process for titles I think are worthy.
I mention this to establish that I put my money where my mouth is.
That said, I know what I want and what I don't want. For example, when The Lord of the Rings movies came out on DVD, I refused to purchase the theater versions because I wanted the extended, director's cut that would be coming a few months later. Does this action on my part make me some kind of elitist? It does according to some areas of anime and manga fandom.
One of the freedoms about being a consumer is that I can choose to spend my money wherever I feel like. When it comes to anime, I have one simple rule — the subtitled version needs to include the Japanese honorifics. If they don't, then I will spend my limited anime budget on an anime release that DOES contain what I want.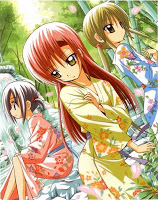 For manga, I have a similar requirement — the adaptation has to include all of the Japanese honorifics. I give pluses for titles that go above and beyond such as Viz's Hayate the Combat Butler or Del Rey's Negima!  Since Del Rey released Pumpkin Scissors without Japanese honorifics (at least through the first three volumes), I refuse to buy another volume, period. For Inuyasha, Viz jacked that up left and right as far as I'm concerned, to say nothing of the art being FLIPPED! What the smeg is up with that? (Yes, I know they are fixing that issue — or at least I'm informed they are.)
According to some in fandom, I should be supporting the business by purchasing all four manga series no matter what. To refuse to purchase a title for what they consider trivial reasons is being an elitist and one of the reasons TokyoPop is going down the tubes, to say nothing of the anime/manga market being in dire straits (a theory I reject for the record). Since when as a consumer of any product do I have to purchase something that isn't up to my specifications? What happened to, "the customer is always right?"
Seriously folks, if you are out shopping for an HDTV, and you have researched and know exactly what you want, do you purchase a standard definition TV just to support companies who are making them? Of course not. You buy the HDTV and you buy the one that meets your standards. If you want a 46″ TV, you don't settle for a 24″ one, do you? Of course not.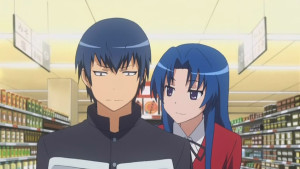 What if you want a cheeseburger from Wendy's?  When you go to Wendy's and order a cheeseburger, only to have them say, "Sorry, we are out of cheese," do you buy a plain hamburger and make do?  Some would (I would not). However, what if you went there for a cheeseburger, but all they had were chicken sandwiches.  Do you still "support" and buy a chicken sandwich even though you wanted a cheeseburger in the worst sort of way?  Again, I'm sure some would, but most wouldn't and would take their business to someone actually selling cheeseburgers.
So why is it that I'm supposed to purchase an anime or manga title that isn't translated like I want? Why can't I pass on a manga title that is still being published flipped? Why must I support a company that decides to print their manga on cheaper paper while charging me more for the privilege?
The fact of the matter is that I do NOT have to support anything I don't like and I won't purchase anything I don't like. This act on my part is a choice and does not make me an elitist.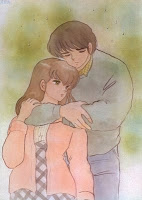 After Viz did what they did to the Maison Ikkoku manga (which was only partially fixed in the re-release) as well as my aforementioned mishandling of Inuyasha, I decided that I wouldn't purchase another title from Viz until they changed their ways. So when Viz scored the Honey and Clover manga, something I had been keen to read, I said, "I'll spend my money elsewhere, thank you very much." That's not elitism but a consumer choice.
However, when I was made aware that Viz had been listening to consumers like me and had changed their adaptation processes for Honey and Clover so that the Japanese honorifics were used in the adaptation, guess what I did? I bought the manga. Not only that, but I also purchased Viz's Hayate the Combat Butler because it too was done to my tastes, only better. As such, I'll gladly support both of these Viz manga titles and I'll encourage my audience to do the same. If Viz placing honorifics into the adaptations is a deal breaker for some, it is their choice to make on whether to puchase those titles or not. If they choose not to make the purchase because this is a deal breaker for them, they are not elitist either.
(By the way Viz — if you re-translate Maison Ikkoku from scratch and re-release it to Hayate the Combat Butler's standards, guess what I'll be buying? ^_^)
The manga and anime industry may be having some hard times thanks to the current economy. However, the companies that will survive will be the ones that listen to their consumer base rather than expect us to take whatever they graciously decide to give us. That's how business works and I'm not obligated to support anything that doesn't meet my standards or tastes. That's not elitism, that's consumer choice. ^_^