魔法先生 ネギま!Volume 29 Chapter 260 (manga)
Mahou Sensei Negima! Manga Chapter 260
Negima! Manga Vol 29 Ch 260 Review
SPOILER Summary/Synopsis: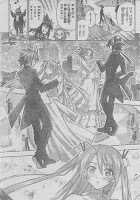 Despite using everything they have, it only takes Jack Rakan five minutes to defeat the four attacking members of Fate's "Lovely Girl's Squad." Only Homura remains conscious and Jack asks her again why she and the other girls are helping Fate. Homura recalls being a child and lone survivor in a destroyed village when Fate and another young girl arrive. Fate offers her the chance to come with them after she mourns the loss of her parents. Jack is somehow able to understand this in Homura's mind and asks Fate if he turned these girls into his soldiers. Fate says they followed him of their own accord and that he rescued 57 other war orphans and sent them to school. Jack realizes that this Fate is much more "human" than the previous two versions, meaning a fight will be tougher. Fate wonders why this would seem to make Jack happy. Jack responds by telling Fate that fighting a human is more fun. Fate understands and states that he too thought a fight with Jack would be fun as he summons black pillars from beyond the barrier.
At the ball, Negi wonders why Jack is in the bathroom so long as he and Kotaro find a lot of guy wanting to talk to them. Negi assesses the situation in case this is a trap but soon discovers another "problem" when Chisame points out all of the love-struck women who want "Nagi-sama" and "Kojirou-sama" to dance with them. Because of their status, Negi and Kotaro have to pick the right first partners. Negi chooses Shiori-Asuna and Kotaro chooses Natsumi, who is flustered by this as she doesn't feel she fits into a scene like this. Kotaro tells her she is beautiful, but before Natsumi can pursue that line of thought, Kotaro asks Kaede for the next dance.
While this is going on, Shiori-Asuna asks Negi why he is showing off, something he denies doing. Chamo remarks on how a "Prince and Princess" dancing together made the most sense. Chisame takes the opportunity to ask about Asuna being a princess, something that catches Chamo off guard. However, Chisame already knows some things and wants answers to the rest.
Nodoka and Paru are watching Negi and Shiori-Asuna dance when Craig comes up asking Nodoka to dance. With him are the rest of Nodoka's treasure hunting crew. This is observed by Yuuna while Makie, Akira, and Ako also watch the dance. Ako is observed by Tosaka, who's working as a waiter along with "Mama." Mama encourages him to say something to Ako, but he does not. He also does not want to see Negi.
Elsewhere at the ball, a mysterious couple stand and observe. Takane and Mei are also observing the ball while Misora and Cocone (Kokone) head to the all you can eat buffet table. With this, Godel observes that all the players have been assembled.
Thoughts/Review: If Fate's girls all have a secondary form, then it stands to reason that Shiori does as well. I wonder what her's is.
Fate's rescuing of orphans comes off right to me. He has a "holy quest" of sorts and saving certain people would fit with such a quest. Further, it allowed him to gain five assistants (that we know about) though even at their best, they are no match for Jack.
The fight between Jack and Fate is something I feel will end in both characters getting taken out. Fate could end up being destroyed and version 4.0 has to be released or Fate could be taken off stage for a time. We'll see though. As to Jack, I've said he'll die but others have said he'll get petrified and that may well be what happens. Either way, he's taken off stage as well.
I really do wonder when the group will find Anya and Asuna. I think that has been the one weakness of the storyline thus far — when are they going to rescue Anya? I'm guessing it will play out better when read in book form as we won't have weeks and weeks to cover a couple of days (or so) on the Magic World. I guess I would like it if there had been another indication to show Negi is concerned about his childhood companion.
The common theory is that thy mystery couple is actually Takahata and Mana in disguise. I can accept that theory since Godel seems keen on assembling all of the people associated with Negi and company. The other train of thought is that they are new characters that will play a role in the story to come. There's not enough information to say either way, but my money is on Takahata and Mana since we've not seen them in ages.
The cameo by Takane, Mei, Misora, and Cocone made me smile. I remember how they were used in the Mahora Festival arc and since it seems there would have to be some climactic battle to get out of the Magic World arc, I guess we'll see a bit more of them. I wish we had an extra chapter where we could get a story of some of the things they've been doing on the Magic World.
Next chapter seems to hold the promise of being packed with a lot of goodies. I'm looking forward to it. For now, it is back to vacation mode for me. ^_^