xxxHOLiC Manga Chapter 185
SPOILER Summary/Synopsis: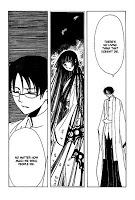 Watanuki decides that he will take over Yuuko-san's shop until he can see Yuuko-san again and thus informs Doumeki of his choice. When Doumeki asks about school, Watanuki says that the price for his choice is the time within him, thus he will never be able to leave the store again. It also means he won't age, though he will die someday. Until that happens, Watanuki will grant wishes and wait to see Yuuko-san again.
After Watanuki leaves the room, Doumeki grips the egg he was given and considers Watanuki's decision as well as his own decision on when to use the egg.
Meanwhile, Watanuki takes up Yuuko-san's pipe and after a cough-filled start, smokes it like a pro.
Thoughts/Review:
I can't say I saw this turn of events coming. Watanuki wanting to grant wishes and the like I can see because that groundwork had been laid, even if somewhat tediously. The fact that Watanuki is tied forever to the shop is a surprise though. Considering how nutty Tsubasa is with all of its clones and such, I can't help but wonder if CLAMP will actually have Watanuki take some customers.
Again, we are teased with Doumeki's egg. I keep thinking, "get on with it already." *_* Naturally, that can't happen because CLAMP has to keep xxxHOLiC in a holding pattern.
Regardless of what happens, I would like to see Watanuki retain his abilities to see things so he can still see Zashiki-Warashi. Actually, I'd like for her to come back to the manga for a story but we'll see where CLAMP drags things to.