Negima! 265 SPOILER Images
魔法先生 ネギま!Chapter 265 (Images)
Here's what I know many of you have been waiting for — the original-sized, sneak-peek images for Mahou Sensei Negima! Chapter 265 SPOILER Images as brought to you buy anonymous Japanese fans (click pic to make bigger, y'all).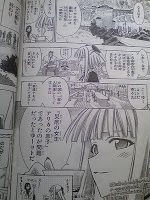 Only one image at the moment. (Update: 2nd image can be found –> HERE!)
Well, Akamatsu-sensei goes back to Earth and continues the story thread with Eva, Al, and Eishun. Interesting.
I'm guessing there will be additional spoiler images later this morning but we'll see.