Hagane no Renkinjutsushi – Fullmetal Alchemist Ep. 27
鋼の錬金術師 FULLMETAL ALCHEMIST Episode 27 review
Fullmetal Alchemist Brotherhood – 27
SPOILER Summary/Synopsis:
Hohenheim polishes off a bottle of adult beverage in a field and has a dream where a young Pinako Rockbell and many others are at a bonfire dance. He and Pinako discuss alchemy, humanity, and more before he awakes in the morning and heads on.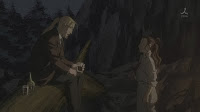 When I saw the previews to this episode, I thought, "Interesting. We'll get to see Pinako Rockbell as a young woman and maybe learn a bit more about Hohenheim." Instead, we get this episode of Hohenheim reflecting on alchemy and humanity after sleeping off a drunk in a field while using a lot of recycled footage from earlier in the episode. Now, while this may be a clever use of the recap system, I found myself not at all amused by this. For starters, how much of the manga got skipped so that the anime production team could "fly robin fly?" Now, we are going to mark time with a recap episode? Why?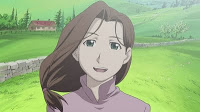 I suppose the anime team needed a cost-saving episode and a recap episode provides that. So a question to those of you who've read the manga — does Hohenheim have a chapter where he reflects on things or is this an anime-only story?
The only thing I got from this episode is that Hohenheim is not Father. I guess Father could be his brother since they look to be twins. That would be an interesting thing.