Isekai no Seikishi Monogatari OVA Ep. 05 Review
異世界の聖機師物語 OAV Episode 05 (Blu-ray/DVD version)
SPOILER Summary/Synopsis: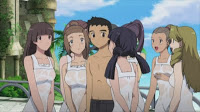 After a meeting of the Student Council, Kenshi is assigned to work for that group, which Lashara wants but Maria wants it as well. Kenshi reports to Lithia, who has no specific task for Kenshi to perform. As word spreads around the campus, Kenshi finds himself the target of a growing group of girls from various nations who want him for themselves. Kenshi escapes them all and eventually figures out that Lithia is using Kenshi as a distraction while she and the Council do the work they need to do without causing a fuss and even causing fights between rival nation's students.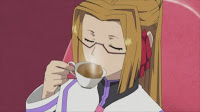 Kenshi continues to be pursued and to the interest of some in the faculty as well as the Student Council, girls from rival nations are working together in their common goal to capture Kenshi. Lithia is suffering from exhaustion and refuses advice from Aura or Lapis. Kenshi does manage to slip some of his herbal medicine into her tea, which causes her to sleep the best she's slept in ages. Then, Kenshi returns to being chased by girls who are growing more frustrated by their inability to catch him.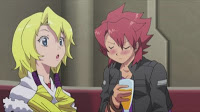 Lashara and Chiaia discuss Kenshi's role of being chased and marvel that he's been able to escape thus far. Kenshi confesses of being afraid of what might happen should they catch him. This conversation eventually leads to Lashara remarking on how Kenshi will need to be baptized, something he's heard about from Aura. All Seikishi get the baptism of Ahou power in order to be able to repair the Seikijin. Those who haven't been baptized, like Chiaia and Wahanly, have to have their damaged Seikijin sent to the Church for repairs. Lashara tells the inquisitive Kenshi that he should see Mexiah, who's a Seieishi, for more information.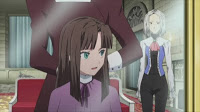 Maria and Yukine are discussing strategy regarding Kenshi when Maria's mother (Flora) calls. She figures out that Maria has found a new plaything and asks to be informed when something interesting happens. She then speaks to Maria about summer vacation.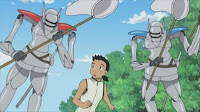 Kenshi still finds himself the object of pursuit from the girls, who've enlisted Wahanly for some mecha units that don't require Ahou energy but do require electricity. While more of a challenge, Kenshi eludes those as well. However just when Kenshi thinks it is over, the girls have another surprise and the chase is on again. Kenshi is rescued by Yukine and taken to Maria's residence on campus, which is reported to Lashara and Maria by Aura.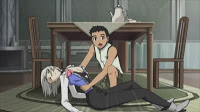 After serving Kenshi tea, Yukine thinks of Maria's instructions to her about catching Kenshi and begins undressing despite her embarrassment. This causes her to pass out and Kenshi to catch her just as Lashara arrives with Aura, Chiaia, Wahanly, and Maria. Maria has decided that since Kenshi has taken Yunine's innocence, he has to marry her and thus become Maria's servant. Lashara is not happy with this, so Aura offers a solution of a game to see who gets Kenshi. Maria agrees to this so Aura arranges a cooking competition.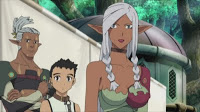 As Dagmyer plots with his new followers, Aura holds her cooking game with Chiaia and Lashara as a team, Maria and Yukine as a team, Lithia and Lapis as a team, and Wahanly. Ulyte-sensei offers his services as judge, which is agreed to. Ulyte convinces the group to allow Kenshi to participate and thus have a chance to win his freedom. During the ingredient gathering phase, Wahanly decides she'll just take Kenshi's take with her mecha unit, but eventually is thwarted by Kenshi.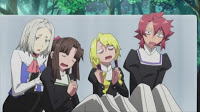 Kenshi encounters Mexiah and after a brief talk, she plants a kiss on his forehead which appears to plant a tracker on him. Ulyte-sensei uses the time to monitor for the reaction he encountered earlier until everyone returns. The contest ends up being between Aura and Kenshi, though Aura has no intentions of owning Kenshi. When it comes to tasting the two nabe dishes Aura and Kenshi prepare, Kenshi's winds hands down, though the girls aren't happy to learn what his secret ingredients are.
Thoughts/Review: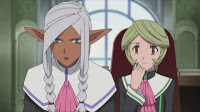 We had another Tenchi Muyo! Ryo-ohki reference. This time, Kenshi speaks of sister who is stern, frank, and speaks her mind. I'm going to guess that this neechan of Kenshi's is Noike.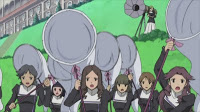 Now for the story, starting with the plot. We really didn't get a lot of plot development. Dagmyer is building a base of power and Ulyte-sensei is still investigating whatever he detected in Aura's woods. There's nothing there. I don't know if the work the Student Council is doing plays into the plot or not, but I suspect not.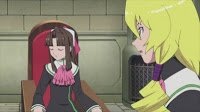 The plot point of real interest to me was the discussion of the goddess (and I must warn that I will be discussing SPOILER information for Tenchi Muyo! Ryo-ohki, Photon: Idiot Adventures, and Dual! Parallel Trouble Adventure). I know many of you have spoken of the possibility of Tokimi appearing in this series but until this episode, I'd not really said much on the subject. For those who have not watched the TM!R series, Tokimi is a Choushin — a high-level dimensional being who along with her two sisters are considered goddesses and are the ones who created the multi-verse. The three sisters performed a series of experiments over the course of billions of years to see if they could reveal the presence of a being greater than themselves — a god (kami).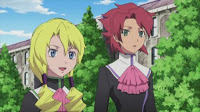 That out of the way, is this goddess Tokimi or one of the other Choushin?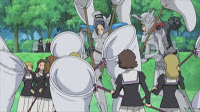 Aura speaks of forming a contract with the goddess and that contract is what is meant by baptism. From that baptism/contract, the Seikishi now has access to Ahou power which not only allows the Seikishi to repair their Seikijin unit, but it also appears to enhance the body of the person baptized. This sounds very similar what select Juraians (and certain non-Juraians who are then immediately made Juraian) go through when the partner with a Royal tree, one of the offspring of the Choushin Tsunami. Once a candidate has been partnered with a Royal tree, the partner is given extended life, bodily enhancements, and access to incredible power.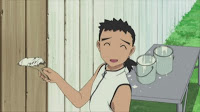 So, might this goddess be Tsunami rather than Tokimi? After all, one of Tsuami's 1st-generation Royal tree seeds appeared in Dual! so her presence as for sure been felt outside of the direct TM!R universe.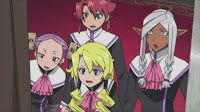 The other element in this puzzle is the Ahou energy. Kajishima-sensei first introduced this term in Photon, but its creation wasn't exactly attributed to a high-dimensional being (god/goddess). Since "Ahou" means "idiot" in Japanese, the nature of the Photon series makes any real meaningful analysis meaningless since Kajishima-sensei spent five episodes focusing mostly on the humor and by episode 6, had to wrap everything up without explaining many things. Thus, we get the English subtitle "Idiot Adventures."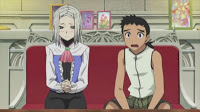 In ISM, the whole "ahou=idiot" joke is not there (at least, not in the way it was in Photon). So I'm hoping that Kajishima-sensei will actually explain it all, something he did not do in Photon.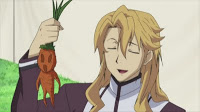 Anyway, Aura's mentioning that they used to be able to communicate with this goddess and that the construction of the gates to the holy land were a replica of the image of the goddess is rather interesting. One could argue that the gateway into the holy land/campus is similar in a way to the Choushin Realm. For long time fans of Kajishima-sensei's works and knowing he links his worlds at the corner, it is fun to think that one of the three Choushin are in fact the goddess in question. Whether true or not, what caused the holy land, created by the goddess, to be cut off from said goddess?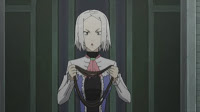 The rest of the episode is filled with what Kajishima-sensei loves — lots of pointless fanservice and lots of pretty girls chasing his young male lead. That's not to say there weren't funny moments, such as when Yukine was ready to save Kenshi with a rope, only for him to perform an unexpected escape maneuver.
Since Kenshi won the cooking contest, I suppose this means he is no longer Lashara's servant. Question is, what does he do next? I would guess that he would still be with Lashara but that's no guarantee.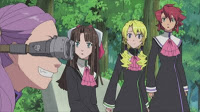 Next episode looks like more Kajishima comedy fun. So I don't expect a great deal of plot advancement there either.
So, another fun episode though a bit tedious with the constant chasing of Kenshi throughout the entire episode. Not enough plot advancement IMO, but still some interesting stuff revealed, such as the stuff about the goddess. I'm looking forward to more.